Difficulty Rating : 6 Start: Ljubljana Finish: Piran Terrain: Mixture of flat and rolling terrain Daily Average: 40km Weekly Average: 243km Tour Type: Self Guided Teaser: A week to explore the beauty and diversity of Slovenia.
Overview
Trip Outline
Trip Includes
Gallery
FAQ
What people say...
Pricing
Travel
Accomodation
Resources
Booking
A week to explore the beauty and diversity of Slovenia.
From Ljubljana you cycle across an immense marshy plain that formed about 6000 years ago from a former lake that dried up and left an incredibly diverse landscape with a unique wildlife behind. You continue cycling past Slivnica Mountains and the magical disappearing lakes of Cerknica and Planina, and the wonders of this vast world of limestone.
In the town of Postojna you can visit the beautiful underground Postojna caves with limestone caverns and giant stalactites and stalagmites. You can spend your rest day in a typical Karst village in the heart of vineyard country, where you will see a museum of well-kept traditional houses built entirely from the surrounding limestone. You can't miss a visit to Lipica Stud Farm - one of the most beautiful cultural and historical monuments of Slovenia and the home to Lipizzaner horses.
On your last day you can visit the lively port of Italian Trieste en route to the last overnight stay in a port town of Koper.
No details found.
A downloadable version of the itinery is available from the Resources Tab
Itineraries
Day 1
Arrival to Ljubljana
Once settled into your hotel, you can visit the historic old town with its ornate, old-world architecture and lovely "fin de siecle" mansions. Then it's a short walk or ride up to the mighty Ljubljana Castle, perched high on a hill. As the sun goes down you can relax with a drink in the many outdoor bars/cafes beside the Ljubljanica River.
Day 2
Ljubjana ~ Vrhnika (39 km / 57 km)
A nice easy first day across the historic and richly diverse plains surrounding the capital. The Ljubljansko Barje was once a great lake until it dried up 6000 years ago, leaving an incredibly diverse landscape behind, that is now home to some of Europe's rarest forms of bird, plant and insect life. The picturesque Iški Vintgar gorge nature reserve awaits,carved deep into a stunning limestone dolomite plateau before we arrive in Vrhnika.
Day 3
Vrhnika ~ Postojna (32 km / 44 km)
Your cycle is away from the main tourist routes and off the beaten track to experience the real Slovenian countryside. You pass the beautiful Slivnica Mountain and the magical disappearing lake of Planina, a wonder of this vast world of limestone. You can stop for a picnic lunch in the Rakov Škocjan nature reserve, where the Rak River has carved out a stunning gorge containing some of nature's most incredible landscape formations, including two natural bridges.
Day 4
Postojna ~ Stanjel/Kodreti (42 km/ 48 km)
Today you can visit the beautiful Postojna cave formation, carved deep into the heart of the limestone hills. This is the most extensive cave system in Slovenia, covering a total of 21 kilometres, a fairytale world full of large and colourful stalactites and stalagmites. You can also take a short detour to the impenetrable fortress of Predjama castle, wedged tight into a crevasse halfway up a 123-meter cliff-face protruding dramatically into the surrounding basin.
Day 5
Stanjel ~ Lipica ~ Divaca (48 km)
First stop is at the lovely botanical garden in Sežana, then it's on to the stud farm of Lipica, where you can visit these beautiful thoroughbred Lipizaner horses whose glistening white coats and gentle, graceful dancing have earned them a worldwide reputation. If you have the time for a couple of side-trips, you can also visit the unusual but very interesting "War Museum" set in the village tower of Lokev.
Day 6
Divaca ~ Muggia (38 km)
Another chanced to visit amazing caves, this time at Škocjan, listed as UNESCO natural monument. You can take a slight diversion into the Italian town of Trieste – once an important part of Slovenia with its worldly flair and wonderful atmosphere. The cycle ends in Muggia – a seaside village south of Trieste. After days of cycling, it is time to enjoy a gelato in the old centre of town or relax at one of the beaches
Day 7
Muggia ~ Piran (37km)
You cycle along the coastal road following a former railway line, wonderful views of the Slovene coast and Trieste Bay opening out in front of you. A coffee stop in the fashionable resort of Portoroz is a must before ending up in the beautiful Venietian harbour village of Piran. A fitting end to a beautiful trip.
7 nights accommodation in 3 & 4 star hotels & gueshouses with breakfast

Luggage transfers (1 bag/20 kg per person, additional bags on request €10 per item)

Tour description and maps in electronic format

GPS files

Local tourist taxes

Personal welcome meeting and bike fitting upon arrival

Back up service ( hotline )




Bike rental is not included in our 2023 tour price. This is an additional:
€90.00 Hybrid / Touring Bike
€220.00 Electric Bike
This is my 5th Cycling Safaris tour, and I am thoroughly pleased. Having done tours with and without a guide; I really recommend having a guide as you always learn so much more about the places you visit. Our tour guide Blaz was the first rate!
The accommodations were good. My bicycle was first class, trouble-free; and the Euro goes so much further in Slovenia! 
Andres Ruetman (Slovenia Emerald tour June 2016)
We had a great time and loved Slovenia, warm and friendly people! Our guide Blosh was great and very helpful. We recommend this tour wholeheartedly! 
Doug Munday (Slovenia Emerald Group Tour June 2016)
EMERALD 7 NIGHT TOUR SELF GUIDED 2023
€860 per person sharing Low Season (25 March - 6 May & 16 September - 14 October)
€895 per person sharing High Season (7 May - 15 September)
€125 single room supplement (if traveling with others) 
€290 solo traveler supplement (if traveling alone)
Self Guided Tour Information
Self guided tour can start any day from 25 March until 14 Octobe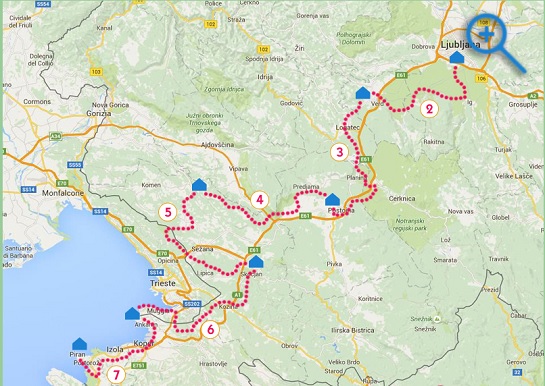 How to get to the start point in Ljubljana:
The main access point is to fly into Ljubjlana (the capital).  You could alternativley fly into Trieste and make your way to Ljubljana for the start of the tour
We can pre-order taxis for you from various locations on request, so please contact us well in advance of the tour if you would like help.
Transfers: Price per transfer, one way. No pooling permitted.
Ljubljana Airport to Ljubljana    : €60   ( 1-3 persons ) / €75 ( 4 - 8 persons )
Trieste Airport to Ljubljana        : €180 ( 1-3 persons ) / €220 ( 4-8 persons )
Piran to Trieste City                     : €90   ( 1-3 persons) / €120( 4 - 8 persons )
Piran to Trieste Airport               : €145 ( 1-3 persons ) /  €180( 4 - 8 persons )
Piran to Ljubljana City                : €180 ( 1-3 persons ) /  €220 ( 4 - 8 persons )
As always please contact us in the office for more information (info@cyclingsafaris.com).
Ljubljana
Day 1: Ljubljana hotel M 4* ( left image ) or Hotel Pri Mraku 3* or : Hotel Slon 4* ( right image )
VRHNIKA
Day 2: Vrhnika hotel Mantova 3*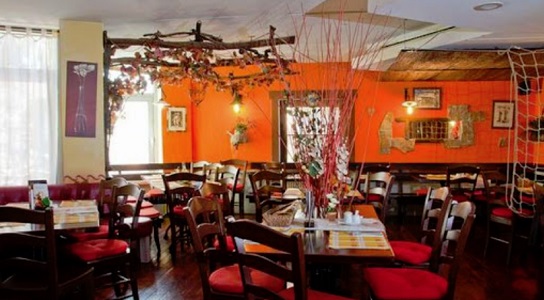 POSTOJNA
Day 3: Hotel Kras 4*
KODRETI
Day 4: Štanjel hiša posebne sorte(tourist farm)
DIVACA
Day 5:Hotel Malovec 3*
MUGGIA
Day 6: Hotel San Rocco 4*
PIRAN
Day 7: Hotel Tartini 3*
Tour Date Options
Red = booked out / not available
,
Blue = Limited Availability
,
Green = available
Booking Form