Difficulty Rating : 4 Start: Villinus Finish: Estonia Terrain: Mainly flat, but some gradual hills Daily Average: 39km Weekly Average: 344km Tour Type: Self Guided,Group Teaser: A leisurely tour, taking in much coastline, linking the wonderful capital cities of Vilnius in Lithuania to Riga in Latvia.
Overview
Trip Outline
Trip Includes
Gallery
FAQ
Acommodation
Pricing
Travel
Resources
Feedback
Booking
A leisurely tour, taking in much coastline, linking the wonderful capital cities of Vilnius in Lithuania to Riga in Latvia.  You explores the unique countryside, coastline and towns that make up this fascinating part of Europe that was formerly part of the USSR. It includes visiting three capital cities Vilnius (Lithuania).  Riga (Latvia) and Tallinn ( Estonia ) all of which have old towns that are justifiably designated by UNESCO as world heritage sites. The biking is very leisurely as the country is not hilly.
We start in Vilnius where we have an opportunity to take a city tour of this wonderful capital city.  Our cycle then takes us on picturesque country roads towards Kaunas before heading to the coast and the charming resort towns of Nida and Klaipeda located on the Curonian Lagoon itself designated a UNESCO world heritage site.   We cycle on asphalt bicycle paths of the newly reconstructed Lithuanian Seaside Cycle Route and enjoy breathtaking views of the colossal sand dunes on the Curonian Spit (reached by boat trip across a lagoon).   The tour includes a visit to the memorable Hill of Crosses near Siauliai before continuing on to Riga,  the captial of Latvia before finishing in Tallin, the capital of Estonia.

A chance to experience more than 500 years of incredible culture and architecture - on a bicycle it's all within your reach!
No details found.
A downloadable version of the itinery is available from the Resources Tab
Itineraries
DAY 1
Vilnius
Arrival to Vilnius. Individual transfer to the hotel (not included). Check-in at the hotel at 7pm, welcome meeting at the hotel with tour guide.
Day 2
Vilnius - Kaunas (33 km ride), by bus (100 km)
After breakfast a guided city tour of Vilnius, Old Town followed by a bus transfer outside the city. Start your first cycle ride through picturesque countryside with many lakes and gentle hills. En route stop in Trakai, the former capital of the Grand Duchy of Lithuania, where you may visit the 14th island castle built on a small island in Lake Galvé. Afternoon transfer by bus to Kaunus. Arrive in Kaunus, check-in and optional dinner at the hotel.
Day 3
Kaunus - Klaipeda (35 km ride), by bus 235 km)
Morning bike ride along the Nemunas River cycle trail. Finish the ride with a short cable ferry trip across the river and picnic lunch (included). Bus transfer to the Baltic coast. En route stop in Venté Horn famous for its bird observatory and the 19th Century lighthouse. Arrive in Klaipeda, a modern town at the Baltic Sea. Check in and dinner at the hotel (included).
Day 4
Curonian Spit National Park (58 km ride), by bus or boat (50 km)
Today we go for the longest ride to Nida. Follow the Seaside Cycle Route along the Curonian Spit famous for its amber and fine sand beaches. En-route enjoy beautiful views of the Curonian Spit which separates the Baltic Sea from the Curonian Lagoon. Sightseeing around Nida, one of the most beautiful resorts in Lithuania. Transfer by bus or boat back to Klaipeda, optional dinner at the hotel.
Day 5
laipeda - Riga (32km ride), 290 km by bus
You cycle to Palanga, the biggest seaside resort in Lithuania, via the Seaside Regional Park, a former soviet military training area. The group tour includes a visit to the Botanical Garden and Amber Museum in the Palace of Count Tyszkiewicz, with over 25000 pieces of amber and 15000 inclusions of insects on display. Afternoon bus transfer to Riga ( capital of Latvia), stopping at the Hill of Crosses (16 km from Šiauliai), the unforgettable place with thousands of crosses on two small hills.
Day 6
Riga - Jurmala Seaside Resort (30 km)
After breakfast there is a guided tour of Riga Old Town, a medieval Hanseativ town which is famous for its Art Noveau buildings. In the afternoon there is free time in Riga or an option to cycle to Jurmala, the largest resort in the Baltic States well known for its long, white-sand beaches, mineral waters and mud with healing properties.
Day 7
Gauja National Park & Bicycle Museum (40 km ride), by bus 50 km
A morning transfer to Saulkrasti and the Latvian bicyle museum after which you start your bike ride to Sigulda – the most popular resort in Latvia. Cycling through Gauja National Park to Saukrasti, en route enjoy spectacular views of Gauja River valley with Gutmana Cave, visit Turaida Castle and the oldest Latvian Church, Krimulda, built in 1205. Finish the ride with a visit to the Latvian bicycle museum followed by a transfer to Riga.
Day 8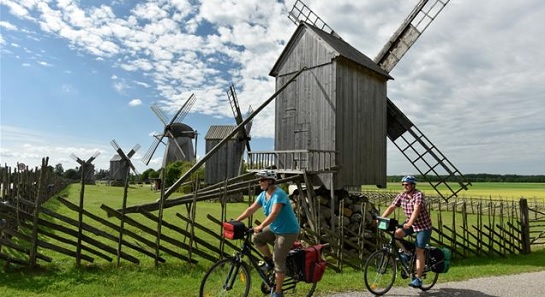 Igulda - Saaremaa (38 km ride), by bus (330 km), by ferry (6 km)
The day starts with a transfer to the largest Estonian island of Saaremaa which has preserved all that is best about the old Estonia. With little traffic and flat roads, Saaremaa provides the perfect rural setting for cycling. Travel on picturesque roads along the Baltic Sea coast to the village of Angla, known for its iconic windmills. Transfer then to Mandjala or Kuressaare for a two overnight stays at the seaside.
Day 9
Saaremaa Island (56 km)
You cycle across Saaremaa Island's wild beauty – Sorve Peninsula, famous for its lighthouse. The day finishes with a visit to Kuressaare, the capital of Saaremaa, a home to one of the finest preserved medieval Episcopal Castles in the Baltics, dating from 13th Century. There is time also to explore the town and the Bishop's castle.
Day 10
Saaremaa & Tallinn (40 km or 30 km ride), by bus (210 km), by ferry (6 km)
Today you cycle to the Kaali meteorite crater, which is listed on the world's giant craters list and it is the rarest natural wonder of Estonia. You arrivie in Tallinn in the afternoon to enjoy a guided tour of the old town. Tour finishes after breakfast next morning
10 nights accommodation in 3 & 4 star hotels

all breakfasts


Guide escort on days 2 - 10 ( Group tour only)

1 picnic lunch

( Group tour only)

4 dinners ( Klaipeda, Riga, Saaremaa & Tallin ~

Group tour only)

entrances and excursions

as per itinerary

(Group tour only)

coach transfers as per the itinerary

21-speed trekking bike/pannier bag (Group tour only)

information pack with city guides,

tour programme and maps

luggage transfers as per the itinerary

Speed boat from Nida to Klaipeda or transfer by minibus (day 4)

Route description, map, city guides



€195 supplement for E-bike group tour / €250 supplement self guided tour - limited availability, on request
€10 helmet (on request, self guided)
€100 supplement for bike hire on self guided tour (bike hire included in group tour)
€115 half board supplement for 4 x 3 course dinner package

guided tour

(4 dinners are included in the group tour)
€175 half board supplement for 6 x 3 course dinner package for

self guided tour



VILNIUS
In Vilnius we stay in the
Comfort Hotel LT
or a similar 3 star hotel
KAUNAS
In Kaunas we aim to stay in the 4 star
Europa Royale Hotel 
KLAIPEDA
in Klaipeda we spend two nights in the 
Old Mill Hotel***
 or a hotel of a smiliar standard
RIGA
In Riga we spend two nights in the 4 star
Hotel Monika Centrum
or a hotel of a similar standard
SIGULDA
In Sigulda we aim to stay in the 3 star
Hotel Sigulda
SAAREMAA
In Saaremaa we stay in the 3 star
Hotel Saaremaa
for two nights,  or a hotel of an equivalent standard.
TALLINN
Our final night in Tallinn is in the
Hotel Hestia IL Marine
or an equivalent 4 star hotel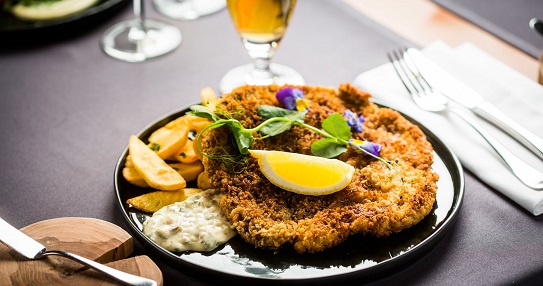 2023 RATES 10 NIGHT GUIDED GROUP TOUR 
€1,499 ( low season ) or €1545 ( high season ) per person sharing in a twin / double room
€1,889 ( low season ) or €1925 ( high season ) single room occupancy
Bike hire is included in the guided group tour
High season group tours are June 5th - August 14th inclusive, 
all other group tour dates are low season
2023 RATES 10 NIGHT SELF GUIDED TOUR 
€1,255  ( all season ) per person sharing in a twin / double room
€1,645 ( all season ) single room occupancy
Bike hire is not included in the self guided tour
Self Guided Tour Information
Self led tours start on Mondays:
May: 29
June: 5, 12, 26
July: 3, 10, 24, 31
August: 7, 14, 21, 28
September: 4
How to get to the start point in Vilnius: 

We suggest flying to Vilnius airport which is approx 8kms from the start point (15mins) 

Arrival or departure transfer can be pre-booked for €45 per transfer (1-3 pax) / €70 per transfer (4-7 pax)
As always please contact us in the office for more information (info@cyclingsafaris.com).
What a wonderful trip! Everything was near perfect. Incredible organization and a terrific leader. I have completed five cycling safari tours and plan on another one next summer. The value is incredible, the organization superb.
Dave Kern (Lithuania to Estonia July 2018)
The tour went really well for us, although it was very hot/humid especially at night! Not blaming anyone but myself for picking this time of year. Christina our guide was one of the best ever. The Baltic Seaside and countryside was beautiful and lodging and food were all great. The e-bikes were the best we have used.
James & Helen August 2018
This was a great trip. I loved that we had a bus to take us through both countries so we could bike and ride. We love your company. This was my 5th tour with you.


Dianne Mc Kee (Lithuania to Latvia 2012)
This tour was one of my best. The organization was perfect. It was more or less a study trip. They let us know so much about their countries.
The bikes were good German Kalkhoff bikes. Hotels were excellent.
Altogether: This trip exceeded all expectations.
Cäcilia C. (Lithuania to Latvia 2012)
I have come back from the cycling tour from Vilnius thru Tallinn, and it has been a sheer pleasure. Our guide Vilmante has done an excellent job and accompanied us very friendly. The bikes were very good, no problems whatsoever. All the hotels were a great place to stay and had been chosen with care. Food was delicious as well, mostly homemade just as I appreciate.
Thanks a lot, and I will continue to recommend your site and travels through Europe by bike.


Charlotte (Lithuania to Latvia 2013)
We had a great time. This was our 10th trip. The guides were wonderful and we enjoyed being with them.
Bicycles were good and no complaints.
Tours and countries were great. Would return in a minute.
Olli Sovio (Lithuania to Estonia 2015)
Tour Date Options
Red = booked out / not available
,
Blue = Limited Availability
,
Green = available
Booking Form