Difficulty Rating : 3 Start: Vicenza Finish: Vicenza Terrain: Easier cycle, flat, suitable for all abilities Daily Average: 45km Weekly Average: 225 km / 315 km Tour Type: Self Guided Teaser: Nestled between the Alps and the Adriatic Sea, the Veneto region is renowned for its natural, historical, and artistic beauty.
Overview
Trip Outline
Trip Includes
Gallery
FAQ
What people say...
Pricing
Travel
Accomodation
Resources
Booking
Nestled between the Alps and the Adriatic Sea, the Veneto region is renowned for its natural, historical, and artistic beauty.
Our safari starts and finishes amongst the marvellous architecture and cosy atmosphere of Vicenza. We cycle through rustic landscape, mountain backdrops and enjoy stunning views from the medieval village of Asolo. We spend an evening in Venice amidst a world of gondolas, a labyrinth of side streets and a plethora of romantic walkways.
The safari encompasses a lovely mixture of scenery, meandering along rivers, rural flatlands and 'island-hopping' between the sea and lagoon. The sleepy fishing villages and bustling towns display a unique fusion of the slow rhythm and vibrant Italian way of life. Apart from one hill climb, This flat itinerary leaves you plenty of energy to soak up the atmosphere at the end of each day!
It is possible to organise a shorter version of this tour ( 4 nights ),  please email our office for more details on this.
No details found.
A downloadable version of the itinery is available from the Resources Tab
Itineraries
Day 1
Arrival in Vincenza
Individual arrival to Vicenza, a historical town with buildings designed by famous architect Andrea Palladio (16th century).
Day 2
Vicenza ~ Bassano del Grappa (40km)
On our first day on the bike, we cycle to the foothill of the Alps to the castle village of Marostica, characterized by the surrounding castle walls and its Chess square where human chess games take place. We finally reach Bassano del Grappa, a charming town situated on the Brenta River, and famous for its marvellous wooden bridge and the "Grappa".
Day 3
Bassano del Grappa to Treviso (60 km)
One of the tour's scenic highlights, we cycle the only uphill section of the tour: the 1km climb that takes us to the beautiful village of Asolo. From here there is a nice downhill section and we continue through the Prosecco vineyards and on to Maser. In the afternoon we reach the beautiful and underrated town of Treviso where we stay the night.
Day 4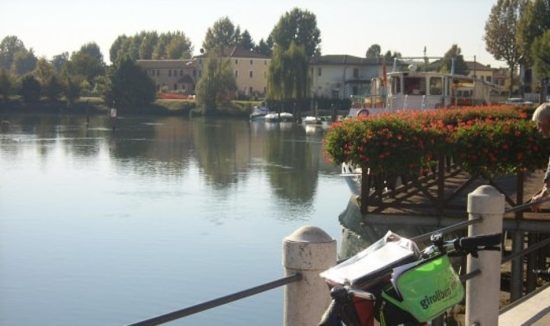 Treviso ~ Mestre/Venice mainland (20/45)
Departing from the centre of Treviso, the cycling track takes us along the course of quiet river Sile towards Casale village where you have the opportunity to enjoy the local cuisine through wine and cheese tasting. The cycle continues towards Mestre where we spend the night.
Today's cycle is a deliberately short one so as to give us plenty of time to explore Venice, the "city on water" where an evening of narrow streets and canals awaits.
Accommodation is in Mestre, Venice mainland.
Day 5
Mestre/Venice mainland
Today you can decide to give your bike a day of rest and spend your time in Venice, exploring its timeless fascination on foot. Alternatively, you can enjoy another exciting cycling day (ca. 65 km) by pedalling on the two narrow islands that divide the sea rom the lagoon: the island of Lido, with the ancient hamlet of Malamocco, once capital of the Serenissima Republic, and the island of Pellestrina, with its long wild beaches, If you have time you can take the motorboat from Pellestrina and visit Chioggia, too.
Day 6
Mestre/Venice mainland - Padua thermical district (55 km)
You will start following the Brenta Canal, overlooked by the countryside villas of the ancient Venetian nobility (Villa Malcontenta, Villa Widmann, Villa Pisani) until you reach the hamlet of Stra. From here you will cycle along the Piovego Canal, which will lead you to the city centre of Padua, home to one of the oldest Italian (and European) universities and rich in art and history. Finally, along the cycle path of the Battaglia canal, you will head towards the Euganean Hills, where you will have the chance to relax in the largest European thermal district.
Day 7
Padua thermal district - Vicenza (50 km)
Cycling out of the Euganean Hills, you will head towards the cycle path of the river Bacchiglione, which will lead you into Vicenza, architect Palladio's personal showcase. Before entering the town, along the way you can admire the Palladian masterpiece Villa La Rotonda. Let yourself be fascinated by the old city centre of Vicenza, characterized by beautiful private palaces and public buildings by Andrea Palladio.
Last night in Vicenza, end of trip next morning after breakfast.
7 nights in a hotel ( Cat A: mainly 4* hotels with some 3* , Cat B: 3* hotels)

All breakfasts

Luggage transfers

App including maps, roadbook, points of interest and GPS tracks

Digital tour information

Ice cream in the best ice cream parlor in Vicenza




24-hour hotline
Bike rental is not included in our 2023 tour price. This is an additional:
€100 Hybrid Bike (also child bike, tag along)
€250 Electric Bike
€15 Helmet (needs to be pre-booked)

All details are organised for the tour for you. All your accommodation is booked, your luggage is transported from hotel to hotel. You are given a map with a fully researched route. You will also have a hotline number should you need any assistance in any way.
The daily Distance for this tour is approximately 45km
If you unable cycle for any reason you can get a lift with the person who will transport your luggage. There may be a small fee you can pay to the driver. you will need to let them know the day before to check if is possible.
Bike rental is not included in the basic tour price
We rent a 27-gear unisex Citybike A unisex frame, ideal for an upright but relaxed riding position.
This is the bike automatically given to ladies and gents unless otherwise specified.
There is the possiblity of a Citybike with men's frame with 21/24 gears but it is on request only.
It is also possible to rent an E-Bike ~ Kalkhoff, Agattu model Motor:
The high-capacity battery is secured to the seat tube.
Gears: Nexus 8-speed.
Range: approx. 90 km (flat terrain, average speed).
Flyer T8.1 Model, Low-entry frame Panasonic or Bosch batteries of top safety and long life. Panasonic motor (36 V, 15 AH Capacity, 540 WH available power) Gears: Nexus 7-speed. Range: approx 90 km (flat terrain, average speed)
Features:
- aluminium frame
- mudguard
- rear rack
- comfort gel saddle
- anti-puncture Schwalbe tyres
- ergonomic bicycle grips
- speed lifter system
Accessoires:
1 cycle computer
1 Ortlieb one-sided saddlebag
1 front bar bag per room
1 repair kit per room with spare inner tube, glue, patch, a pump, allen keys and tyre levers
1 combination bike lock
As this is not a tour that takes on many hills, you should find it very manageable if you just cycle a few hours a week and put a little training before you go.
However as with all tours doing one longer cycle a week of 2 or 3 hours would really help in your tour enjoyment
Overall this was an excellent tour, enjoyed in great weather in the wonderful countryside. The unexpected highlight was the ferry boat around Venice. Just spectacular. Like cruising through a vast sunlit movie set. We had a really wonderful holiday and would be happy to recommend it.
Paul Moore (Venice Lands Group Sept 2018)
Overall a fabulous trip for the value. The bikes were in good shape and appropriate for the range of road conditions we experienced. The routes were very scenic.
You guys run a really nice service and I would recommend it to others.
Gregg Blodgett (Venice Lands self led 2012)
I really enjoyed the Venice Lands Tour. Great scenery. I was happy with the style, type of bike and the seat. Good program. Everything went smoothly.
Doug Smith (Venice Lands self led 2012)
We had a wonderful experience. Martina is an excellent leader, and very accommodating and caring. Bikes were durable and easy to ride. Accommodations were above average! Overall we enjoyed it!
Georganne & David R. (Venice Lands group 2013)
We had a great time on our recent bike trip. We really enjoyed seeing the small towns that we rode through and the places where we stopped for coffee and for lunch. The hotels were very nice.
We wouldn't hesitate to plan another bike tour with your company.
Polly Hardin (Venice Lands group tour 2013)
SELF GUIDED TOUR PRICE 2023
Category A (mainly 4* with some 3* hotels)
Category B (3* hotels)
Season 1 ( 2 - 22 April & 24 September - 8 October )
€720    (Cat A)  /  €610 per person sharing (Cat B)
€1010  (Cat A)  /  €850 single room (Cat B)
€550    (Cat A)  /  €480 third person in triple room (Cat B)
Season 2  ( 23 April - 20 May & 10 - 23 September)
€830    (Cat A)  /   €720 per person sharing (Cat B)
€1120  (Cat A)  /   €960 single room (Cat B)
€660   (Cat A)   /   €590 third person in triple room (Cat B)
Season 3 ( 21 May - 9 September )
€890   (Cat A)  /    €770 per person sharing (Cat B)
€1170 (Cat A)  /    €1010 single room (Cat B)
€710   (Cat A)  /    €640 third person in triple room (Cat B)
Self Guided Tour Information
Self guided tours are available every Sunday and Tuesday from 2 April - 8 October 
Special dates for groups of at least 6 people
How to get to the start point in Venice:
Venice is connected with the following airports: 
Venice Marco Polo: 10 km,
Treviso Canova: 30 km,
Verona: 110 km, Bergamo: 240km,
Milano: 310 km
Connection Marco Polo Alilaguna water bus: - from the airport of Venice you can reach the boarding point by sea with Alilaguna lines.
Red Line Alilaguna (www.alilaguna.it) with stop on Certosa island on request. This line works from 8.22 a.m. to 6.22 p.m. (transfer approx. 40 minutes, ticket about 15 €).
Blu Line Alilaguna: if you arrive later, you can take the Blu Line that works until 00.15 a.m. (transfer approx. 1 hour, ticket about 15 €). 
Connection shuttle bus: - from the airport you can reach Venice by bus: the Fly Bus ATVO shuttle service leaves every 30 minutes from 7:50 a.m. to 12:20 p.m. (20 min journey; ticket: €6; www.atvo.it).
For more details please have a look at the tour dossier.
As always please contact us in the office for more information (info@cyclingsafaris.com).
Vincenza
Day 1 + 7 - Category A: Hotel De La Ville Vicenza is a new hotel with all the mode amenities you might need. The old town is only short walk away with some of the most famous sites in Italy. This is an ideal place to stay and explore the town.
BASSANO DEL GRAPPA
Day 2 - Category A: Hotel Bonotto has been welcoming guest since the mid 13th century. The hotel has many face lifts over the years and is now a stylish hotel to match today,s world. The rooms are stylish and quite spacious with views of the town.
TREVISO
Day 3 - Category A: Hotel Carlton In the heart of town, on the city's ancient ramparts, just a stone's throw from the city centre and all the attractions. With a relaxed atmosphere this is a very easy place to spend a night
MESTRE / VENICE MAINLAND
Day 4 & 5 - Category A: Hotel Ai Pini is a hotel surrounded by the park with nice views and beautiful blooming flowers. Only a short walk to the historic town centre with lots of restaurants and coffee shop for you to explore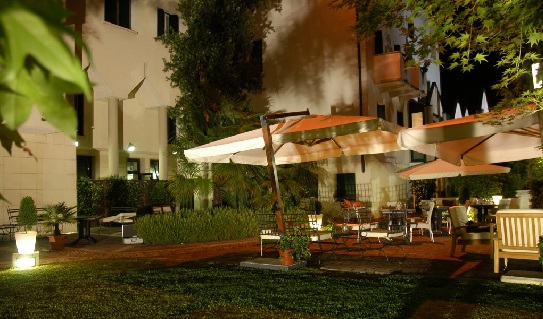 PADUA thermal district
Day 6 - Category A: Hotel Grand Italia Day 6: Hotel Grand Italia is a traditional hotel in the heart of the town and only a short walk away for the famous sites. The rooms have kept touch with the traditional style of the hotel but with all the mode amenities.
<img src="/images/Accommodation_Europe/Italy_Venice_Lands/Hote
Tour Date Options
Red = booked out / not available
,
Blue = Limited Availability
,
Green = available
Booking Form