Difficulty Rating : 6 Start: Turin Finish: Casale Terrain: Terrain mainly flat with some hills Daily Average: 53km Weekly Average: 315km Tour Type: Self Guided Teaser: Piedmont is a real paradise for gourmets. Prestigious white wines, delicious chocolate and a sweet landscape of hill
Overview
Trip Outline
Trip Includes
Gallery
FAQ
What people say...
Pricing
Travel
Accomodation
Resources
Booking
Piedmont is a real paradise for gourmets. Prestigious white wines, delicious chocolate and a sweet landscape of hills covered by regular rows of vineyards; in the distance the majestic circle of the alps. Piedmont is elegance and style.
Although renowned for its superb food and some of the best wines in Italy, Piedmont is a true paradise for gourmets, this region also displays a truly magnificent landscape of gentle green hills and lovely valleys with picturesque villages tucked away and waiting to be exlored!
Our safari starts in Turin, a city with a prestigious past evident in the breathtaking Baroque city center, filled with ornate palaces and churches. The tour meanders along river Po to the foothills of the mountains towards the small medieval towns Pinerolo and Saluzzo. We also stay in Bra, "the capital of gourmet", and sample fine wines in the city of Alba, famed for its white truffle. We cycle through a landscape composed of roundish hills and Apennine spurs, sights of forests, vines and meadows until we reach our final destination Casale Monferrato, a beautiful city situated on the bank of river Po.
This is the perfect way to get away from the stress of everyday life, enjoy plenty of fresh air, breath-taking scenery and well earned italian dinners - Magnifico!
No details found.
A downloadable version of the itinery is available from the Resources Tab
Itineraries
Day 1
Arrival Turin
You spend the first night in the vibrant city of Turin. The rich history and culture of Turin is evident in the breathtaking Baroque architecture, ornate palaces and churches.
Day 2
Turin ~ Pinerolo (55 km)
Today you cycle on flat roads along the river Po. You ride on cycle paths or small roads to the foot of the mountains. A highlight of today's cycle is the spectacular hunting palace at Stupinigi, a masterpiece by the architect Fillippo Juvarra and royal residence of the Savoy Family. A cycle through lovely parkland along the river brings you to your overnight stop ~ the delicious Pinerolo! A medieval town which was one of the most famous schools of cavalry in Italy.
Day 3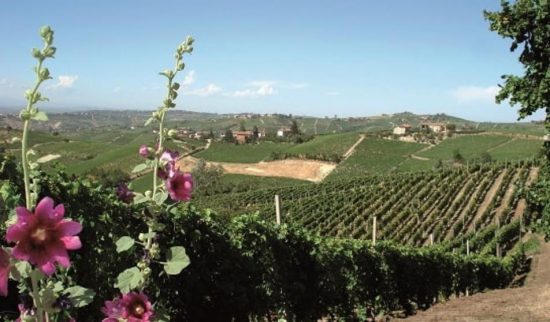 Pinerolo ~ Saluzzo (50 km)
Today's cycle brings you along flat country roads through orchards and vineyards to Cavour with its curious "Rocca", a morainic hill rising from the centre of this otherwise flat region. You spend the night in the small medieval town of Saluzzo
Day 4
Saluzzo ~ Bra (65 km)
Today the way is easy~medium; there are some easy ups after Fossana. On the way you can visit the very pleasant castles of Manta and Costigliole, the ancient roman town of Benevagienna and its archeological area. You arrive in Chearsco (7th century of story and art) or in Bra (the capital of gourmet, hometown of the "Slow Food"movement).
Day 5
Bra ~ Alba (35/55 km)
You are now in the Langhe wine-growing region, characterized by rolling hills, vineyards and winding roads. Passing through Pollentia on the banks of the river Tanaro you pedal along flat roads beside the river with a few hills on the way to Barolo, famous for its wine. Tonight's destination is Alba, home of the white truffle and high houses towers
Day 6
Alba ~ Asti (40/55 km)
A magnificent route through vineyards and along panoramic paths takes you to Asti, in the heart of Monferrato, en route there are the castles of Guarene and Cisterna. Initially you cycle along the river Tanaro after which there are two possibilities, to continue along the river or continue in the hill. Overnight is in Asti, a town with a very rich of history, famous for the white wine "spumante" and his Palio, historical running of horses.
Day 7
Asti ~ Casale (55 km)
Today you cycle over the charming Monferrato hills to Moncalvo, a land of beautiful scenery as well as another rich gourmet tradition. In the afternoon you reach your final destination - Casale, baroque town at the foot of the hills of Monferrato, along the river Po. You can celebrate the end of the tour by exploring this wonderful town with its many churches, castles and ancient courtyards, or simply sit back and toast a great week with a glass of local wine!
7 nights in 3 - 4* hotels, including

breakfasts

Luggage transfers

Route details & maps

Service hotline

Personal welcome meeting in Torino

Bike rental is not included in tour price:
€110.00 Hybrid Bike


€230.00 Electric Bike
The Tasty Piedmont Tour was superb, tasty, beautiful…
It really was perhaps the best bike trip we've ever had.
Mike & Jane Smeglin (Tasty Piedmont group tour 2012)
The trip was wonderful! The hotels were very good and the food was always good and the bikes ran great.
I was most impressed with the feature of including visits to two wineries and one chocolate factory.
Gene & Fran O'Neill (Tasty Piedmont group tour 2012)
Our favourite was the hotel, wine tour and dinner at the winery/hotel. Great weather, biking and views the latter part of the week.
Overall, a fabulous trip as usual!!!
Barbara Hartfield (Tasty Piedmont group tour 2013)
Overall it was a very good tour, food, wine, bikes and the guides were all very good.
Accommodation was generally good and in the case of the winery hotel, excellent.
Richard Persse (Tasty Piedmont group 2012)
My cycling trip to Piedmont was excellent. I thoroughly enjoyed the whole week.  I would definitely recommend this trip to my friends.
Bernie McCullagh (Tasty Piedmont group tour 2013)
I really enjoyed my holiday, thank you. I was very happy with all the arrangements and the food was very good.
Elaine Marsden (Tasty Piedmont group tour 2013)
The guides were fabulous. The bikes were in excellent condition. The accommodations were fine. Our tours/stops were great – cheese cellar, two wine tours/tastings, candy factory tour/tasting – nice variety and great presentations/atmosphere.
Barbara Hartfield (Tasty Piedmont group tour 2013)
The route was beautiful! We travelled on back roads and farm lanes through fields of pears, apples and kiwi espaliered vertically. Our climbs to villages were lined with grapes ripening on the vines! The hotels were great, the food was more than enough!
Julie Barnas, (Tasty Piedmont 2015)
2023 SELF GUIDED TOUR
€745.00 per person sharing
€230.00 for single room supplement
High Season surcharge from 26th August - 23rd September
€10.00 per person sharing
€20.00 per single room
Self Guided Tour Information
Self guided tour is available every Saturday from March 25 to September 23 (minimum 2 people).
Other dates are possible with groups of 4 or more OR for a supplement of €50.00 per person if less than 4 people
How to get to the start point in Torino: 
You can fly to Turin airport which is most convenient. (Milan airports are also possible, approx 1hr30mins to Torino from Milan Malpensa)

From Turin airport take the metro line 36 (SFM Railway) as far as Madonna di Campagna (approx 15 mins). Then change and take line 9 (Torino Transport)  towards Torino Esposizioni Capolinea (6 stops, approx 15 mins) getting off at MARTINETTO and the hotel is about a 3 minute walk once you exit the station. 
As always please contact us in the office for more information (info@cyclingsafaris.com).
TORINO
Day 1: Hotel Royal ****
PINEROLO
Day 2: Hotel Regina ***
SALUZZO
Day 3: Hotel Perpoin***
BRA
Day 4: Hotel Ascheri ****
ALBA
Day 5: Hotel Savona****
ASTI
Day 6: Hotel Rainero ***
CASALE MONFERRATO
Day 7: Hotel Candiani ****
Tour Date Options
Red = booked out / not available
,
Blue = Limited Availability
,
Green = available
Booking Form