Difficulty Rating : 6 Start: Palma de Mallorca Finish: Palma de Mallorca Terrain: Generally easy to intermediate cycling Daily Average: 45km Weekly Average: 270km Tour Type: Sportive,Self Guided Teaser: Mallorca is one of the prime road biking destinations in the world. Many professionals choose to train here.
Overview
Trip Outline
Trip Includes
Gallery
FAQ
What people say...
Pricing
Travel
Accomodation
Resources
Booking
Mallorca is one of the prime road biking destinations in the world. Many professionals choose to train here.
It has so much to offer. Flat riding, great mountain ascents, coast and countryside. The Mediterranean Sea is always close by and all our hotels on this circuit of the island are seaside hotels.
This tour can be done in conjunction with our Mallorca Coastal Cycle.  Each night you are in the same location but the distances on this trip are more challenging each day.   Ideal opportunity to travel with others who might want an easier cycle!
No details found.
A downloadable version of the itinery is available from the Resources Tab
Itineraries
Day 1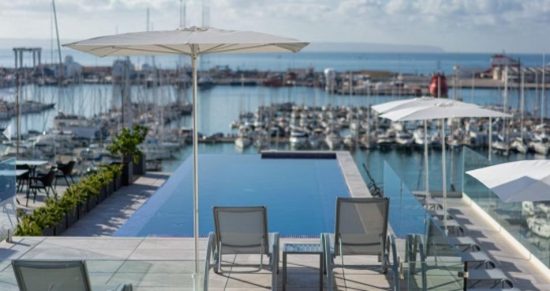 Arrival in Palma de Mallorca
Arrival in the capital of the island and transfer to the beachfront hotel. Ca'n Pastilla has an excellent long beach and a fantastic cycle path along the promenade leading to the beautiful city of Palma de Mallorca. Spend the rest of the day enjoying the beach or visiting the city
Day 2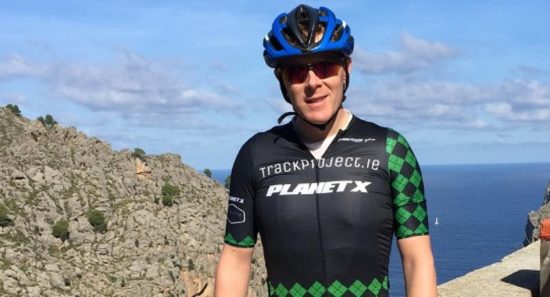 Palma de Mallorca to Colonia de Sant Jordi (84 km)
From Ca'n Pastilla, we head south-east along the cycle path of the beautiful Bahía de Palma. Then the route turns inland and we ride through the Mallorcan countryside with narrow lanes, windmills and almond trees. An ascent takes us to the Santuari de Cura with tremendous panoramic views. Towns of Lluccmayor and Poerreres, followed by another ascent to the Santuari de Monti-Sion. Then it's back to the coast and the beach resort of Colonia de Sant Jordi at the end of the magnificent Es Trenc beach.
Day 3
Colonia de Sant Jordi to Porto Cristo (65km or 105km)
First we pass Ses Salines, where the Romans extracted salt. A short side tour takes us to the lighthouse set on beautiful and rocky coastline. Then to the picturesque village of Santanyí, close to the Parc Natural de Mondragó with its rich birdlife and pretty beach of Cala Mondragó. The coastline is one of the most beautiful to be found on any Mediterranean island. Porto Cristo is a charming little resort with the famous Cuevas del Drac nearby. The caves are well worth a visit to enjoy a concert and a unique boat trip on the underground lake.
Day 4
Porto Cristo to Cala Ratjada (82km or 115km)
Another delightful ride to the charming resort of Cala Ratjada. An inland loop leads to Manacor, home to the Rafael Nadal Academy and Museum Xperience.
Back along the coast we have the Cuevas de Artà, with the entrance to the cave overlooking the sea and huge chambers with spectacular stalactites and stalagmites. There is a beautiful beach at nearby Canyamel and then the impressive castle of Capdepera.
In Cala Ratjada we can spend time at the beach of Cala Agulla or Cala Mesquida or take the road to Cala Gat and the lighthouse of Capdepera with views over to Menorca.
Day 5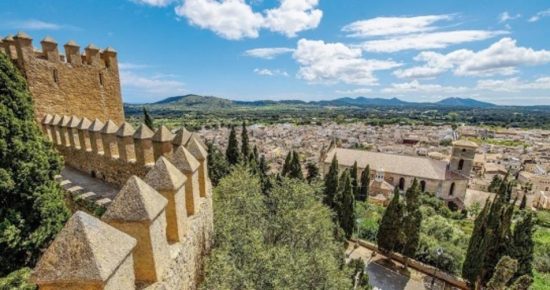 Cala Ratjada to Port de Pollença (97km / 130km)
Artà is a charming village of narrow medieval streets, cafés and a fine 15th century fortress. A beautiful extension takes us to the Ermita de Betlem monastery, with the most spectacular views across the sea towards Alcúdia and Formentor.
Then the huge extense of the Bahía de Alcúdia with the birdlife of the Parc Natural de S'Albufera and the fantastic beach of Playa del Muro, next is the village of Alcúdia with its medieval walls and Roman ruins of Pollentia, the spectacular bay of Pollença and our hotel in Port de Pollença.
Day 6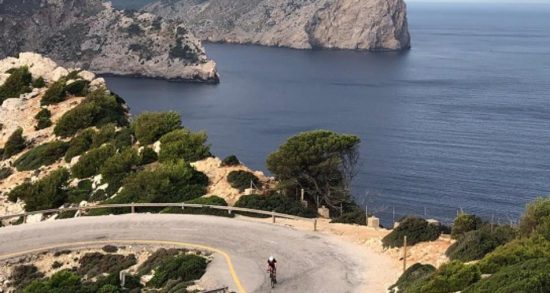 Port de Pollença Loop (40km)
Today's ride is somewhat shorter than usual and takes us out to the Cape of Formento lighthouse. This is one of the most famous routes on the island and is truly spectacular riding with the impressive cliffs plunging into the deep blue sea. A shorter version takes us out to the beach of Platja de Formentor.
Alternatively, take a short ride to the beautiful village of Pollença, or just enjoy a free day on the seafront at Pollença and our hotel in Port de Pollença.
Day 7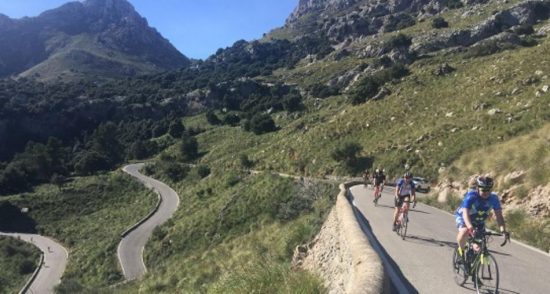 Port de Pollença to Port de Sóller (64km or 88km)
The mountains of Sierra de Tramuntana have some of the most spectacular scenery on the island. The first ascent leads to Lluc and its famous monastery. Then pass the famous descent of Sa Calobra. It's one way, so if we descend then we have the pleasure of doing one of the most famous climbs in the world back up to the top. It is possible to take a boat from the bottom to Port de Sóller (sea conditions permitting - recommended to book beforehand). The land route leads through the beautiful villages of Fornalutx and Biniaraix before reaching Sóller and Port de Sóller.
Day 8
Port de Sóller to Palma de Mallorca ( 63km / 92km )
Our final ride takes us through more spectacular scenery of the Sierra de Tramuntana. Deià is one of the prettiest villages of the sierra and once home to the writer Robert Graves. Valldemossa was home to Chopin and the novelist George Sands. The stunning coastline and olive trees, oranges and lemons and
almond trees finally lead us to our final destination, Palma de Mallorca to reflect on a marvellous tour and to start making plans for our next visit to this beautiful island.
8 nights Accommodation ( 3* ? 4* star hotels ) with breakfast

All Luggage transfers

Information Pack (Route Guide, maps, GPS files)

Optional transfer to Lluc on Day 7
Not included
Taxi transfers to and from hotels on arrival / departure days.
GPS device
Sea View rooms - might be an additional supplement for this, please enquire when booking
Halfboard - available in most hotels. Enquire on booking.
Bike rental is not included in the tour price. This is an additional:
€160 Touring bike
€210 E-road bike
€195 Road bike
€ 60 Supplement for bike case transfer if bringing own bike
Tab content goes here
2023 SELF GUIDED TOURS
Season 1
( March  4, 11, 18, 25  April   1, 8, 15, 22, 29  May 6, 13 ,   October 7, 14, 21  )
€1020 per person sharing
€1225 single room
Season 2  (  May 20, 27   June  3, 10, 17  )
€1070 per person sharing
€1350 single room
Season 3  ( June  24,  July 1 )
€1170 per person sharing
€1390 single room
Season 4  ( July  8, 15, 22, 29   August  5, 12, 19 )
€1230 per person sharing
€1455 single room
Season 5  ( August  26    September  2, 9, 16, 23 )
€1155 per person sharing
€1380 single room
Self Guided Tour Information
Tour runs every Saturday from March 1 to October 31
Arrival day is every Saturday and departure day every Sunday.
Groups of four or more may set their own departure day.
How to get to the tour start point in Mallorca:

Travellers generally arrive Palma de Mallorca Airport where you can get our pick up service (approx €140 return transfer). Aer Lingus and Ryanair both fly directly to Palma de Mallorca from Dublin and other flights are available direct from the UK and other European airports.

It is often possible to take connecting flights through Spanish airports such as Madrid or Barcelona or through other European cities. Our nearest airport Palma can be connected via Madrid and Barcelona, although flights are not very frequent. Palma airport is approx 1 hour drive from start point. (Collective return set transfer from/to Palma airport is approx €140)
Ca'n Pastilla
Day 1: Hotel THB El Cid
Colonia de Sant Jordi
Day 2: Hotel THB Sur Mallorca
Porto Cristo
Day 3 : Hotel THB Felip
Cala Ratjada
Day 4: Hotel THB Guya Playa
Port de Pollença
Day 5 & 6: Sis Pins Hotel
Port de Sóller
Day 7: Hotel Los Geranios
Palma de Mallorca
Day 8: Hotel THB Mirador
<
Tour Date Options
Red = booked out / not available
,
Blue = Limited Availability
,
Green = available
Booking Form