Difficulty Rating : 3 Start: Amsterdam Finish: Amsterdam Terrain: Easy cycle, flat terrain Daily Average: 40km Weekly Average: 213km Tour Type: Family,Bike and Boat,Group Teaser: Our cycle takes us through vast fields of tulips with incredible colour as far as the eye can see.
Overview
Trip Outline
Trip Includes
Gallery
FAQ
Feedback
Acommodation
Travel
Pricing
Resources
Booking
The tulip may have originated in Turkey but it found its home in Amsterdam! The tulip bulb reached The Netherlands at the end of the 16th century. The Flower and bulb were thought to be so special that a lively trade arose quite quickly. In 1634 one single bulb cost the same as a whole canalside house in Amsterdam!
Our cycle takes us through vast fields of tulips with incredible colour as far as the eye can see. As well as that this tour visits all the iconic Dutch sites such as its windmills and myriad of canals.   What better way to explore this region than the Dutch way...from the water and from the saddle! You spend the nights on a comfortable barge: a floating hotel,  of which there are a number to choose from.
We offer two similar tours dedicated to the mighty Tulip,  we have highlighted one itinerary on our website but there are dossiers outlining both at the bottom of our itinerary page.
No details found.
A downloadable version of the itinery is available from the Resources Tab
Itineraries
Day 1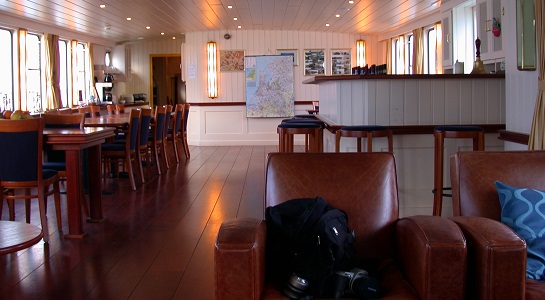 Arrival Amsterdam
On arrival in Amsterdam you board our boat at 2.00 pm
The first part of the tour you will sail to Spaarndam – known as the village of Hansje Brinker – and from here we make an easy ride into the beautiful city of Haarlem.
Day 2
Haarlem ~ Keukenhof ~ Leiden (40 km)
Today's trip leads you through the oldest tulip fields of Holland, including a visit of the Keukenhof gardens, the most beautiful bulb park in the world. A place where the spring breaks, it is an overwhelming blaze of colours; seven million flowering tulips in a magnificent 80-acres. We overnight night in nearbyLeiden
Day 3
Leiden ~ Kudelstaart (45 km)
Today we cycle to Kudelstaart: a small town bordered by the wetland area of Westeinderplassen. We will go right through the green heart of Holland, an area with numerous small cycle paths, lakes and small rivers
Day 4
Aalsemeer ~ Zaanse Schans ~ Wormerveer (45km)
In the early morning, you can visit the auction in Aalsmeer where flowers and plants sold at the auctions are exported all over the world. After breakfast, we cycle along the river Amstel and on to the Zaanse Schans, a unique hamlet where people live and work, with original houses and windmills from the river Zaan area. The hamlet is dominated by operating windmills, the oldest built in 1673, for grinding mustard, spices, paint and oil and for sawing wood into planks.
Day 5
Wormerveer ~ Alkmaar (45 kms)
rom Wormerveer you will cycle to and through the most beautiful dunes of the Netherlands and if weather permits, you may like to swim in the North Sea during your lunch break at the beach. Todays' overnight stay is in cheese town Alkmaar. A historic lively city with many small and bigger shops. A little less than 400 heritage sites, canals and harbour dominate the townscape.
Day 6
Alkmaar ~ Purmerend (35 kms)
We cycle to Beemster and Purmer, dating from the early 17th century, are an exceptional example of reclaimed land in the Netherlands. A preserved, intact, well-ordered landscape of fields, roads, canals, dykes and settlements, laid out in accordance with classical and Renaissance planning principles. There should also be time to visit one of the big water mills at the Rijp.
Day 7
Purmerend ~ Amsterdam (20 / 35 kms)
urmerend lies at the edge of an area called ' Waterland' where roads and water are on the same level. We visit the lovely village of Zunderdorp and Ransdorp. There is an option to cycle the long route to Edam and Volendam and if time permits you can cross the lake Gouwzee to admire the traditional fisherman's village Marken with its typical wooden houses. The tour finishes up back in Amsterda
7 nights on board ship

Breakfast & dinner on board

Picnic lunch packages

Coffee and tea on board

Entrance fee to Keukenhof and Flower Auction

Multi-lingual guide, cycles with group

At least 3 city walks with tour guide

Route info & road book

(1 per cabin)

Ferry fares on route

GPS-tracks (on request)

Free WiFi (limited availability in lounge and on deck)
Bike rental is not included in our 2023 tour price. This is an additional:
€100.00 Hybrid Bike
€195.00 Electric Bike

Discounts are available for children, please see itinerary or email our office for more information
For 2022 bike rental is not included in the basic tour package.
On this tour we rent out Batabus Galivier Hybrid bikes. A good bicycle available for all participants from ages nine and up with 24 gears and handbrakes. All bikes are comfortable lightweight touring bikes. The bikes are equipped with:
- Pannier bags, Helmet, Odometer, Good lock, Water bottle
- You will get a repair kit when biking on your own.
It is also possible to rent an E - bike
Your bike has 24 gears, a detachable lithium-Ion battery, hand brakes, pannier bags, a good lock, water bottle and a repair kit.
Bike Insurance:
Bicycle insurance is available for €20 per touring bike and €40 for an e-bike.
The participant is liable for damage or theft as long as the bike is not on board. The bicycle insurance covers the cost of the repair or replacement of bicycle parts in case of an accident. It also protects against theft of the bike while it was locked.
If you didn't arrange cycle insurance when booking you can do this on board (the first day). Payment in cash is required
We did enjoy our Tulip Guided Cycling Tour last April.  My wife hasn't stopped telling everyone how wonderful it was.  A couple of observations on our particular tour...Overall a great tour and we have recommended it.
Edward & Marlene Hayek (Tulip Tour April 2018)
We enjoyed the tour very much and highly recommend it to others. I have no complaints about anything! The staff were friendly, helpful and fun. The barge is remodelled with a dining area, bar area and lounge...very cosy. The cabins were small but comfortable. The meals were delicious and interesting, & we always had snacks, coffee and tea available. Our guide, Peter, was informative and the routes he took us on were scenic, the whole trip was very organized.
We had new bikes with locks and saddle bags to bring our food and gear for the day. Even though the weather was cold; sometimes raining it was a wonderful trip.
Thank you, I hope to travel with Cycling Safaris again!


Diane Cisewski April 2018
We thoroughly enjoyed it - we had good weather all week, the barge, crew and guide (Bert) were great, fellow passengers were fun and the tulips were stupendous. I would highly recommend it.
Nancy & Don McDaniel (Tulip Tour, 2017)
An excellent tour, relaxed cycling, great food, good value for money and added the bonus of Keukenhof visit.
Maureen Hickey (Amsterdam Tulip Tour 2013)
This was my first experience of a barge and cycle holiday and it was most enjoyable.
Maureen Hickey (Amsterdam Tulip Tour 2013)
I very much enjoyed the cycling holiday. Starting and finishing in Central Amsterdam was ideal and made it very convenient for air travel.
It was a great way to see and experience Holland. 
Overall, a most enjoyable holiday.
John Conway (Southern Tulip Tour 2015)
We had an amazing holiday on our Super Tulip Tour! We can't say enough great things about it. Our barge (Anna Antal) was like home for 7 days, our guide Roelie was exceptional guiding us on our bikes, finding points of interest and then after supper giving us a walking tour of the towns, the bikes were awesome. The food was so great from breakfast in the morning and the selection of foods for packed lunch to the three-course gourmet meal at supper. This bike and barge tour was very special for us. 
Mary & Bill Ormerod (Super Tulip Tour April 2016)
Sailing Home - Category Comfort de Luxe
The "Sailing Home" started cruising in 2001, a beautiful barge that can accommodate 26 passengers. The interior of the salon and bar is decorated in a mode Victorian style offering a lot of comfort. There are 13 spacious and comfortable guest cabins and each one has a private bathroom, central heating and air-conditioning. A roomy salon lounge, a cosy bar and a sun deck are all located on the top floor.
Liza Marleen - Category Comfort
The "Liza Marleen" is a luxury motor passenger barge whose cabins were fully renovated for the 2016 season. It can accommodate 22 passengers. The "Liza Marleen" cabins all come with a private bathroom and central heating. There is a beautiful, spacious and tastefully decorated salon and plenty of room on deck.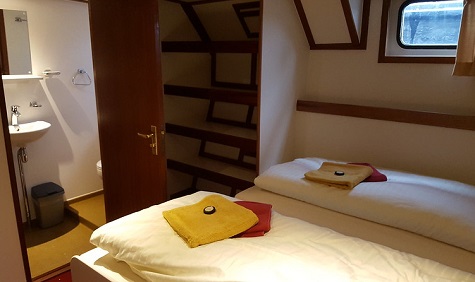 Wending – Category Comfort
The "Wending" became a passenger motor barge in the nineties. With a capacity of 28 it is fuichsed with all cabins having a private bathroom and central heating. The "Wending" has a roomy and cosy salon, equipped with a complete music installation and TV. After a strenuous bike ride it is a great place to relax!
Anna Antal – Category StandardPlus/Comfort
The Anna Antal also became a passenger barge in the nineties. With a capacity of 18 people it has nine cabins all with central heating and a private bathroom. Like all barges it has a cozy salon where, in the evenings, a drink can be consumed by the elegant bar. Outside there is a sun deck / a deck for the bicycles. The crew as with all barges consists of a skipper, a cook and a sailor/hostess.
Zwaan – Category Comfort Plus
The Zwaan is known for the high quality of the meals and the friendly atmosphere on board. The crew consists of the captain, chef and hostess for 14 guests. Weather permitting dinners can be served on the sundeck. Since 2019 the Zwaan is equipped with air-conditioning in all 7 cabins. There is limited WiFi on board.



How to get to the start point port:

To get from Schiphol airport to the barge, the distance is approx. 20 km. At Schiphol airport you can take the train to Central Station Amsterdam. These trains leave approx. every 8 min.and takes approx 15 minutes by train from the airport into Amsterdam, a ticket costs approx €5 per person for single journey. From Amsterdam Central Station it is a 10 minute walk to the place where the barge is docked.
A taxi from Schiphol to Amsterdam takes about 30 minutes, it costs about €35.
For more details please have a look at the tour dossier.
As always please contact us in the office for more information (info@cyclingsafaris.com).
TULIP TOUR 2023
COMFORT BARGE "SAILING HOME"
April 1, 8, April 15, 22, 29,  May 6
€1410 (standard season) / €1545 (high season) per person sharing in a 2 bed cabin 
€2030 (standard season) / €2215 (high season) for single cabin occupancy 
COMFORT BARGE "LIZA MARLEEN"
April 8, 15, April 22, 29, May 6 
€1350 (standard season) / €1475 (high season) per person sharing in a 2 bed cabin
€1590 (standard season) / €1725 (high season) per pereson sharing superior twin cabin
€1240 (standard season) / €1355 (high season) per person sharing for superior triple cabin
€1930 (standard season) / €2125 (high season) for single cabin occupancy
COMFORT BARGE "WENDING"  
April 8,  15, May 6
€1250 (standard season) / €1365 (high season) per person sharing in a 2 bed cabin 
€1155 (standard season) / €1265 (high season) per person sharing in a 3 bed cabin
€1470 (standard season) / €1600 (high season) for single cabin occupancy

SUPER TULIP TOUR 2023
COMFORT BARGE "ZWAAN"  
April 8, 15, 29, May 6
€1535 (both seasons)  per person sharing in a 2 bed cabin 
€1735 (both seasons)  per person sharing in a luxury double cabin
€1315 (both seasons)  per person sharing smaller cabin 
€1980 (both seasons)  for single cabin occupancy
BARGE "ANNA ANTAL"  
April 1,  15, 22, 29, May 6 
€1240 (standard season) / €1355 (high season) per person sharing in a 2 bed cabin
€1050 (standard season) / €1150 (high season) per person sharing bunk bed cabin
€1335 (standard season) / €1465 (high season) for single cabin occupancy

BARGE "BARGE CLAIR DE LUNE"  
April 1, 8,  15, 22, 29  
€1240 (standard season) / €1355 (high season) per person sharing in a 2 bed cabin OR split level beds
€1310 (standard season) / €1480 (high season) for single cabin occupancy
Self Guided Tour Information
Self led tours are not an option on this route.
Tour Date Options
Red = booked out / not available
,
Blue = Limited Availability
,
Green = available
Booking Form