Difficulty Rating : 4 Start: Ennis Finish: Ennis Daily Average: 38-50km Weekly Average: 231km Tour Type: Self Guided,Family,Short Break,Group Teaser: Our tour start in the historical town of Ennis, renowned for its traditional music.
Overview
Trip Outline
Trip Includes
Gallery
FAQ
What people say..
Travel
Pricing
Accomodation
Resources
Booking
Our tour start in the historical town of Ennis, renowned for its traditional music. We set off through rolling countryside on quiet backroads towards the Atlantic Ocean where we stay on its shores listening to the waves rolling in.
Each night we stay by the coast and every day our cycling is rewarded in some way. From the famous Cliffs of Moher (Europe's highest) to the village of Doolin (famous for its three pubs that compete to have the best music). Or the spectacular coastal ride from the matchmaking town of Lisdoonvarna to Ballyvaughan with the Burren on one side and views across to the Aran Islands, Galway Bay and Connemara beyond on the other.
We cycle deep into the heart of the Burren passing by its megalithic tombs and limestone plateaux on our way back to Ennis for a final night together.
Although the terrain is undulating, the mileage is not too high and this would be one of our least challenging tours in Ireland. Also due to the myriad of backroads in this area, the Clare tour is a great choice for making a bespoke tour to your exact needs, making days shorter and easier is always an option. We offer an "easy" tour in the area, which takes in an extra rest day and starts in Ennis and finishes in Galway. We offer a "family" tour which has reduced mileage each day. As well as this we offer shorter tours in Clare.
No details found.
A downloadable version of the itinery is available from the Resources Tab
Itineraries
Day 1
Arrival Ennis
On arrival in Ennis you should make your way to your accommodation. Ennis is a fantastic town for music and entertainment so you can relax for the rest of the day and take in the atmosphere.
Day 2
Ennis ~ Spanish Point (48 kms)
Having being fitted out with your bicycle you head out towards West Clare, cycling along quiet country roads through rolling green fields to the coast, where you stay the night at Spanish Point named after those Spanish Ships from the Armada which sank here in 1588. You spend the night in a Hotel overlooking the Atlantic Ocean.
Day 3
Spanish Point ~ Doolin(46 kms)
Cycling along quiet roads you eventually come to the popular holiday town of Lahinch where you can stop for lunch. In the afternoon we visit the Cliffs of Moher rising a spectacular 660ft up from the Atlantic waves below. You can stroll along the cliff face and watch the birds gliding in the updraft. After visiting the cliffs you head to the village of Doolin. That night you can have a pub meal and enjoy the wealth of traditional music for which the village is famous.
Day 4
Doolin ~ Ballyvaughan (50 kms)
DAY 4: Doolin ~ Ballyvaughan (50 kms) image 1
DAY 4: Doolin ~ Ballyvaughan (50 kms)
You begin to see the first hints of the limestone landscape of the Burren and visit the monastic site at Kilfenora and its stone high crosses. Kilfenora is also home to the Burren Heritage Centre with an excellent insight into the formation and history of the Burren. After lunch at the matchmaking town of Lisdoonvarna there is a beautiful cycle where the road hugs the coastline with Galway Bay and the Aran Islands on your left and the limestone cliffs of the Burren on your right.
Day 5
Rest day in Ballyvaughan
The day can be spent doing a wide variety of activities. You can join a wonderful four-hour walking tour of the Burren with a local man who is a very entertaining character and an encyclopaedia of knowledge on the area. There is also an optional short cycle to the impressive ruins of a Cistercian Abbey or you can visit the nearby Ailwee Caves. Alternatively the day could be spent relaxing in this attractive village.
Day 6
Ballyvaughan ~ Kinvarra (38 kms)
The cycle heads straight into the heart of the Burren passing the Poulnabrone Dolmen a small ancient burial site dating back to 2500BC. Veering off the beaten track you stop at the village of Carran for lunch in an old police barracks. In the afternoon you cycle through quiet backroads to visit the Burren Perfumery that makes a wide variety of perfumes using the local flora. You then descend through a limestone lunar landscape to the pretty seaside village of Kinvarra where you spend the night.
Day 7
Kinvarra ~ Ennis (49 kms)
For the last day you head back into the Burren, passing Lough Buny and the impressive Mullaghmore. In the afternoon you visit a 16th Century Tower House and an even older monastic sight. This is also the site of the famous battle of Dysert O'Dea where the Irish Chieftains defeated the Normans and kept them out of Clare for another 200 years before finishing back in Ennis.
7 nights accommodation with full irish breakfast
(mix of small hotels and guesthouses)

Guide in a support van (group tour only)

Luggage transfer

All route details and maps

24 hour service hotline

GPS tracks available (on request)

In 2023 Bike Rental is not included in the basic tour price.
All rentals come with a pannier, lock, helmet and repair equipment


On a self guided tour we will organize your bike hire, the accommodation and the luggage transfer. Your route details will be waiting for you in your first night's accommodation. In the route details you will also find recommendations for lunch stops and places to have dinner. You will set off by yourself and the luggage will be transferred to the next stop by our local taxi transfers. And should there be a day you won't be able to cycle, it is possible to arrange a lift with the luggage transfer.You can also contact us in the office (info@cyclingsafaris.com) or on our emergency number if you need assistance.
You can start the cycling tour on any day that suits you.
If you prefer to cycle with a support van and/or guide we are happy to send you a customized quote for this.
On a self guided tour it is possible to add extra days or shorten the trip if you wish to or we can customize the route for you.
Guide in a support van / no cycling guide
We offer set departure dates for group tour bookings. If we reach a minimum of 8 people on the set departure tour date the tour will be run with a guide in a support van.
The guide will meet you each morning to give you a short briefing for the day ahead. Then you can set off in small groups or individually. Each person has their own route details. Your guide will then collect the luggage and deliver the bags to the next night's accommodation before catching up with the group again.
Although the guide will not be cycling with you, he or she will be driving the support van and will make a sweep to ensure that all is well, and offer lifts to those who want a break.
This provides a sense of freedom in that you can travel at your own pace in the security that the guide is there for you in the event that you might need them. The guide will recommend places to eat and try to find out where the best entertainment is each night.
Most importantly, the guide sets the right tone to make you feel welcome to the country and to help you in whatever way possible so that each day you are free to leave your worries behind.
If we don't reach the minimum of 8 bookings, this tour will go ahead as the self-guided version with luggage transfers via our local taxi companies. There might be others cycling the same route, but there won't be a guide in a support van. However, you can always contact us in the office to get assistance and if you need a lift we can organize this for you.
Bike rental is not included in the basic tour price
You can rent a GIANT CITY bicycles for our tours
Bikes come in different sizes and in gents and ladies style frames.
It is very important you give us your height on booking so that we can allocate the correct bike to you.
You can also rent an E-Bike
We are using EASE-E+ 2 ELECTRIC BIKE or similar please click here for more details.
We offer small and medium-sized e-bikes. Recommended body heights for our e-bikes range from 160cm - 183 cm
Looking at a scale from 1 - 10 (1 = easiest, 10 = hardest) we are giving this tour 4 points.
This is one of our easier tours in Ireland. People of all ages and abilities come on the tours, so do not worry if you are not super-fit. You have all day to cover the recommended route, and while Irish roads rarely follow a straight line, there are few really high climbs. There is one very short steep climb up to the Cliffs of Moher. You can always hop off the bike and walk for a bit.
The average daily cycling distance is around 38-50 km.
We offer Garmin files on request, but you need to bring your own device.
We would seriously recommend that you bring padded cycling shorts and / or a gel saddle cover that will definitely make your day's cycling more comfortable. Cycling gloves are also a good investment. You can also bring your own saddle which we should be able to attach to our bikes.
We provide pannier bags (not waterproof) in which you can keep your day-to-day items. Otherwise, you may prefer to use a daypack and there are back carriers on each bike for this purpose.
We do not provide rain gear so be sure to bring your own lightweight waterproofs.
Don't forget sun cream, sunglasses, sun hat as well as a bathing suit for that refreshing dip in the Atlantic Ocean.
Our rental bikes don't have lights – no problem on the long summer evenings, but if you are traveling in May or September, please bring your own light or high-visibility vest.
Finally, if you wish to use toe clips please bring your own pedals with toe clips which we can attach to our bikes (the pedals on our bikes do not accommodate toe clips
You have the option of booking different room types:
Double room = Room with one big bed for two people
Twin room = Room with two single beds for two people
Single room = Room with one single bed
Triple room = Room with one double and one single for three people OR room with three single beds
Family room = Room with one double and two single beds
If the room type you would like to book is not listed on the booking form, you can specify this in the section "other details"
You will stay in Ennis, Spanish Point, Doolin, Ballyvaughan & Kinvara.
Please have a look at this link to see a sample accommodation list.
Its possible to upgrade the accommodation in Ennis, Doolin & Kinvara.
o confirm you onto our tour, we require a deposit of 250 euro per person.
After your initial booking request, we will be in touch with payment details.
The remaining balance for the cycling tour will be due 60 days prior tour start.
hould you wish to cancel, cancellation charges will be imposed. These are calculated from the day written notification is received by the company or their agent as a percentage of the total tour price, including surcharges as follows:
> 60 days before departure – retention of deposit (250 euro per person)
60-14 days before departure – 50%
< 14 days before departure – 100%
To claim the balance back, you need to send the details on to your travel insurance who should reimburse you. Please make sure that your travel insurance covers the costs for unforeseen cancellation before signing up
We had a great time! Travel arrangements were clear and easy to follow; accommodations were comfortable, clean, friendly and unique; food was always delicious and accommodating for vegetarian diet. We loved all the little back roads and the farms we cycled by.
Many thanks - super great experience. We love Ireland and want to come back!
Andrea Palmer (Clare & Burren 2019)
We had a great holiday in Ireland and really enjoyed the bike tour.
There was so much to see and beautiful scenery and people along the way. The weather was unbelievable! No rain at all and no wind.
- great communication from you and the rest of your team
- Danny did a great job setting us up
- bikes were fantastic. Well maintained and the right size for all of us. Bringing our own seats was the best! Very comfortable.
- scenery to die for- stunning. The coast days were our favourite.
- food and music was amazing. All the b and bs and the lodges had wonderful food and the proprietors were so accommodating and friendly.
- luggage delivery was perfect. No problems at all
- the people we met everywhere could not have been more friendly or helpful
Joan Lapkowski (Clare & The Burren 2018)
Ireland is very beautiful, the people were friendly and the rides were therapeutic for me.
Jim Pretty (Clare self led 2012)
We had an excellent holiday from start to finish.
Shaun Whittaker (Clare Short Break 2013)
The hospitality and friendliness of the guesthouse owners is without limits. Breakfast is a real treat at every guesthouse. We enjoyed every day on our bicycles; the route was beautiful and the set out back roads were great for cycling.
Marcel Jansen & Marga Schuit (Clare self led 2015)
My wife and I had an incredible experience! It was the best vacation we've taken in the past 10 years. Everything was excellent. Don't change a thing. The B&B's were especially outstanding.
Jesse Arnstein (Clare 2015)
We had such a great time and everything was perfect….except for the rain on our Burren walk. Actually, that's something we probably won't forget! Wishing you all the best!
Bob & Pat Morton (Clare 2015)
I just want to let you know what an amazing trip we had biking around Clare. Ireland is a beautiful and magical place and so honoured to see parts of it on the bike. The route took us on some beautiful back roads and the weather was perfect. Thank you for setting us up with the accommodations, it was all lovely.
Susan Dittman (Clare & the Burren self led 2016)
How to get to Ennis:
It is possible to fly to either Dublin airport or Shannon airport.
Shannon airport is closer to the start point but flying into Dublin airport does have a number of route options
From Shannon aiport:
There is a bus service to Ennis available, approx €16 per person (Check BusEireann for info).
A taxi from Shannon airport to Ennis should cost approximately €35
From Dublin airport to Ennis:
Take the Airlink shuttle service into Dublin city where you can transfer to a train to Ennis from Heuston Station,
( but be warned this bus requires exact currency on the bus which is approximately €6 for a single adult ticket into the city )
The train takes approx 2hrs 20mins, Details of all trains are on IrishRail
There is a Bus service direct from Dublin city to Ennis available (Check BusEireann for more info)
As always please contact us in the office for more information (info@cyclingsafaris.com).
2023 7 NIGHT TOUR PRICE (GUIDED & SELF GUIDED)
€905.00 per person sharing off peak
€  30.00 per person high season supplement in July & August
€285.00 single room supplement (if travelling with others)
€450.00 solo tour (if travelling alone on a self guided tour)
Bike Rental 7 Night Tour
€100.00 24 speed touring bike
€280.00 E-bike
Self Guided Tour Information
Self guided tours are available from 16th April to 1st October and can start any day of the week.
ENNIS
In Ennis we stay in stay in a guesthouse or a centrally located hotel.
SPANISH POINT
The Bellbridge Hotel is set on the wild Atlantic Ocean and you can hear the waves during the night.There is a warm feel to the hotel with traditional music most night and a great place to rest after your first day on the bike.

Bellbridge Hotel.

DOOLIN
Doolin is probably the best town in Ireland for traditional music and hospitality and you will experience this first hand as we stay in local B&Bs with a real Irish household feel to them.
BALLYVAUGHAN
The Wild Atlantic Lodge, ideally located along the Wild Atlantic Way in Ballyvaughan Village in the heart of The Burren, is the perfect base for touring The Burren, discover the Cliffs of Moher, or for taking a trip to the Aran Islands.
We also use Hylands Hotel or Ballyvaughan Lodge
KINVARRA
Staying at family run guesthouses or B&Bs in this old fishing village you get a feel of the Ireland of old. With all the benefits of mode living and very good food and a wide range for local pubs to talk and relive the day is an easy-going cosy environment.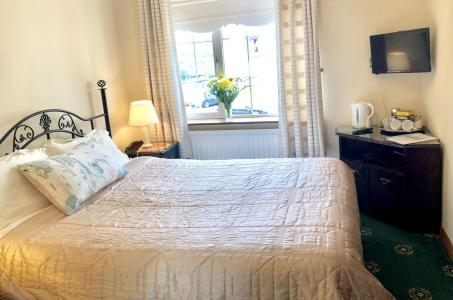 Tour Date Options
Red = booked out / not available
,
Blue = Limited Availability
,
Green = available
Booking Form