Difficulty Rating : 4 Start: Angers Finish: St Pierres des Corps Terrain: Gentle climbs, not a hilly tour Daily Average: 52km Weekly Average: 315km Tour Type: Group Teaser: Fairytale castles, riverside paths, charming villages and some of Frances finest wines...the Loire Valley tour is all you could want in a cycling holiday.
Overview
Trip Outline
Trip Includes
Gallery
FAQ
What people say...
Pricing
Travel
Accomodation
Resources
Booking
Fairytale castles, riverside paths, charming villages and some of Frances finest wines...the Loire Valley tour is all you could want in a cycling holiday.
Our Safari starts in Samur on the banks of the Loire, the longest river in France. Our cycle through the "Garden of France" is mainly flat along small roads and occasional tracks. There is time to explore many of the famous castles of the region, from the incredible underground chateu at Breze to the spectaculter Chateu Usse (inspiration for the castle in Sleeping Beauty).
In the evening time, after sampling some delicious French cuisine, we may have the opportunity to see the chateu from a new angle as the spectacular son et lumiere shows light up the castle against the night sky. Our final night is spent in Amboise with its iconic Royal Castle and neighbouring Clos-Luce manor, the onetime home of Leonardo da Vinci. As you pack away the cycling shorts and enjoy a final glass of wine, you will already be planning your return to this magical and captivating region.
No details found.
A downloadable version of the itinery is available from the Resources Tab
Itineraries
Day 1
Arrival in Montreuil Bellay
Transfers are included from Saumur train station to your hotel.
We start from Montreuil Bellay, a delightful walled village with striking château overlooking the river Thouet. A chance to lounge by the pool and enjoy a cold pastis.
Day 2
Montreuil Bellay ~ Chinon (42 kms)
An easy ride to one of the highlights of the week, Château Brézé, a wine-making estate famous for its amazing underground chateau. Leaving Brézé we make our way to the Royal Abbey at Fontevraud once home to many French Queens. After lunch, we descend to the river Vienne and cycle along a riverside path to Chinon where we stay at the Hotel France in the heart of medieval Chinon.
Day 3
Chinon ~ Azay-le-Rideau (55 kms)
We leave Vienne and cycle towards the river Indre where we find Châeau Ussé. Next stop is Villandry and its incredible Michelin 3***rated gardens., then cycle through delightful riding country to Azay-le-Rideau, another top-rated château. Tonight you will stay at the Hotel Châteu with the chance to visit the spectacular son et lumière, and the spectacle at Azay-le-Rideau is worth the stroll.
Day 4
Azay-le-Rideau ~ Loches (59 kms)
Today is a long cycle, 60km plus, but much of it follows the delightful Indre valley and the flat rolling countryside that divides the Indre and the River Cher. The Indre valley is widely regarded as the prettiest of all the many river valleys in the region, and Loches is an unsung delight with a lovely château and a charming town centre.
Day 5
Loches ~ Montrichard (42 kms)
A long, memorable day, with some glorious cycling that takes you off the tourist route to the Cher Valley and to the most famous of all the Loire Châteaux, Chenonceau. The Ballroom, built by Catherine de Medici, spans the Cher in spectacular fashion. The on to the Caves du Monmousseau for a tour of their wine cave and a tasting of their sparkling wines. Tonight you are beside the banks of the River Cher at the Hotel Bellevue.
Day 6
Montrichard ~ Chambord (50 kms)
Follow the Cher valley, visiting fascinating mushroom caves at Bourré. After lunch, the route follows quiet backroads across deserted countryside to Château Cheverny which lies in the Cour-Cheverny appellation with wine. The Château Chombard is by far the largest of all the Loire châteaux (and the best!). Our hotel faces this beautiful château in the middle of a vast hunting park.
Day 7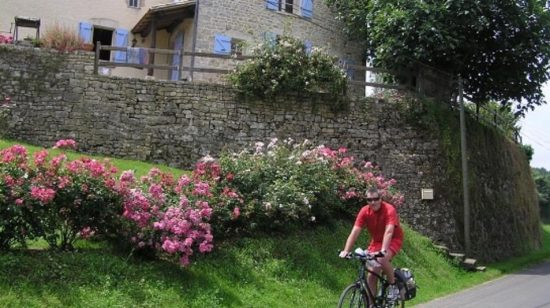 Chambord ~ Amboise (63 kms)
Much of today is spent beside the Loire downstream, passing through Chaumont. Your final destination is Amboise. With its beautiful white château overlooking the Loire and the bustling medieval centre, Amboise was also the last home of Leonardo da Vinci at the Clos-Luce, which is well worth a visit. Your last night is at the Hotel le Vinci.
Day 8
Departure
We will arrange transport to Amboise train station with an 11-minute journey to the TGV station at St Pierre des Corps. A departure time from St Pierre of 10.30 arrives in Paris before midday, and London by mid-afternoon.
7 nights accommodation in village hotels wtih

breakfasts

Seven dinners (group tour only)

Guide cycling with group

(group tour only)

Luggage transfer

Maps and route details

Set transfer on arrival day from Saumur to the first hotel

Set transfer on departure day from last hotel to Amboise train station

Note: Bike rental is not included in tour price in 2022.
We use Trek 7300 FX Hybrid 24 speed touring bike with aluminium frame and Shimano gear system.
One this tour the guide cycles with you, however each person has their own route details. There is no "sag" wagon as such but we can arrange to collect the weary!!
The maximum group size on these tours is fifteen people and one, sometimes two guides.
omfortable cycling clothing – padded cycling shorts and cycling gloves are invaluable.
Training shoes are fine for cycling.
Hat, sunglasses, suntan lotion, swimwear.
Casual clothes for evening. You may be grateful for something warm with long sleeves.
Helmets, though not obligatory in France, are highly recommended. To be sure of comfort we suggest you bring your own helmet, however, in the event that you need a helmet, they are provided
Just to let you know that we had a really great holiday.
The hotels, accommodation and meals were all top rate. The bikes (all new) and other equipment- panniers etc were excellent.
We have been raving about our Loire tour since we came home and we are definitely looking forward to doing another next year.
Máire & Ger Buckley (Loire Valley group tour 2012)
Our tour was everything I expected! Pete McGee, the lead guide, was fun, personable, helpful, knowledgeable, and an all-around great guide. The Trek bikes in good condition,
All our hotels were quite comfortable, the evening meals were exquisite, the tour routes were picturesque and safe with minimal to no traffic.
Barbara Koppenhafer (Loire Valley group tour 2013)
We really enjoyed our bike trek. The region was really nice and the weather couldn't have been better. All our accommodations were great and the staff at each one were very nice. The restaurants, were also very good and we really enjoyed all menus offered.
Elena Vazquez (Loire Valley group 2015)
We had a wonderful time on our tour. The Loire Valley is incredibly beautiful, with a fantastic combination of gorgeous chateaux, amazing history, lovely towns, charming people, stunning scenery, and of course, delicious wine.
Nancy Burns (Loire Valley group 2015)
I had a wonderful time on the Loire Valley Cycling Tour. I couldn't fault any part of it at all! The cycling program was fabulous, the bikes were almost new and in excellent condition. The accommodation and food were also excellent. Our guide was also excellent and the other cyclists were great company, too!
Hoping to do another cycling holiday next year.
Tess Maclaughlin (Loire Valley group 2015)
2022 GROUP TOUR 
€1,725.00 per person sharing
+€405.00 single room supplement (if travelling on your own, we will endeavour to find a roommate for you)
€85.00 bike rental
Self Guided Tour Information
Self guided tour not available at the moment
How to get to the start point for Self guided: 
We suggest flying to Paris and then take our set transfer from the train station (see below)
You will be met at Saumur at 18:40 by a tour representative who will be easily identifiable and brought by minibus to the starting point at Montreuil Bellay. Our transfer aims to leave Saumur station by 18:45.
For guided group tour : Transfers will be arranged from Angers train station
At the end of the week you will be brought to the train station Amboise for the departure to Paris Charles de Gaulle / Montparnasse and London (via Lille) at 11:01
For guided group tour : Transfers will be arranged from St Pierre des Corps train station
*Both transfers are included in the tour price.
Note: On the group tour the times shown are the only transfers we arrange ,  on self Guided tours you can arrive at any time at our designated train stations.
For more details please have a look at the tour dossier.
As always please contact us in the office for more information (info@cyclingsafaris.com).
Montreuil Bellay
Day 1: Relais du Bellay
Chinon
Day 2: Hotel de France
Azay-le-Rideau
Day 3: Hotel Des Chateaux
Loches
Day 4: Hotel Georges Sand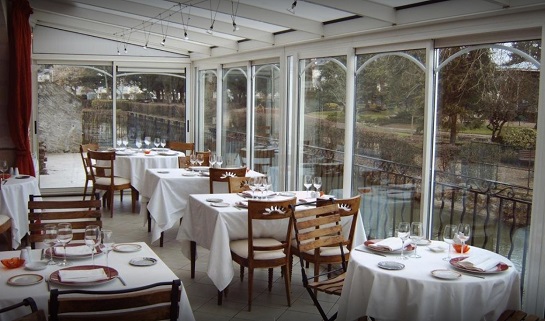 Montrichard
Day 5: Hotel Bellevue
Chambord
Day 6: Hotel Saint Florent in Mont Pres Chambord
Amboise
Day 7: Best Weste Hotel la Vinci
<img src="/images/Accommodation_Eu
Tour Date Options
Red = booked out / not available
,
Blue = Limited Availability
,
Green = available
Booking Form