Difficulty Rating : 7 Start: Dublin Finish: Dublin Terrain: The roads are all tarmaced and mainly on quiet back roads, except at start of cycle. Some steep climbs and rolling hills. Daily Average: 30-56km Weekly Average: 244km Tour Type: Self Guided,Short Break Teaser: Many visit Dublin without seeing its best feature, the coast. Our safari takes in the beautiful southeast coastline as well as the magnificent landscapes
Overview
Trip Outline
Trip Includes
Gallery
FAQ
What people say...
Pricing
Travel
Accomodation
Resources
Booking
Many visit Dublin without seeing its best feature, the coast. Our safari takes in the beautiful southeast coastline as well as the magnificent landscapes and rich history and folklore that the Wicklow Mountains has to offer.
Starting from Dublin, we take straight to the coast passing through Dalkey (with its many famous residents) and on towards the beautiful Killiney Bay (likened to the Bay of Naples) and the tiny village of Enniskerry where we spend one night. The following day you head into the heart of the Wicklow Mountains as you explore the 'Garden of Ireland' in all its beauty. It is in its deep glens that much of the peculiar charm of Wicklow scenery is to be found, with rugged natural features, rich and lavish woods, beautiful lakes and stunning valleys.
You spend two nights in Laragh, located beside the monastic village of Glendalough with its ruined abbey and distinctive round tower. Here you have the opportunity to relax in the tranquil surroundings and walk one of the numerous signed ways around the surrounding lakes. We head over the mountains to Glenmalure and stay in the lovely peaceful village of Aughrim before continuing to the harboured Wicklow town. On the last day you will cycle inlands again, before being transferred back to Dublin, for a final night in this vibrant capital city.
No details found.
A downloadable version of the itinery is available from the Resources Tab
Itineraries
Day 1
Arrival to Dublin
You will be spending your first night in Dublin or Dun Laoghaire. Once you have checked into your accommodation, you can then spend the rest of the day exploring the many sights and sounds that have made Dublin such a lively and popular destination.
Day 2
Dublin ~ Enniskerry (30kms)
You begin the day in a leisurely fashion with a cycle along cycle paths and quiet roads to the coastal towns of Dun Laoghaire and the charming village of Dalkey, with its many famous residents , along the scenic Vico Road with spectacular views across Killiney Bay. You then head inland along green fields to the village of Enniskerry. A transfer can be arranged this evening to the famous Johnny Foxes Pub, the highest pub in Ireland.
Day 3
Enniskerry~ Glendalough (48kms)
In the morning you have the chance to visit the beautiful Powerscourt Gardens before heading over the stunning Sally Gap Road all the way to Roundwood for lunch. The journey continues via Lough Dan into the village of Laragh for the night. Laragh is located beside the monastic village of Glendalough with its ruined abbey and distinctive round tower.
Day 4
Rest day in Glendalough
Today there is the opportunity to relax in your tranquil surroundings in Laragh/Glendalough and walk one of the numerous signed ways around the surrounding lakes. For more information please check out Glendalough Visitors Centre
Day 5
Glendalough ~ Aughrim (40kms - 51 kms)
Our cycle follows the Avonmore River. You can choose to visit Avondale House and Forest Park, once the home of one of Ireland's greatest political leaders, another option or the wild mountain scenery on the ancient Military Road. All routes come together in Aughrim a pretty village with much evidence in the buildings of its former glory as a granite quarrying and stonecutting centre.
Day 6
Aughrim ~ Wicklow (45kms – 65kms)
There are options to match your mood and energy levels. You can cross the low coastal hills to ride north along the coast taking a dip in Brittas Bay, a beautiful Blue Flag beach or venture into the wooded hills on virtually traffic free roads through remote villages to view for your self the mysterious Motte Stone before descending to the coast and Wicklow, a friendly seaside town with Viking origins.
Day 7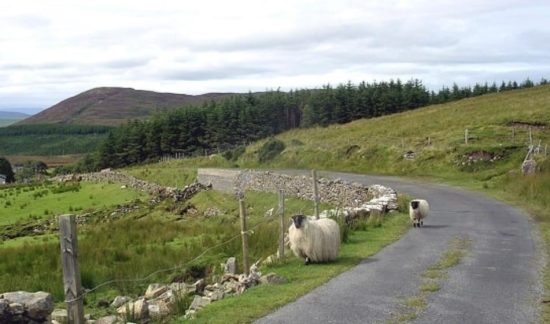 Wicklow ~ Dublin (50kms)
Your last day on the bike will take you inland again back towards the village of Roundwood for lunch. You can then take a different route along beautiful country roads to the village of Enniskerry where we will meet you and transfer you back into Dublin city for a final night on the tour.
Bed & breakfast accommodation
( mixture of guesthouses and small hotels )

Transfer from Enniskerry to Dublin (7 night tour)

Luggage transfer


Route details and maps

24 hour service hotline

GPS tracks available (on request)

In 2023 Bike Rental is not included in the basic tour price.
All rentals come with a pannier, lock, helmet and repair equipment.
On a self guided tour we will organize your bike hire, the accommodation and the luggage transfer. Your route details will be waiting for you in your first night's accommodation. In the route details you will also find recommendations for lunch stops and places to have dinner. You will set off by yourself and the luggage will be transferred to the next stop by our local taxi transfers. And should there be a day you won't be able to cycle, it is possible to arrange a lift with the luggage transfer.
You can also contact us in the office (info@cyclingsafaris.com) or on our emergency number if you need assistance.
You can start the cycling tour on any day that suits you.
If you prefer to cycle with a support van and/or guide we are happy to send you a customized quote for this.
On a self guided tour it is possible to add extra days or shorten the trip if you wish to or we can customize the route for you.
Bike rental is not included in the basic tour price
You can rent a GIANT CITY bicycles for our tours
Bikes come in different sizes and in gents and ladies style frames.
It is very important you give us your height on booking so that we can allocate the correct bike to you.
You can also rent an E-Bike
We are using EASE-E+ 2 ELECTRIC BIKE or similar please click here for more details.
We offer small and medium-sized e-bikes. Recommended body heights for our e-bikes range from 160cm - 183 cm.
Looking at a scale from 1 - 10 (1 = easiest, 10 = hardest) we are giving this tour 7 points.
The roads are all tarmacked and the route is designed to ensure that you spend most of the cycling on quiet back roads. To experience the majestic scenery of this area the route does have some climbs, so it is worth getting a few weekends training on a bike in varied terrain before coming thus ensuring that you can fully enjoy the tour.
On most days you will have the option of doing a route with some climbs or an easier option.
The average daily distance is between 35 - 60 km.
We offer Garmin files on request, but you need to bring your own device.
We would seriously recommend that you bring padded cycling shorts and / or a gel saddle cover that will definitely make your day's cycling more comfortable. Cycling gloves are also a good investment. You can also bring your own saddle which we should be able to attach to our bikes.
We provide pannier bags (not waterproof) in which you can keep your day-to-day items. Otherwise you may prefer to use a daypack and there are back carriers on each bike for this purpose.
We do not provide rain gear so be sure to bring your own light weight waterproofs.
Don't forget sun cream, sunglasses, sun hat as well as a bathing suit for that refreshing dip in the Atlantic Ocean.
Our rental bikes don't have lights – no problem on the long summer evenings, but if you are travelling in May or September, please bring your own light or high-visibility vest.
Finally if you wish to use toe clips please bring your own pedals with toe clips which we can attach to our bikes (the pedals on our bikes do not accommodate toe clips)
You have the option of booking different room types:
Double room = Room with one big bed for two people
Twin room = Room with two single beds for two people
Single room = Room with one single bed
Triple room = Room with one double and one single for three people OR room with three single beds
Family room = Room with one double and two single beds
If the room type you would like to book is not listed on the booking form, you can specify this in the section "other details"
It was great.
Aidan did superb job!
Bike was great, just what I needed.
Staff at bike shop very helpful.
Bob Heller (Dublin & Wicklow 2018)
I wanted to thank you for your help in setting up my recent Wicklow Tour. It was another wonderful experience for me with Cycling Safaris, The ride was a great contrast with the West Cork Coastline tour and the Galway Mayo & Connemara tour in terms of traffic and terrain which was just what I was looking for.
Even having to dismount while riding towards the Sally Gap to avoid being blown off the road was a welcome source of excitement!
I was treated like royalty at the B&B's and really liked the Lawless Hotel in Aughrim, Wicklow Heather gave me a wonderful suite and served me a great breakfast al fresco and a great dinner.
So, I remain one of your biggest fans.
Bob Hurley (Dublin & Wicklow self guided 2017)
The whole booking/travel experience has been easy, flexible, and with plenty of information and help to ensure we were well supported.
All of the accommodations were good and pretty much as expected and advertised in the initial booking information. The little handbook with written directions was absolutely excellent, easy to follow, and we didn't get lost once. All of the bikes were good, well serviced, held up well and no punctures throughout the week.
Thank you again, we loved the trip and I am looking forward to the opportunity to come back and cycle another part of Ireland with you!
Kristin Warrior (Dublin & Wicklow self guided tour, 2017)
We had an absolutely magical time on our ride. We will highly recommend your company to all our friends You have a quality organization and I'm so glad to have worked with you, Cheers to all
Stephanie Pardee (Wicklow self led 2013)
Thank you - we had an excellent adventure in the Wicklows! The bikes / panniers and your tour organisation were excellent. Cycling is the best way to see the Wicklow!
Leonie & Paul H. (Wicklow self led 2013)
The arrangements worked out great. The route directions were fantastic. We didn't have any issues. And the route you sent us was amazing! We definitely plan on doing it again in one of your other areas.
Kate R.-E. (Wicklow self led 2014)
Had an excellent holiday!
Bikes very good-brand new. itinerary route, accommodation & luggage transfers all good.
Mick Rolls (Wicklow self led 2015)
Everything was great. We thoroughly enjoyed our time in your fine country. We all thought the trip you had laid out for us gave us a great experience of all kinds of terrains, views and pure enjoyment.
All of the places we stayed were great as well and the restaurants and cafes we stopped in were perfect.
Trevor Boquist (Customized Tour 2015)
NIGHT SELF GUIDED TOUR PRICE 2023
€ 940.00 per person sharing off peak (*)
€   30.00 per person high season supplement in July & August (*)
€ 285.00 single room supplement (if travelling with others)
€ 450.00 solo tour supplement (if travelling alone)
Bike Rental 7 Night Tour
€95.00 24 speed touring bike
€250.00 E-bike
(*) There is a €60.00 per person discount if you do not need the first night's accommodation in Dublin and you make your own way to our shop the following morning
Self Guided Tour Information
Self guided tour is available from 16th April to 1st October and can start any day of the week.
How to get to Dublin:
The best airport is of course Dublin airport!
From Dublin airport:
A coach service direct from the airport to city center is available, approx €16 per person return ticket
Check AirCoach for more info ( Aircoach also travel to Dun Laoghaire ) 

A taxi to Dublin city is approx €35,  to Dun Laoghaire a taxi should cost approx €50
If arriving in Cork airport you have the option of a train or bus to Dublin,  
all details are on the websites IrishRail and Bus Eireann

From Shannon aiport: There is a bus service to Dublin city available, approx €16 per person
(Check JJKavanagh Coach for info). 
 As always please contact us in the office for more information (info@cyclingsafaris.com).
DUBLIN
Typically we stay in Haddington House in Dun Laoghaire with its fabulous location on the coast of the Irish Sea overlooking the bay. The hotel is a short walk to the harbour its a beautiful area to explore.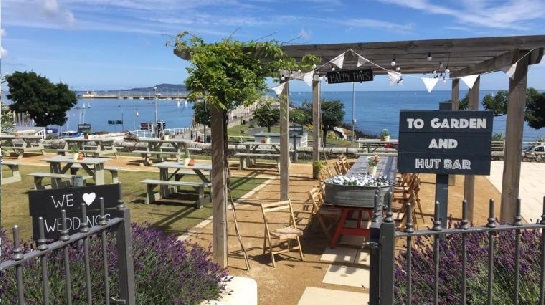 ENNISKERRY
Enniskerry Inn is nestled in the centre of the picturesque village of Enniskerry.
The village is in the foothills of wicklow mountains the Inn reflects this along with a warm and friendly atmosphere.
LARAGH/GLENDALOUGH
We stay in a number of different guesthouses in this wonderful location
Pinewood Lodge is a spacious mode dormer bungalow, situated in a quiet wooded location. The relaxing feel and peace of the mountains makes this a place to remember.
The Heather House B&B also offers all you need for a perfect stay in this stunning area.
AUGHRIM
Established in 1787, Lawless Hotel offers a tranquil rural retreat. With fantastic bar and local feel it makes spending an evening here very easy.
WICKLOW
Kilmantin House. A town house in the heart of Wicklow town with a warm welcome and close to all the Attractions of the town only a few min walk away.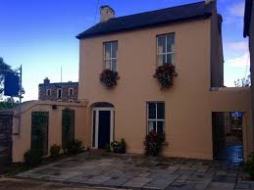 Tour Date Options
Red = booked out / not available
,
Blue = Limited Availability
,
Green = available
Booking Form