Difficulty Rating : 3 Start: Amsterdam Finish: Amsterdam Terrain: Easy flat cycle Daily Average: 54-70km Weekly Average: 270-350km Tour Type: Family,Bike and Boat,Group Teaser: It was only in the 17th Century that large parts of the area north of Amsterdam were recovered from the sea and reclaimed through windmills
Overview
Trip Outline
Trip Includes
Gallery
FAQ
Feedback
Acommodation
Travel
Pricing
Resources
Booking
It was only in the 17th Century that large parts of the area north of Amsterdam were recovered from the sea and reclaimed through the use of hundreds of windmills.  A typical Dutch landscape of polders, mills, harbours, and tulips.
This tour brings you over small dykes and country roads,  lined with many windmills still in working order. You can get a feel for the old Dutch atmosphere in towns such as Enkhuizen, Hoorn, Edam and Volendam.  We sail to Texel, an island with thousands of sheep and a magnificent nature reserve.   Our route brings us along Holland's most beautiful dune area,  the only time you will be cycling above sea level!

Alkmaar will also provide a great insight into ancient times. It is the capital of Dutch cheese with its own cheese market and weigh-house for cheese.  We visit Zaanse Schans, a lovely little hamlet on the banks of the river Zaan where the mills, houses, shops and traditional Dutch crafts will bring the past back to life.
No details found.
A downloadable version of the itinery is available from the Resources Tab
Itineraries
Day 1
Amsterdam, embarkation from 3pm - 4 pm. Cycle 15 km
A simple settlement at the mouth of the river Amstel, with an open connection to the sea: this was Amsterdam in the 12th century. We start with a short cycle, after which the programme for the next day and the rest of the week will be explained to you at dinner time.
Day 2
Amsterdam ~ Volendam (42 kms)
We start our cycle through the rural area of Waterland, a soggy peatland where the houses and villages are hardly above the level of the water. We visit the Isle of Marken which can only be accessed on foot or by bike. We finish the day along the Gouwzee dyke to Volendam, originally a small fishing community where the inhabitants used to wear their distinctive and picturesque traditional costumes.
Day 3
Volendam ~ Enkhuizen (58 km or 27 km)
Today we visit the old Dutch town of Edam, which together with Gouda , are probably the best-known types of cheese in the world. The tour continues through broad meadows to Hoorn, a beautiful city with a rich past. We cycle on a dyke with a wonderful view over the Markermeer on your right and West-Frisian villages on your left-hand side to our nights stop at Enkhuizen.
Day 4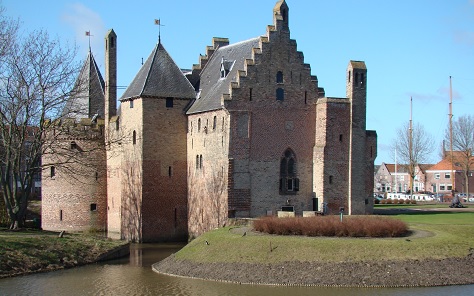 Enkhuizen ~ Medemblik (43 kms)
You can start your day with a visit to the Zuiderzeemuseum, a museum that shows you the history of everyday life around the Zuiderzee until the middle of the 20th century. The cycling tour starts on the IJsselmeer dyke and on through a nature reserve by typical West-Frisian villages. Then Medemblik comes in sight, the oldest city of West-Friesland (1289), with an illustrious past and with Radboud castle, dating from the 13th century.
Day 5
Texel round trip (40/50/66 kms)
The Isle of Texel is the largest of the Dutch Waddeneilanden (Wadden islands). An island highly appreciated by bird-watchers. In springtime, about 80 different types of birds breed her, mainly in the dune areas, but all in all, about 300 different species have been found here. A tour around this island with its numerous cycle tracks is well worth the effort.
Day 6
Texel ~ Alkmaar (58 kms)
oday's cycle takes us through the dunes by the Schoorlse Duinen (Schoorl Dunes), the highest dunes in the country. During the last century many pine trees were planted here so now it is a rather woody region. We visit Bergen, an artists' village which attracts many painters, writers and architects. Our destination is Alkmaar, also called the City of Cheese. Its weigh-house was the first in the country for weighing and trading of cheese.
Day 7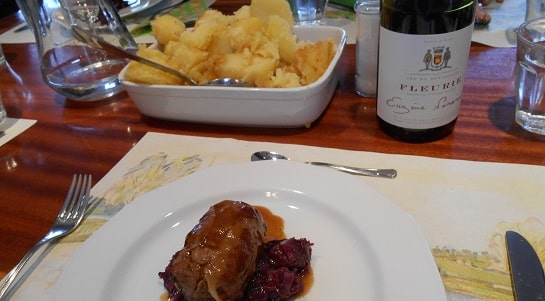 Alkmaar ~ Amsterdam (45 kms)
fter leaving Alkmaar we cycle through the 'droogmakerij' land with the 17th-century towns of Schermerhorn, Graft and De Rijp. The last stretch of the trip takes you through 't Twiske (the Twiske) Leisure Park back towards Amsterdam where we take leave of our bikes. In the afternoon there is still some time to go into town and after dinner, you may want to finish off your trip by going on a city walk or taking a trip on one of Amsterdam's canal boats.
7 nights on board (incl. bedding, towels, soap)




Breakfast and dinner on board




Picnic Lunch packages when on the road




Coffee and tea on board

Tour guide who cycles with the group

Route info & road book (1 per cabin)

Ferry fares on the route

At least 3 city walks with tour guide

GPS tracks ( on request )
Bike rental is not included in our 2023 tour price. This is an additional:
€100.00 Hybrid Bike
€195.00 Electric Bike
Discounts are available for children, please see itinerary or email our office for more information
For 2022 bike rental is not included in the basic tour package.
On this tour we rent out Batabus Galivier Hybrid bikes. A good bicycle available for all participants from ages nine and up with 24 gears and handbrakes. All bikes are comfortable lightweight touring bikes. The bikes are equipped with:
- Pannier bags, Helmet, Odometer, Good lock, Water bottle
- You will get a repair kit when biking on your own.
It is also possible to rent an E - bike
Your bike has 24 gears, a detachable lithium-Ion battery, hand brakes, pannier bags, a good lock, water bottle and a repair kit.
Bike Insurance:
Bicycle insurance is available for €20 per touring bike and €40 for an e-bike.
The participant is liable for damage or theft as long as the bike is not on board. The bicycle insurance covers the cost of the repair or replacement of bicycle parts in case of an accident. It also protects against theft of the bike while it was locked.
If you didn't arrange cycle insurance when booking you can do this on board (the first day). Payment in cash is required
I enjoyed the trip immensely, the barge was so nice and couldn't ask for better staff. Our guide was excellent, very informative and great with everyone. Bikes were excellent and comfortable to use. We met lovely people from all over the globe and we all got on very well. Looked forward to each days cycle and would recommend this holiday 100%, can't wait to go again! 
Lorraine S (Top of Amsterdam Group Sept 2016)
Really enjoyed doing the Top of Amsterdam tour. It was very well organised. It was lovely visiting the various places. The food and accommodation on the boat were excellent. The crew and guide were very helpful. 
Donal (Top of Amsterdam August 2016)
Liza Marleen - Category Comfort
The "Liza Marleen" is a luxury motor passenger barge, built in 1997-98 on the completely dismantled shell of a seafaring freight logger. Cabins were fully renovated for the 2016 season. The "Liza Marleen" has 8 double cabins and 2 triple cabins. All cabins come with a private bathroom and central heating. The "Liza Marleen" has a beautiful, spacious and tastefully decorated salon and plenty of room on deck. The dayroom has audio-equipment and TV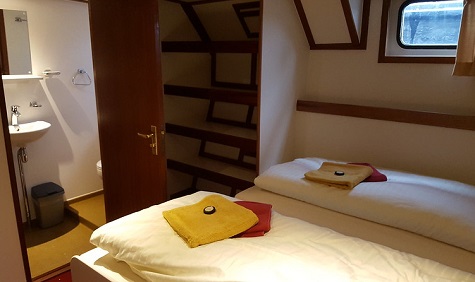 Wending – Category Comfort
The "Wending" is a former freight barge that started a new life in the early nineties as a luxury passenger motor barge. The "Wending" has 8 double and 2 triple cabins. All cabins with private bathroom and central heating. There is a roomy and cosy salon, equipped with a complete music installation and TV. After a strenuous bike ride it is a great place to relax
Anna Antal – Category Standard Plus
The Anna Antal also became a passenger barge in the nineties. With a capacity of 18 people it has nine cabins all with central heating and a private bathroom. Like all barges it has a cozy salon where, in the evenings, a drink can be consumed by the elegant bar. Outside there is a sun deck / a deck for the bicycles. The crew as with all barges consists of a skipper, a cook and a sailor/hostess.
Zwaan – Category Comfort Plus
Hotelboat Zwaan's chef prepares nice meals, which are served in the livingroom or weather permitting, on the sundeck. The barge has a capacity for between 14 - 20 people between seven cabins with private hot shower and toilet
2 x Family-style room, 2/3 p with double bed + single bed - 2x Friends-style room
2/3 people with 3 single beds (one bunk) - 2 x Twins-style room, 2 people with two separate beds
"Lovers Nest", 2 persons with double bed
<img src="/images/Accommodation_Europe
How to get to the start point port:

Schiphol airport is approx 20km to the ship. At Schiphol airport you can take the train to Central Station Amsterdam. These trains leave approx. every 8 min.and takes approx 15 minutes by train from the airport into Amsterdam, a ticket costs approx €5 per person for single journey. From Amsterdam Central Station it is a 10 minute walk to the place where the ship is docked.
A taxi from Schiphol to Amsterdam takes about 30 minutes, it costs about €35.
For more details please have a look at the tour dossier.
As always please contact us in the office for more information (info@cyclingsafaris.com).
RATES FOR 2023
BARGE "LIZA MARLEEN"
May 13, 20, 27, June 3, 10,  August 5, September 2, 9, 16
€1165 ( Low season ) / €1300 ( mid season ) / €1425 ( high season )per person in twin cabin
€1695 ( Low season ) / €1880 ( mid season ) / €2075 ( high season ) single cabin occupancy
BARGE "ZWAAN"  
June 17, 24, July 1, 8, 22, 29, August 12
€1495 ( mid season  ) per person in twin cabin
€1940 ( mid season  ) single cabin occupancy
Self Guided Tour Information
Self Led tours are not an option on this route.
Tour Date Options
Red = booked out / not available
,
Blue = Limited Availability
,
Green = available
Booking Form