Difficulty Rating : 6 Start: Cortona Finish: Spello Terrain: Moderate climbs required each day, in particular cycling into the hilltop towns Daily Average: 39km Weekly Average: 195km Tour Type: Self Guided Teaser: Umbria is known as the Green Heart of Italy, being both landlocked and in the middle of the country, in many ways it epitomizes Italian life.
Overview
Trip Outline
Trip Includes
Gallery
FAQ
What people say...
Pricing
Travel
Accomodation
Resources
Booking
Umbria is known as the Green Heart of Italy, being both landlocked and in the middle of the country, in many ways it epitomizes Italian life.
The lovely hilltop town of Cortona marks the start of your safari. From here you head to Lake Trasimeno where you can stop for a coffee on the shores edge. Your journey takes in the town of Perugia where you have a chance to enjoy sophisticated Italian shopping as well as exploring a unique subterranean town dating back to its Papal disobedience in Medieval times!
The UNESCO designated Assisi is your next stop for two nights with its amazing Basilica as well as its saintly history. You spin down the central valley along the wine road to visit Montefalco, with its beautiful architecture and frescoes from Benozzo Gozzoli. The tour finishes up in the less well known but equally appealing medieval towns of Speletto and Todi ensuring you do not miss the true Umbrian experience.
No details found.
A downloadable version of the itinery is available from the Resources Tab
Itineraries
Day 1
Cortona
You can arrive from Rome or Florence to Terontola railway station where we will meet you and transfer you to Cortona.
Our representative will meet you at your hotel the following morning with your bikes , route details and of course will be ready to answer your questions about the tour.
Day 2
Cortona ~ la Corte del Poggio 45 Km
Trasimeno lake is known for its olive covered surrounding hills, lovely villages and bamboo ridden shores, a resting place for migrating birds. You can take a boat to Isola Maggiore where old ladies weave their age-old laces and where you can taste a delicious fish at Sauro's. You can enjoy Montecorognola view point over the lake, as well as the lakeside villages of Monte del Lago and San Feliciano
Day 3
La Corte del Poggio ~Perugia 32 Km
Todays cycle is to Perugia, the main town in Umbria. It has a fine square and communal palace, renaissance painting collection, and the Rocca Paolina, the subterranean town . Perugia is also a lively town with shops and fashionable boutiques a wonderful place to spend some time.
Day 4
Perugia ~ Assisi 35km
You cycle through the heart of Umbria. You can visit Deruta famous for it's ceramics and Torgiano, a Lungarotti wineries home town. If a wine tasting might be dangerous for your "bike" safety (!) a visit to the wine museum is advised. Your destination is Assisi where you stay in a lovely country Inn within walking distance of the Basilica.
Day 5
Assisi ~ Spello ~ Assisi 50 km
Today is a wonderful chance to explore the beautiful town and Basicala of Assisi. You can hop on your bike and cycle to Spello a very nice and less touristy small town on the Subasio slopes. Coming back you may want to stop in Bevagna for a taste of the Sagrantino wine before heading back to your accommodation in Assisi.
Day 6
Assisi ~ Spoleto 53 km
Your cycle takes you down a valley along the wine road. You visit Montefalco, with its lovely buildings and beautiful frescoes from Benozzo Gozzoli. You then cycle along the River banks before arriving in Spoleto, famous for its Music & Opera Festival, where you spend the night.
Day 7
Spoleto ~ Todi ~ Orvieto 42 km
Now that you have grown familiar with Umbrian hills you will get a bit more of them; the last two days are slightly tougher than the rest of the tour. There are some ups and downs on the way between Spoleto and Todi. Todi main square is said to be the most beautiful square in Italy and there are a couple of very fine churches to be visited. From Todi we will transfer you to your accommodation in Orvieto.
7 nights B&B

Needed transfers

Luggage transfer at each change of accommodation

Detailed Road book and maps

One of our assistants will meet you on the first day (or the next morning if biking or hiking are not in the program for the first day) to explain the tour and answer your questions

Transfer to Foligno train station on the departure day
All your accommodation is pre booked and your luggage is transported from hotel to hotel.
You are given a map with a fully researched route. You will also have a hotline number should you need any assistance in any way.
Bike hire is not included in the tour package. However you can rent a touring bike ~ BIANCHI - Camaleonte 4 Aluminium frame ( sizes 43/ 58 cm) Shimano gear system Sora ( triple front chain) 27 speeds
A side bag on the rear rack, water bottle carrier and a repair kit are included
Electric & Road bikes are available for rental, please email us for more details
There are a few different options for this tour so there are a few different distances. You can expect between 40km and 60km daily
If you cannot cycle for any reason you can get a lift with the person who will transport your luggage.
There may be a small fee you can pay to the driver and you will need to let them know the day before if possible.
f your a cycling a few hours a week and put a little training before you go you should be fine on this tour
Doing one longer cycle a week of 2 or 3 hours would really help, as there are hills on this tour a little more training would be advised.
2023 UMBRIA - THE EASY WAY SELF GUIDED TOUR
€940 per person sharing
€180 single supplement (if travelling with others)
€280 solo traveller supplement (if travelling alone)
2023 THE HILL TOWNS OF UMBRIA SELF GUIDED TOUR 
€1090 per person sharing
€190 single supplement (if travelling with others)
€300 solo travellers supplement (if travelling alone)
2023 THE BEST OF UMBRIA & TUSCANY SELF GUIDED TOUR
€1090 per person sharing
€190 single supplement (if travelling with others
Self Guided Tour Information
Self guided tours are available to start any day from 1st April to 31st October
How to get to the start point in Cortona: 
Closest airports to fly to: Pisa or Florence (both approx 2.5hrs)
Trains to Terontola TrenItalia , there our representative will meet you and bring you to your first night's accommodation (15 km – 25 min by car) in Cortona
As always please contact us in the office for more information (info@cyclingsafaris.com).
Day 1 Cortona
Tonight we typically stay in the Hotel San Michele
Day 2 Poggio delle Corti
Tonights stay is typically in "la Corte del Poggio"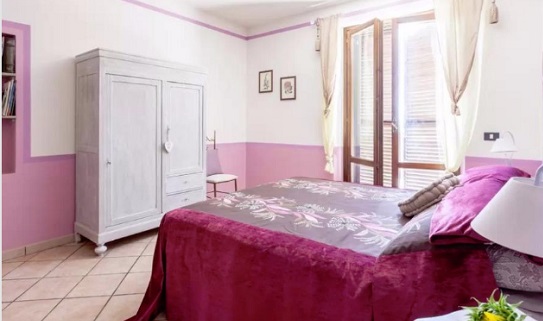 Day 3 Perugia
Hotel Fortuna is our first choice in Perugia
Day 4 & 5 Assisi
"3 Esse country house" is our preferred accommodation in Assisi
Day 6 Spoleto
In Spoleto we head to the lovely hotel Charleston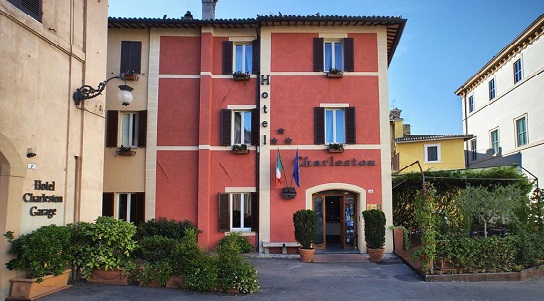 Day 7 Orvieto
The hotel Aquila Bianca is where we aim to spend our last night on this wonderful tour
Perugia
Hotel Fortuna www.hotelfortunaperugia.com
Assisi
Hotel Sorella Luna www.hotelsorellaluna.it
Spello
Hotel Il Cacciatore www.ilcacciatorehotel.com
Bevagna
Palazzo Brunamonti www.brunamonti.com
Tour Date Options
Red = booked out / not available
,
Blue = Limited Availability
,
Green = available
Booking Form