Difficulty Rating : 5 Start: Salzburg Finish: Salzburg Terrain: A gentle cycle along by the lakes but there are some hills to climb. Daily Average: 42-49km Weekly Average: 250-295km Tour Type: Self Guided Teaser: Made famous by the film the Sound of Music, the Salzkammergut and Trumer Lake district have remained virtually unchanged
Overview
Trip Outline
Trip Includes
Gallery
FAQ
Acommodation
Pricing
Travel
Resources
Feedback
Booking
Made famous by the film the Sound of Music, the Salzkammergut and Trumer Lake district have remained virtually unchanged since this classic film. Beautiful alpine hamlets (with their wonderful window boxes of flowers), medieval towns, pristine lakes and towering mountains are the backdrop for some leisurely cycling as many of the film's locations are explored.
The tour starts and finishes in the stunning UNESCO World Heritage city of Salzurg, birthplace of Wolfgang Amedeus Mozart. We leave the city and meander along cycle paths and quiet country lanes as we take in the unspoilt beauty of ten of the pristine lakes that make up the Salzkammergut. Highlights include a boat rip across the Attersee (largest of the lakes) and a chance to visit the famous Kaiservilla in Bad Ischl. A traditional Austrian picnic of local produce at a lovely old farmhouse washed down with homemade cider, sums up the relaxed nature of the cycling.
Don't hesitate to email our office should you have any queries ( info@cyclingsafaris.com )
No details found.
A downloadable version of the itinery is available from the Resources Tab
Itineraries
Day 1
Arrival to Salzburg or Trumer Seen Lakes
Information on the tour and bike fitting. For guests arriving at the Trumer Seen lakes, the subsequent daily tours are accordingly shifted in the itinerary (these guests begin the tour with the route described for the third day, cycling the Salzburg - Trumer Seen lakes route on the final day).
Day 2
Salzburg ~ Trumer Lakes / Lake Wallersee (45-55 kms)r Plan
Today, you will cycle along the Salzach to Oberndorf, birthplace of the Christmas carol "Silent Night", where you can visit the "Silent Night" Museum and the beautiful Michaelbeuern Abbey. Cycling deeper into the Trumer Seen lakes country, you pass the picture perfect Lake Obertrumer See, Lake Mattsee, Lake Grabensee and partly also to Lake Wallersee.
Day 3
Trumer Lakes / Lake Wallersee ~ Lake Mondsee (50 kms)
Todays cycle will take you through the natural reservoir of the Egelseen lakes. Later, you continue on your journey to the idyllic Lake Irrsee. Overnight stay in Mondsee with its wonderful castle and smokehouse
Day 4
Lake Mondsee ~ Lake Traunsee (50-80 kms)
You have a chance to journey by boat to Weyregg (only in main season 3!). Afterwards you cycle through the stunning Aurachtal valley to Lake Traunse where you van visit the lakeside town of Gmunden beautifully located with an Alpine backdrop and numerous places to visit including it's castle.
Day 5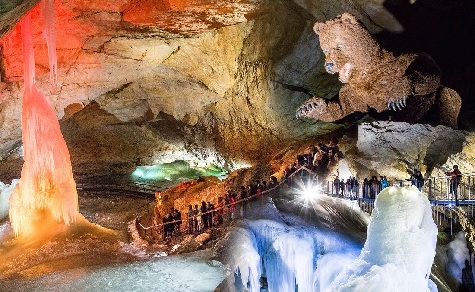 Lake Traunsee ~ Lake Hallstätter See – Bad Goisern (20-35 kms)
The journey starts by train to Lake Traunsee and Obertraun by Lake Hallstättersee where you can visit the stunning Dachstein mountainous ice caves. Continue along the lake to Hallstatt considered by many to be the loveliest lakeside location in the world towards Bad Goisern or one of the neighbouring towns.
Day 6
Lake Wolfgangsee approx 35 km
You cycle through Bad Ischl where you can visit the Austrian Emperors summer villa including a tea house built for his wife. Continue along the Ischler Ache river to Lake Wolfgangsee, cycling through places such as St. Wolfgang, Lake Abersee, via the Zinkenbachklamm gorge and on to St. Gilgen - the "Mozart Village" on Lake Wolfgangsee.
Day 7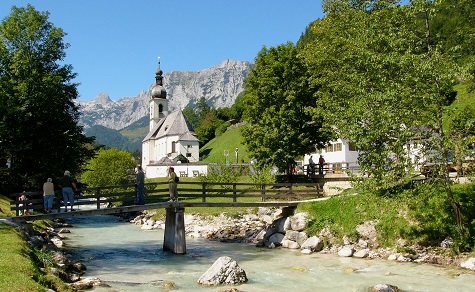 Lake Wolfgangsee ~ Salzburg (50-70kms)
You follow the cycle route through St. Gilgen past the Hintersee lake, and the Strubklamm gorge into the Wiestal valley. The tour takes us through the wonderfully unspoilt gorge at Glasenbachklamm into the Salzachtal valley. Shortly before reaching Mozart's city of Salzburg with its fortress and wonderful old town.
Tour ends after breakfast the following morning.
7 nights accommodation with breakfast

Welcome briefing

Daily Luggage transfer

Detailed travel documents (one per room)

7 days service hotline

Boat excursion on Lake Attersee within shipping season (1 July - 31 Aug)

Train journey Lake Traunsee to Lake Hallstatter See

Route signposted ( Navigation app and GPS tracks are available but must be pre-ordered )

In 2023 Bike Rental is not included in the basic tour price.
All rentals come with a pannier, lock and repair equipment
For 2021 bike rental is not included in the basic tour price
It is of course possible to rent a bike!
On this tour the standard rental bike is what is called a "unisex" bike or a step though frame, see our tour dossier for an image. It is possible to rent a more typical gents frame for taller men but this is on request only. It is also possible to rent an e-bike
Bike rental includes:
● 21 speed unisex bike (gents bike on request only/limited availability)
● Saddle bag (water-resistant)
● Handlebar bag (water-resistant)
● Tools / Repair kit / Pump
● Combination lock
Salzburg
Cat A: Arcotel Castellani

Cat B: Hotel Ganslhof 3***
Lake Wallersee
Cat A: Walkner
Cat B: Mitterhof
Lake Mondsee
Cat A: Hotel Krone
Cat B: Meingast
Lake Traunsee
Cat A: Post Ebensee
Cat B: Hocheck

Bad Goisern/Surroundings
Cat A: Hotel Moserwirt 3*** ( left & right images )
Cat B: Pension Maria Theresia

Lake Wolfgangsee
Cat A: Hotel Weisser Bär 4****
Cat B: Gasthof Aberseehof 3***
AUSTRIA 10 LAKES SELF GUIDED TOUR 2023
€1050 per person sharing CAT A  / €900 CAT B   ( 8th - 14th April & 30 Sept. - 7th Oct.)
€1100 per person sharing CAT A / €950 CAT B    (15th April - 12th May & 9th - 29th Sept.)
€1230 per person sharing CAT A / €1060 CAT B  (13th May - 8th Sept.)
+€300 Single room supplement CAT A / +170 CAT B
Bike Rental 7 Night Tour
€100.00    7- or 21-speed touring bike, limited availability of gents bikes
€160.00    20- or 27-speed touring bike with crossbars
€240.00  E-bike
Self Guided Tour Information
Daily from 8th April to 7th October 2023
How to get to the start point in Salzburg:

You can fly direct to Salzburg, ot alternatively the option of flying to Munich and taking the train to Salzburg OEBB Train
The hotel is located about 10 km from Salzburg airport. Taxi fare is approx. €15
For more details please have a look at the tour dossier.
Or contact us in the office for more information (info@cyclingsafaris.com).
We had a fabulous holiday and everything went very well indeed. The bikes were well maintained and very comfortable. Every day had some interesting feature such as the boat ride, train journey and advice on visiting the salt mines etc. All the accommodation was super, especially Traunchkirchen and a 'cycle hotel' near Mondsee. The food was really nice and everywhere was so clean. 
Fiona Smith (Austria Lakes 2013)
Tour Date Options
Red = booked out / not available
,
Blue = Limited Availability
,
Green = available
Booking Form