Difficulty Rating : 7 Start: Seville Finish: Granada Terrain: Starts gentle/undulating, then gets hillier towards end Daily Average: 56km Weekly Average: 275km Tour Type: Group Teaser: This trip unifies the beauty and charm of rural Spain with some of its most beautiful cities.
Overview
Trip Outline
Trip Includes
Gallery
FAQ
What people say...
Pricing
Travel
Accomodation
Resources
Booking
This trip unifies the beauty and charm of rural Spain with some of its most beautiful cities.
We enjoy peaceful rides through quiet plantations of oranges, avocados, olives, cotton and sunflowers offer us a glimpse of rural life in Andalusia's colourful valleys.
Our evenings are spent immersed in the historic and cultural elements of the cities and small villages en route. A particular highlight is the culinary delights to be had such as the wide range of 'Tapas' dishes, wines and sherries to be savoured.
Our safari starts in the magnificence of Seville, where the vibrancy of its flamenco roots echoes through the labyrinth of lanes and alleys in the old town. The tour takes us to Cordoba, once the capital of the western world, where we will be able to visit possibly the most beautiful mosque in the world. Our final destination is Granada, one of Europe's most exotic cities with its snow peaked backdrop and the imposing Alhambra Palace, as we finish our tour deep in the beauty of Moorish culture.
No details found.
A downloadable version of the itinery is available from the Resources Tab
Itineraries
Day 1
Arrival in Seville
The tour starts with a guided walk in central Seville and Barrio Santa Cruz. Tonights dinner is included and the trip leader will go over all aspects of the journey and teach you some essential Spanish survival phrases too!
Day 2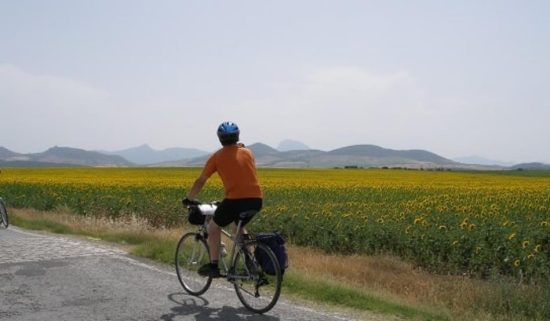 Carmona to Palma del Rio 49 km / 30 miles
The tour starts with a short transfer to Carmona where you can wander through exquisite lanes absorbing the medieval and Baroque quarter, the Moorish Fortress and market place. We cycle to Palma del Ris on quiet roads once ruled by both Moorish and Christian empires. Passing fields of citrus, cotton, sunflower and a number of classical ´Fincas´ or traditional Spanish farmsteads adding great flavour to the day.
Tonight we stay in the enchanting 16th century Monasterio San Francisco, adorned with courtyards and gardens and a swimming pool. It was here in the 1500´s the Franciscan monks gave California its modern names (Las Angeles, San Francisco, San Diego, etc).
Day 3
Palma del Rio to Cordoba 58 km / 36 miles image 1 Palma del Rio to Cordoba 58 km / 36 miles
Our cycle takes us through the open countryside where poppies, cotton and avocados line the roadside. The historic Sierra Morena lowlands flank the valley Gudalquivir providing much wealth and prosperity throughout Andalucia's turbulent history. Soon after passing the imposing Almodovar medieval castle, you arrive at the beautiful city of Cordoba.
This afternoon we take a guided walk of Cordoba's Juderia, Patios and Craft Works before our dinner in one of Cordoba's traditional patio restaurants. A must see is the 9th century Mezquita (Cathedral) that is one of the earth´s most awe-inspiring architectural feats!
Day 4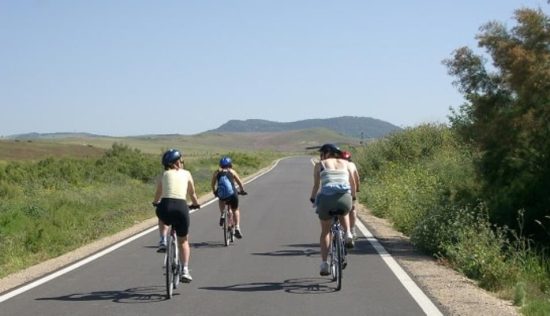 Cordoba to Zuheros de la Sierra 61 km / 37 miles
Today's cycle (the longest of the week) offers a variety of hilly landscapes as we approach Subetica National Park and its stunning green forests, waterfalls and unique limestone craggy peaks. Here are long, quiet stretches of rural road with very little signs of habit. Vast plains reminiscent of Spain´s Don Quixote heritage are encountered!
Lunch stop is in the shaded park of Castro village – followed by a ride to the region´s most famous olive producing centre – Baena. Here we can visit the family-run organic cold olive press of Nuñez Prado before our final few km to Zuheros.
Day 5
Rest day (Zuheros mountain village)
Your rest day is located in one of Andalucia's most charming white villages – Zuheros. Famous in Moorish heritage as a small but formative strong-hold, it´s surrounded by outstanding mountain scenery and an exquisite cliff-hanging square backed with a fortress and mosque. This tiny hamlet offers unspoilt nature, quiet village lanes and options to explore the national park. Or, you can ride the famous Via Verde paths or simply relax in the serene village surroundings with a book, vino and tapas.
Day 6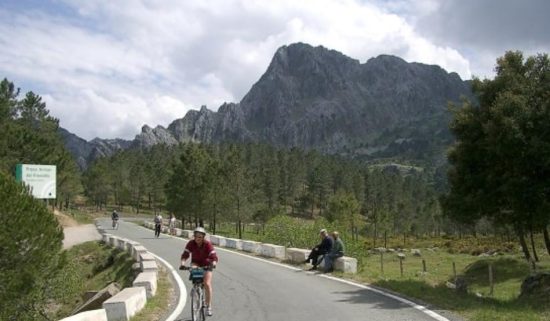 Zuheros to Alcala la Real 50 km / 31 miles
Our cycle rambles past olive groves leading into mountains surrounding the famous Vega de Granada – essential foothills to the Sierra Nevada. A large portion of riding is on the Via Verde (a 19th-century olive oil train line), with a perfect gradient. It is now a famous cycle route for southern Spain. We later pass a series of small villages in Jaen Province before climbing a historic pass to what could be our first glimpse of the impending Sierra Nevada range that backdrops Granada itself. Our stay at Alcala la Real (The Royal) is marked by an optional visit of this once regal town's Moorish Fortress as well as an informative walk through the old town itself.
Day 7
Alcala la Real to Granada 57 km / 35 miles
We pass through Jaen Province's Sierra ranges and into the great valley (vega), that contains Granada itself. Beautiful countryside marked by olive and almond groves perched on high valleys, cliff walls and along pretty rivers and reservoirs. Our final ride to the heart of Granada offers inspiring views of the snowy Sierra Nevada peaks and with luck, we capture a view of the Alhambra Palace set above the hustle and bustle of New Granada. We picnic near a pretty lake where a refreshing dip is on offer. This evening we are guided through the lanes of Granada's brooding Albaizan District visiting enchanting courtyards and capturing the beauty of the Alhambra Palace at night from one of the city's most spectacular miradors.
Day 8
Tour end
Guests are free to depart this morning after breakfast from Hotel Dauro in Granada / no transport included. Onward travel from Granada is straight forward and plentiful. Bus companies leave for all major destinations and the train service will connect you to Madrid, Seville, Barcelona and beyond. International flights are also available from Granada to Spanish and limited European destinations.
7 nights accommodation in village hotels

All breakfasts and three dinners

Guide in a support van

Daily baggage transfers

R

oute notes and map

helmet, gel seat pad included (on request)

toe clip options on request
Bike rental is not included in the tour price.
€100 for 21-speed hybrid bike, €225 supplement for an e-bike
I had such a great time!
Our group leader Jeff was fantastic - relaxed, well organised and ever mindful of the needs of the group
Emer Bradley (Seville to Granada group tour 2012)
Tab content goes here
How to get to the starting point in Seville:

Suggested Airports for your arrival:
Seville, Jerez and Granada have regular international arrivals.
Upon airport arrival: we recommend you take the easy, economic airport city bus transfer that arrives to the Prado bus station. This bus station is an short 7 minute walk to the Hotel Murillos in the Barrio Santa Cruz.
A private taxi shuttle from the airport direct to the hotel is approximately 30 euros total (ask for the meter / metro) official rate.

For more details please have a look at the tour dossier.
As always please contact us in the office for more information (info@cyclingsafaris.com).
SEVILLE
1st Night - HOTEL MURILLO (2 star Superior)
Named after Seville's most famous 17th century painter, this hotel is conveniently located in a quiet area of Barrio Santa Cruz – close to all historic sites, superb tapas bars and offers mode comfort with Andaluz décor, style and charm. (Free Wifi) www.hotelmurillo.com/
Palma del Rio
2nd Night - MONASTERIO SAN FRANCISCO (3 star Boutique / Heritage) One of our heritage hotels for your vacation! The Monastery is a grandiose estate and comes adoed with open courtyards, rich flora, a swimming pool and a history that cannot be matched. It was from here the Franciscan Monks set up colonies in Califoia – giving the region its namesake such as San Francisco, Las Angeles and more! (Free Wifi)
www.intergrouphoteles.com
Cordoba
3rd Night - POSADA DE LA VALLINA (3 star Boutique)
This charming 17th century manor is situated across the lane from the imposing Mezquita Mosque in the heart of Cordoba. With it´s lovely arches, marble, woodwork and inner courtyard the Posada is a quiet hideaway from Cordoba´s busy historic quarter. (Free Wifi) www.hhposadadevallina.es
Zuheros de la Sierra
4-5th Nights - ECO HOTEL ZUHAYRA (2 Star Superior Eco Hotel)
Zuhero's highest rated hotel is a charming Inn that is situated in the heart of this ancient hamlet. All rooms are of traditional Andaluz décor with a friendly welcoming staff for our 2 night stay! Enjoy the views reaching across the Cordoba plains or relax in the quiet patio area with a favourite book. (Free Wifi) www.zercahoteles.com

Alcala la Real
6th Night - HOTEL TORREPALMA (3 star town center)
A true Arabic town enhanced by the Conquistadors where little has changed! This comfortable 3 star mode hotel is situated right in the centre of town surrounded by tapas bars and a great local vibe.
(Free Wifi) www.hoteltorrepalma.com

Granada
7th Night - HOTEL DAURO (3 Star city center)
Situated in the old city center the Dauro presents all possibilities for enjoying the high energy of Granada. Tapas bars, great shopping and charming pedestrian lanes with colourful courtyards are just out the door.
(Free wifi) www.hoteles-dauro.com
--------------------------------End accom Info----------------------------------
Tour Date Options
Red = booked out / not available
,
Blue = Limited Availability
,
Green = available
Booking Form