Difficulty Rating : 4 Start: Bordeaux Finish: Sauternes Daily Average: 8-16km Weekly Average: 58-71km Tour Type: Self Guided,Walking Teaser: This self-guided walking tour is about immersing yourself in all things French
Overview
Trip Outline
Trip Includes
Gallery
FAQ
What people say...
Pricing
Travel
Accomodation
Resources
Booking
This self-guided walking tour is about immersing yourself in all things French - from tasting the best of French cuisine to absorbing the magical history of the region, you are sure to have a charming Frenchesque experience...
Starting in St Emilion, without a doubt the worlds most famous vineyard featuring high-class wines and sumptuous landscapes, you cross over the Entre-Deux-Mers area with its charming villages and fabulous architectures. All the while hiking across picturesque landscapes dotted with vineyards and meadows and staying in beautiful Chateaus and idyllic guesthouses along the way.
This tour is sure to check all the boxes from cuisine to culture; a fabulous way to holiday in the beautiful French countryside. 
No details found.
A downloadable version of the itinery is available from the Resources Tab
Itineraries
6 or 7 nights accommodation with breakfast

Route notes

Luggage transfers

Taxi transfers from Bordeaux and small transfers needed during the stay

2 and 3 stars hotels and guesthouses, breakfast included

4 Dinners

Visit and wine tasting (4-5 wines) in the Couvent des Jacobins (on 8 day tour)

The guided visit of Saint-Emilion ( on 8 day tour)
Tab content goes here
2023 Self Guided Tour Prices: 
7 Night Tour
€1090 per person sharing (low season)
€1460 single room (low season)
€1140 per person sharing (July & August)
€1540 single room (July & August)
6 Night Tour
€930 per person sharing (low seaso ) 
€1250 single room (low season)
€980 per person sharing (July & August) 
€1320 single room (July & August) 

Accommodation in 2* and 3* accommodation.
Upgrade to 3* and 4* accommodation possible.
Self Guided Tour Information
Self guided can typically start any day from April to October
In July and August on 7 night tour there is no departure on Wednesdays and Thursdays
In July and August on 6 night tour there is no departure on Thursday and Friday
Local airports

Both Bergerac and Bordeaux and/or Charles de Gaulle are well placed and have international connection options.
Both these options are quite expensive to get from, so our advice would be:
Bordeaux airport or Bergerac airport-Then train to Bordeaux and taxi transfer from there.

You can of course make your own way to and from the tour or alternatively take the Euro. All details on trains in France are available through the website www.raileurope.com/us/index.htm.
St Emilion
Hotel du Palais Cardinal
Camiran
La Camiranaise
Saint Macaire
Hôtel Les Feuilles d'Acanthe
Sauternes
Hotel Le 23
Barsac
Château de Camperos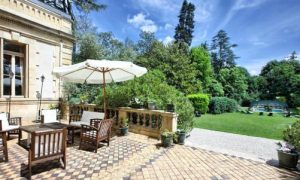 Self guided can typically start any day from April to October
In July and August on 7 night tour there is no departure on Wednesdays and Thursdays
In July and August on 6 night tour there is no departure on Thursday and Friday
Tour Date Options
Red = booked out / not available
,
Blue = Limited Availability
,
Green = available
Booking Form