Difficulty Rating : 6 Start: Siena Finish: Cortona Terrain: There are a number of climbs on this tour Daily Average: 40km Weekly Average: 234km Tour Type: Self Guided Teaser: Tuscany is justifiably famous for its fine food and wine, magnificent rolling landscapes and medieval walled hilltop towns
Overview
Trip Outline
Trip Includes
Gallery
FAQ
What people say...
Pricing
Travel
Accomodation
Resources
Booking
Justifiably famous for its fine food and wine, magnificent rolling landscapes and medieval walled hilltop towns, Tuscany is a classic destination for cyclists.
Our Safari begins in the heart of the Tuscan landscape where we are staying in a typical Italian villa for two nights. Our first day's cycle takes us amongst the vineyards of the Chianti Classico region to the magnificent San Gimignano where we can indulge in an ice cream in the cobbled town square. The next day we move on to the UNESCO world heritage city of Siena with its incredible piazza where we spend the night within this walled city.
A beautiful patchwork of neat vineyards, dark green olive groves, cypress trees unfold before us as we head towards the medieval towns of Montalcino and Montelpulciano, two of the best examples of walled towns in the region. We stay in them both to soak up their atmosphere whilst enjoying their excellent local food and wine, a wonderful end to a perfect week!
No details found.
A downloadable version of the itinery is available from the Resources Tab
Itineraries
Day 1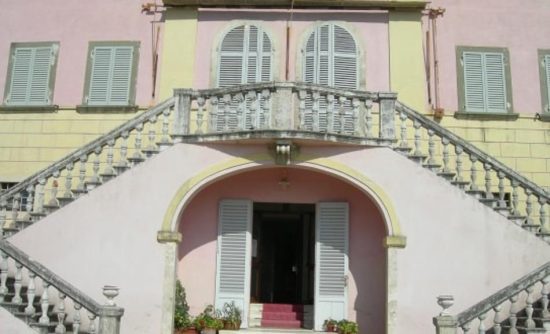 Arrival in Poggibonsi
You will be met by our representative at the train station in Poggibonsi and driven to your villa in Staggia near Castellina in Chianti (10 km – 20 min by car), where you will enjoy an excellent Italian supper.
Villa Lecchi is a typical Italian villa perched on top of a hill with lovely panoramas of the surrounding Tuscan countryside.
Day 2
Colle Val de'Elsa, San Gimingnano, Lecchi 35 km
Departing from Villa Lecchi, you cycle to the fortified town of Monteriggioni with its round distinctive shape dominating the surrounding plain. Your journey continues to Colle Val d'Elsa and its glass blowing artisans, before arriving in the beautiful walled town of San Gimignano with its lovely towers which will require more time and a couple of hours of window shopping before heading back to Villa Lecchi.
Day 3
Villa Lecchi, Castellina in Chianti, Siena 52 km
Your cycle winds its way through Chianti, in a landscape of vineyards and superb wineries. Castellina in Chianti is your first stop, well known for its links with the Chianti Classico wines bearing the famous black rooster symbol. The classical walled town of Monteriggioni which sits on top of a hill dominating the surrounding landscape awaits before arriving at the magnificent world heritage site of Siena with one of the most famous squares in Italy: Piazza del Campo.
Day 4
Siena, Buonconvento 32 km
A lovely day cycling through quiet Chianti roads watching the landscape change from luscious vineyards to the more linear cypress-crested hills of the "Crete" near Buonconvento. Murlo is a nice little village on your way to the beautiful farm where you are spending the night. You will be glad to get a refreshing dip in the swimming pool or a relaxing massage and a sauna at their beautiful farm.
Day 5
Buonconvento/Montalcino 46 km
You cycle a gentle 8km climb to reach the Monte Oliveto monastery, located in the heart of the "badlands" of the Crete Senesi.The monastery traces its foundation to 1313 and has three 15th century cloisters. The route then brings you through S. Giovanni d'Asso before you tackle the last climb of the day to reach our lovely hotel in Montalcino, the Brunello homeland, where you spend two nights.
Day 6
Sant'Antimo Abbey
A chance to relax and enjoy the beautiful town of Montalcino from the fortified walls and bastions with a 360° view. The castle is almost intact and is built into the walls of the town. A small and pleasant detour is to follow the descending trail that will lead you to the beautiful and peaceful church of Sant'Antimo where you may be able to listen to Gregorian chants.
Day 7
Montalcino, Pienza/Montepulciano 45 km
You cycle to Bagno Vignoni to Pienza, the renaissance jewel redesigned by the Pope Pio II to become a "liveable" town. Onwards to Montichiello, a lovely little village immersed in the "Crete". You can stop there for lunch or a cappuccino before continuing to Montepulciano one of the nicest Renaissance towns of Tuscany. A town famous not only for its wine but also well known for pecorino cheese and truffle production.
7 nights in village hotels

All breakfasts

Road books and maps

Luggage transfer

24-hour help line

Transfers as per the itineraries
Bike rental is not included in the tour price. This is an additional:
€140.00 Hybrid Bike
€240.00 Electric Bike
€175.00 Road Bike
All your accommodation is booked. Your luggage is transported from hotel to hotel. You are given a map with a fully researched route. You will also have a hotline number should you need any assistance in any way.
Bike hire is not included in the tour package. However it is of course possible to rent a touring bike which Hybrid BIANCHI - Camaleonte 4 Aluminium frame ( sizes 43/ 58 cm) Shimano gear system Sora ( triple front chain) 27 speeds 1 side bag on the rack water bottle carrier repair kit.
Electric Bikes are also available to rent. Please email us for more details on this
The daily distance is approxminately 45km
If you cant cycle for any reason you can get a lift with the person who will transport your luggage. There may be a small fee you can pay to the driver. you will need to let them know the day before if possible.
We very much enjoyed this trip, though getting up some of those hills didn't feel that 'easy'! The bikes were brilliant - very light and well-geared, which helped a lot. Michele was extremely helpful in explaining the routes; the directions were accurate and easy to follow. All the accommodation was of a high standard. We weren't quite so keen on the agriturismo at Pieve a Salti but their swimming pool did make up for that.
We got a good feel for Tuscany - both the scenery and the lovely small towns we stayed at. The steep climbs to reach them were worth it!
All in all a really good experience, our first with Irish Cycling Safaris. So many thanks to you for organising it.
Barbara Lamplugh (Tuscany Easy June 2018)
We had a wonderful time on our Tuscany biking trip. The accommodations were perfect! Our favourite was the hotel in Montalcino with a view of the Tuscan Hills from our small terrace, but each had its own unique characteristics. Beppe and his staff there took great care of us.
The maps and instructions for the self-guided biking were perfectly clear. The food was very good, local rep gave us good restaurant recommendations in Montalcino.
Jennifer & Dwight (Tuscany Easy self guided June 2016)
2023 TUSCAN HILLS SELF GUIDED TOUR 
€1090 per person sharing
€190 for single supplement (if travelling with others)
€300 for solo traveller supplement (if travelling alone)
2023 TUSCANY - THE EASY WAY SELF GUIDED TOUR 
€980 per person sharing
€190 for single supplement (if travelling with others)
€300 for solo travellers supplement (if travelling alone)
2023 THE BEST OF UMBRIA & TUSCANY SELF GUIDED TOUR
€1090 per person sharing
€190 for single supplement (if travelling with others)
€300 for solo travellers supplement (if travelling alone)
Self Guided Tour Information
Start any day from 1 April to 31 October
How to get to the start point in Siena: 
Closest airports to fly to: Pisa or Florence (both approx 1hr45mins), Rome(approx 4 hrs).
Trains to Siena TrenItalia 
As always please contact us in the office for more information (info@cyclingsafaris.com).
Tab content goes here
Tour Date Options
Red = booked out / not available
,
Blue = Limited Availability
,
Green = available
Booking Form