Difficulty Rating : 9 Start: Girona Finish: Girona Daily Average: 119km (climb 1316m) Weekly Average: 719km (7900m) Tour Type: Self Guided,Sportive Terrain: Mountainous, as with all our Sportive tours this is a challen Teaser: This week-long itinerary provides amazing scenic routes while enjoying excellent accommodation and food
Overview
Trip Outline
Trip Includes
Gallery
FAQ
What people say...
Pricing
Travel
Accomodation
Resources
Booking
This week-long itinerary provides amazing scenic routes while enjoying excellent accommodation and food. An exceptional cyclist destination, as many and popular professional cyclists live and train in this area. Girona is an ideal territory for road cycling because of its huge offering of secondary roads without traffic and the combination of challenging mountain stages and flat and easy roads.
This route explores the mountainous Catalan and French border region covering almost 600km of extraordinary mountain roads, allowing riders to experience a wide variety of landscape and culture interesting sights.
No details found.
A downloadable version of the itinery is available from the Resources Tab
Itineraries
Day 1
Arrival in Girona
There is plenty to see and do in this magic historical city. Spend the day visiting the Cathedral, which has the broadest single nave of Gothic architecture in the world and getting lost through the narrow streets of the ancient Jewish quarter, one of the best preserved in the world. We also recommend a stroll along the Rambla or the medieval walls, which gives you a fantastic panoramic view of the city.
Day 2
Loop ride Girona ~ Sant Hilari ~ Girona (99 km 1050m+)
Today provides riders with a chance to climb to over 1000m in altitude to the mountain town of Sant Hilari. The climb to the town is approx. 30km and is an excellent training climb with its slack gradients but long distance. Riders then have a thrilling 18km descent to the town of Santa Coloma, another famous training ride used by hundreds of local riders. The cycle returns to Girona winding through the fantastic countryside of the Gironès area.
Day 3
Girona ~ Calella de Palafurgell ( 108Km 1500m+)
The day starts with an easy spin to Llagostera, where you start the climb of Sant Grau (465m). After passing the Col you are rewarded with a great descent with fantastic views over the Mediterranean . This coastal road was used in the Tour de France in 2009. Following the coast you reach Palamós and finish ur ride at the great fishing village of Calella, considered one of the best villages of the Costa Brava.
Day 4
Calella ~ Roses ( 87 km 375m+)
Starting from Calella there is a short but really steep climb to the lighthouse of Sant Sebastià (climb 2 km 150m+). After that, you climb to Begur and the Gulf of Pals with his long sandy beach. You ride inland to Pals a famous medieval village and onwards to Torroella de Montgrí, perched top of a mountain. The beaches in Empúries and l'Escala await, after which the route passes through Castelló d'Empúries before crossing a small wetland with an bird reserve, finishing in the village of Roses.
Day 5
Roses ~ Banyuls ~ Figueres (123 km 1878m+)
This route extends to the North visiting the beautiful and challenging nature reserve Cap de Creus, passing the Col of Perafita. You cycle along the coast before crossing over the French border to Banyuls. Riders return to Spain passing the famous Col de Banyuls with a strong slope, finishing the ride and overnight in the city of Figueres.
Day 6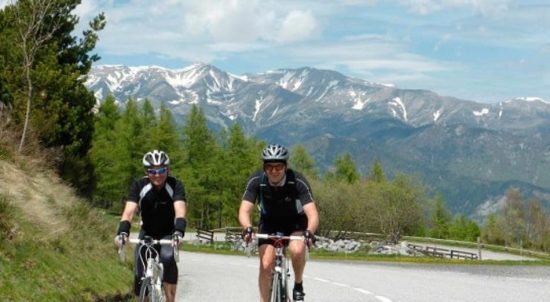 Figueres ~ Coustouges ~ Molló (103 km 2.300m+)
This ride takes you further into the mountains crossing the French border via the mountain pass at Coustouges ( 810m ) and Coll d'Ares ( 1.524m) before descending to spend a night in Molló near the winter ski town of Camprodon.
Day 7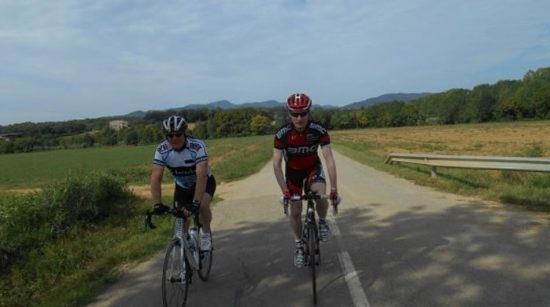 Molló ~ Girona (100 Km 798m+)
You start the day by cycling through the pass of Coll de Capsacosta and the town of Olot in the heart of the Volcanic park called La Garrotxa. The route finishes in Girona.
Standard Accommodation in 3* Hotels.




( or Premium Accommodation in 3* and 4* Hotels.

7 nights? accommodation in double room with B&B.

Luggage transfer from one lodge to another.

GPX files and maps.

Tourist information of the area.

Tourist tax

24 hours phone assistance during the trip.

Option for half board (4 dinners) : €100 per person ( standard tour ).
Option for half board ( 3 dinners ) : €90 per person ( premium tour ).
Bike rental is not included in the tour price. This is an additional:
€225.00 : BMC Road bike 4
€260.00 - €295.00 : BMC Road bike 2

Please see our tour dossier ( at the bottom of the itinerary page ) for more details on bike rental, half board and airport transfer options.
Tab content goes here
2023 Cols of Pyrenees & Costa Brava Self Guided Tour ( 3 star accommodation )
€875 per person sharing    :  Low Season (1 March - 5 April & 1 - 31 October)
€205 single supplement     :  Low Season
€915 per person sharing    :  Mid Season (6 April - 22 June  &  3 - 30 September)
€215 single supplement     :  Mid Season
€1045 per person sharing  :  High Season (23 June - 2 September)
€275 single supplement     :  High Season
Option to upgrade to premium accommodation ( 3*- 4* Hotels)
€1120  per person sharing   :  Low Season (1 March - 5 April & 1 - 31 October)
€335 single supplement      :  Low Season
€1185  per person sharing  :  Mid Season (6 April - 22 June  &  3 - 30 September)
€380 single supplement      :  Mid Season
€1350  per person sharing  :  High Season (23 June - 2 September)
€485 single supplement      :  High Season
All details are in our tour dossier or please email us.
Self Guided Tour Information
This tour can start any day of the week from the 1st March to the 31st of October
How to get to the start point in Girona:
Girona Airport is the closest airport. Barcelona International airport is approx 110km away.
To Girona: by bus it takes 25 minutes and costs €3
To Girona by taxi takes 25 minutes and it costs €35 approximately.
Barcelona to Girona by bus: There are 6 buses/ day from Barcelona Airport to Girona city, it takes 2hours 30 minutes and it costs €20
By train: T1-T2 shuttle bus schedule is from 5.30 hr to 24.00hr every 6 or 7 minutes approximately, and from 0.00 hr to 5.30 h. every 20 or 25 minutes. This bus is free and takes about 10 minutes. When you arrive in T2, you should take a train to Barcelona Sants, and then another one to Girona
Also, we can arrange airport transfers (from Girona airport to Girona €45. From Barcelona to Girona €190 up to 4 people)
As always please contact us in the office for more information (info@cyclingsafaris.com).
Girona
Hotel Peninsular 3* (night 1, 2 & 7)
Calella de Palafrugell
Castelló d'Empúries
Figueres
Molló
<img s
Tab content goes here
Tour Date Options
Red = booked out / not available
,
Blue = Limited Availability
,
Green = available
Booking Form