Start: Moreton-on-Marsh Finish: Broadway Loop Terrain: Moderate Terrain, some hilly sections Daily Average: 37-69km Weekly Average: 243.5km Tour Type: Self Guided Difficulty Rating : 7 Teaser: Follow cycle routes through quintessentially perfect Cotswold countryside and villages, such as Chipping Camden and Upper Slaughter.
Overview
Trip Outline
Trip Includes
Gallery
FAQ
Acommodation
Travel
Pricing
Feedback
Resources
Booking
Follow cycle routes through quintessentially perfect Cotswold countryside and villages, such as Chipping Camden and Upper Slaughter. Honey-coloured stone houses, hedgerow lanes, gloriously blossoming and colourful gardens all contribute towards what has been designated an area of Outstanding Natural Beauty.
During this self-guided cycling tour, every day has a highlight, from the discovery of Neolithic and Bronze Age monuments to the romantic water gardens at Sezincote and the Brailes, an area mentioned in the Domesday Book. You will be cycling through many iconic areas of the Cotswolds and even a cycle through Stratford-upon-Avon is included, the birthplace of William Shakespeare.
No details found.
A downloadable version of the itinery is available from the Resources Tab
Itineraries
Moreton-on-Marsh
Saturday
Today you will arrive in Moreton-on-Marsh located at the head of the beautiful Evenlode Valley. This thriving market town has just one main street which is lined with shops and galleries. Perhaps you would like to arrive on a Tuesday as this is when Moreton-on-Marsh is host to the largest open-air street market in the Cotswolds. Also of interest is the White Hart Royal Hotel, a former manor house that sheltered King Charles I during the Civil War.
Loop Cycle through Chipping Norton ( 29 miles / 47 km )
Sunday
The cycling route today takes you through pretty rural routes, and initially to the town of Chipping Norton. The town's name means "market town north" and began as a small settlement at the foot of a hill on which there was a mote and Bailey Castle. Just north of the town, you will cycle past the Rollright Stones, a complex of three Neolithic and Bronze Age monuments. They are now known as the King's Men, the King Stone and the Whispering Knights and were all built at different times during the late prehistoric age. Continue on your route through quaint villages, such as Little Compton and Paxton, before arriving back into Moreton-on-Marsh.
Loop Cycle through the Brailes ( 27 miles / 43.5 km )
Monday
oday's loop takes you to the west of Moreton-on-Marsh and through Upper and Lower Brailes situated in the county of Warwickshire and in the northern part of the Cotswolds Area of Outstanding Natural Beauty. Expect some hilly terrain today as the Brailes is surrounded by small hills. Brailes derives from a Saxon word for wood, and in the Domesday Book was described as an important manor. You then cycle through more pretty villages with stone farms, cottages and gardens overflowing with flowers en route.
Cycle to Broadway via Upper & Lower Slaughter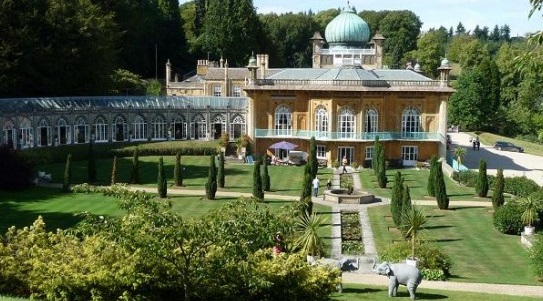 Tuesday
Today's route takes you through some of the most iconic Cotswold countryside and villages. Upon leaving Moreton-on-Marsh your route takes you close to Sezincote House, built with an Indian influence, and inspiration for the architect of the Brighton Pavilion. The house is set in a romantic water garden and it is definitely worth stopping to stroll through the house and gardens. Continue on until you reach the twin villages of Upper and Lower Slaughter. The epitome of Cotswold charm, these villages should not be missed and you will enjoy spending time here exploring.
The route to Broadway takes you through the undulating countryside and Snowshill Hous
Loop Cycle through Stratford-Upon-Avon ( 23-43 miles/37-69 km )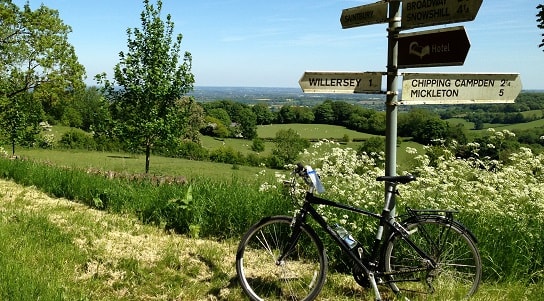 Wednesday
Today there are a few different options to choose from. The first is to take a 43 mile bike ride that takes you in a loop from Broadway to Stratford-upon-Avon and back. You will have a little time to explore this town, famous as the birthplace of William Shakespeare.
Another option is a 23 mile cycle through Chipping Camden, a charming and historic town, once famous for its wool trade. This afternoon perhaps you would like to take a bus into Stratford to see where The Bard was born. The third option is to take a day of rest. Broadway is a really picturesque town to stroll through and perhaps you may wish to search out some antique and bookshops or have lunch in a tea room or local pub. You may also take the bus into Stratford-upon-Avon if you wish.
Broadway Loop via Stanway House & Gardens
Thursday
The route today takes you on a loop to the south and west of Broadway. Head out of town to the west and along pretty country lanes to Elmley Castle, a small village and where the ruins of the castle remain. Continue through the charming villages of Ashton under Hill, Alderton and Gretton. Just south of Broadway is Stanway, a scenic village and where it is worth stopping to see Stanway Manor House and Gardens. Explore this outstanding Jacobean Manor House and the 18th-century water gardens, the finest in all of England.
Arrive back in Broadway for your final evening. With plenty of restaurants and pubs to choose from, perhaps you would like to have a final dinner and a toast to celebrate your week of wonderful cycling. Tour ends after breakfast the following morning.
6 nights bed & breakfast accommodation

route details and maps

Tour information pack

service hotline

Luggage transfers daily

Taxi transfer from Broadway to Moreton-in-Marsh on Day 7


?50 Supplement for e-bike rental ( subject to availability )
MORETON-ON-MARSH
Day 1 - 3: Redesdale Arms Hotel is a 1650 stone building in the heart of the town. With a warm and friendly feel and all the mode necessity's, this is a fantastic place to spend a few days and explore the area.
BROADWAY
Day 4 - 6: The Olive Branch built in 1592 and originally a coaching house this Hotel in the heart of the town has all the charm of the classic English inn. With a warm and welcoming feel, this really is one of a kind hotel.
How to get to the start point in Moreton-on-Marsh: 
The closest airport is Birmingham West Midlands airport. 
The best way of getting to Moreton-in-Marsh is by train. There is a direct train from London Paddington Station which takes about one and a half hours. If you fly into London Heathrow, you can then take the Heathrow Express to London Paddington and from here a train to Moreton-in Marsh.
You may fly into any of the other London Airports, such as London Gatwick, make your way by bus or train into central London and then to London Paddington.
It is also possible to fly into Birmingham Airport when travelling to Moreton-in-Marsh with a journey time under 3 hours by public transport. Birmingham has flights from Aberdeen, Glasgow, Edinburgh, Jersey, Isle of Man, Inverness, Dundee, Derry, Belfast, and Dublin, Shannon and many European and international destinations. You can find further information about train times and schedules on the National Rail. It is also possible to drive to Moreton-in-Marsh. On street parking is available however there is no secure parking.
As always please contact us in the office for more information (info@cyclingsafaris.com).
COTSWOLDS SELF GUIDED 2022
Low season (1st April - 30th June & 1st September - 15th October)
€  880  per person sharing
€1180  single occupancy (if travelling with others)
€1205  solo travelers (if travelling on your own)
High season (1st July - 31st August)
€  900   per person sharing
€1190   single occupancy (if travelling with others)
€1220   solo traveler (if travelling on your own)
Note: Bike hire is not included in the tour price:
€145 bike hire
€235 e-bike hire
Self Guided Tour Information
You can start any day from 1st April to 15th October
This was a beautiful ride with a well thought out route.
Thank you very much, everything has been so well organized. We will certainly be doing more rides with you in the future.
Susan & Colin Palethorpe (Cotswold self led 2012)
If you'd like a one-word review of our opinion of the cycling holiday it is: AMAZING! We had a blast and though you all did an outstanding job selecting the route, accommodations, dining recommendations, etc.
Mary J. (Cotswold self led 2013)
My daughter and I were very pleased with the bicycles, the welcome and arrangements along the way, and the support for the self-guided tour.
Heid & Julia Bartos (Cotswold self led 2013)
Tour Date Options
Red = booked out / not available
,
Blue = Limited Availability
,
Green = available
Booking Form