Difficulty Rating : 3 Start: KLAIPĖDA Finish: KLAIPĖDA Terrain: Mainly flat, Daily Average: Mainly flat, Weekly Average: 250km Tour Type: Self Guided Teaser: A fascinating trip taking you to along the Lithuanian coast to the UNESCO heritage Curonian Spit.
Overview
Trip Outline
Trip Includes
Gallery
FAQ
Acommodation
Pricing
Travel
Resources
Feedback
Booking
A fascinating trip taking you to along the Lithuanian coast to the UNESCO heritage Curonian Spit.  With no great hills this is one of our easier cycles.  Our Safari explores the unique countryside, coastline and towns that make up this fascinating country that was formerly part of the USSR. 
The tour starts and finishes in the historic coastal town of Klaipeda which boasts a rich, turbulent history from the 13th century.   Nowadays it is a great place to visit with its bars,  restaurants and many different festivals. You head out on bicycle paths of the newly reconstructed Lithuanian Seaside Cycle Route. The cycle takes us along a forest trail to the town of Silute  with a possible stop en route at a local winery where they are famous for making wines from local berries.
Your route continues towards Vente Cape which offers amazing views of the colossal sand dunes on the Curonian Spit in the horizon.  We head towards the Spit which is designated as a UNESCO world heritage site and the town of Nida, one of the most beautiful resorts of Lithuania,  where we stay two nights.   The last day takes you along the cyclepath of the Lithuanian Seaside Cycle Route all along the Curonian spit back to the town of Klaipeda.
No details found.
A downloadable version of the itinery is available from the Resources Tab
Itineraries
Day 1
Saturday or Wednesday): Arrival Klaipeda
Arrive in Klaipėda. Individual transfer to the hotel (not included).
Day 2
Palanga Seaside Resort loop (55 km)
The tour starts with a cycle to Palanga resort along the Lithuanian Seaside Cycle Route through Giruliai Forest and the Seaside Regional Park. Explore the Dutchman's Cap, a 24-meter-high coastal cliff and Plazė Lake. In Palanga you can visit the Botanical Park and Amber Museum, cycle along a pedestrian street with many cafes & restaurants and explore the 470m pier heading into the Baltic Sea. Return to Klaipėda using the same or a slightly different route.
Day 3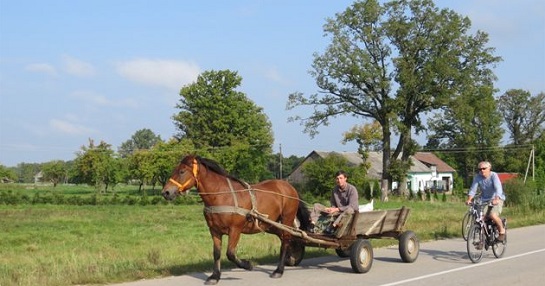 Silute (44km)
Transfer inland by minibus where you start your cycling on picturesque countryside roads through Pamarys meadows to Šilutė. This region is known as a land of storks and the White Stork truly deserves its place as Lithuanian's national bird. En route stop in Švėkšna village to explore the estate with its beautiful park and impressive neo-gothic church of St.Jacob the Apostle.
Day 4
Rusne Island & Nemunas River Delta ( 47 km)
Explore Šilutė, a town named after "Šilokarčema" (a pub in the pine forest) and on to Rusnė Island, Lithuania's only island, located in the Nemunas River Delta Regional Park. When you stand on the bank of the Nemunas River in Rusnė you see the Russian oblast of Kaliningrad just 100 metres across the river. En route, you can explore a traditional fisherman's smallholding at the Rusnė museum, the old water pumping station and the 19th Century lighthouse in Uostadvaris Harbour.
Day 5
Silute - Nida (33 km)
ycling to Ventė Cape where you can visit a renowned bird ringing station and the 19th Century lighthouse which has a panoramic view of the unique landscape including a glimpse of the glistening Curonian Spit sand dunes. Today, one million birds pass through the station each migratory period. Take a boat to cross the Curonian Lagoon to Nida. Arrive in Nida followed by a bike ride to the hot
Day 6
Nida - leisure time
ree day to explore Nida which is a former old fishermen's village on the Curonian Spit washed by the Baltic Sea on one side and the Curonian Lagoon on the other. Today Nida is one of the most beautiful resorts in Lithuania. Cycle or walk along impressive sand dunes, visit the most popular places of interest – the Fisherman's House, the summer house of famous German writer Thomas Mann and the Amber Gallery.
Day 7
The Curonian Spit Nida - Klaipeda (58 km)
Cycling on an asphalt bike path of the Seaside Cycle Route which takes you along the Curonian Spit to Klaipėda. En route you can explore the "Dead" sand dunes on foot, watch a colony of grey herons and cormorants, visit the Hill of Witches which houses a hundred wooden sculptures of Lithuanian legends scattered along a forest path or take the sun on golden beaches. Arrival in Smiltynė where you take a ferry to the Old Town of Klaipėda.
7 nights accommodation in hotels including all breakfasts

luggage transfers

boat trip Curonian Lagoon to Nida

transfer on day 2

route description, maps, city guide

GPS Tracks

Emergency contact number
Optional Extras
€155 Half board (7x 3-course dinners with coffee/tea) 3* hotel in Klaipeda
€170 Half board (7x 3-course dinners with coffee/tea) 4* hotel in Klaipeda
Bike rental is not included in our 2023 tour price. This is an additional
€70 Hybrid Bike
€160 Electric Bike
€120 Cyclecross Bike
€160 Tandem Bike
KLAIPEDA
For the first two nights and the last night you are in: Old Mill Hotel*** or a hotel of a similary standard
SILUTE
For the 3rd & 4th night you stay in the 3 star Hotel Gilja*** or a hotel of similar standard
NIDA
For the two nights in Nida you stay in the : Nerija Hotel*** or a hotel of similar standard
Season 1: 
€545 per person sharing / €835 single occupancy
June 3, June 10, June 17, June 24 (Sat departure)
June 4, June 11, June 18, June 25 (Sunday departure)
May 31, June 7, June 14, June 21 (Wednesday departure)
June 1, June 8, June 15, June 22 (Thursday departure) 
Season 2:
€595 per person sharing / €855 single occupancy  
May 20, May 27 (Sat departure)
May 21, May 28 (Sun departure)
May 24, August 30 (Wednesday departure)
May 25, August 31 (Thursday departure)
Season 3:
€595 per person sharing / €915 single occupancy
July 1, 8, 15, August 5, 12, 19, 26 (Saturday departure)
July 2, 9, 16, August 6, 13, 20, 27 (Sunday departure)
June 28, July 5, 12, 19, 26, August 9, 16, 23 (Wednesday departure)
June 29, July 6, 13, 20, 27, August 10, 17, 24 (Thursday departure)
Self Guided Tour Information
Tour departure is available to start on Saturday,  Sunday,  Wednesday and Thursday
From 20 May to 31 August
Tour can start on any other dates May to September with a minimum of 4 people
There is a slightly different itinerary depending on your start day
How to get to the start point in Klaipeda:

We suggest flying to Palanga International Airport (approx 30 minutes from the start point in Klaipeda)
We can pre-book arrival or departure transfer €55 ( based on 2 people ) (Palanga Airport)
Ferry terminal: Klaipeda (DFDS ferries from Kiel, Germany & Karlshamm, Sweden; TT-Line ferries from Travemunde/Rostock, Germany & Trelleborg, Sweden)
Airport: Klaipeda/Palanga (35 km / 22 mi. away from Klaipeda, www.palanga-airport.lt). Regular flights from Copenhagen (DK), Riga (LV), London Luton (GB) & London Stanstead (GB). Due to many connection flights (SAS, Air Baltic) it is easy to reach this airport from many cities in Europe via Copenhagen and Riga.
As always please contact us in the office for more information (info@cyclingsafaris.com).
We really appreciated our tour in Lithuania!  
Yhe surroundings impressed us very much. This country must be created for cycling, sunbathing and swimming! 
We will certainly be back on the bikes in some years. This is our favorite!
Evelyn Nilssen (Lithuanian Curonian Lagoon 2012)
Tour Date Options
Red = booked out / not available
,
Blue = Limited Availability
,
Green = available
Booking Form