Difficulty Rating : 5 Start: Munich Finish: Munich Terrain: Flat, undulating Daily Average: 43-55km Weekly Average: 260-330km Tour Type: Self Guided Teaser: Bavaria, situated in the south east of Germany is renowned for its unique culture and traditions, sparkling lakes, breathtaking alpine views,
Overview
Trip Outline
Trip Includes
Gallery
FAQ
Acommodation
Pricing
Travel
Resources
Feedback
Booking
Bavaria, situated in the south east of Germany is renowned for its unique culture and traditions, sparkling lakes, breathtaking alpine views, fine food and the best of German beer...it is no surprise that world famous artists like Kandinsky and Holbien drew their inspiration from this beautiful part of the country.

Our Munch Lakes safari begins and ends in Munich, the Bavarian captial. We leave the city behind, cycling through parkland and lakeside to Murnau, a picture book market town on the shores of Lake Staffelsee. We pedal through the Murnau Moos - a beautiful nature reserve with its warm lakes, small woods, brooks and meadows filled with many animal and plant species which are threatened with extinction elsewhere. 
Upon arrival at Garmisch Partenkirchen, we swap our bikes for the train and visit Zugspitze, Germany's highest mountain, with stunning views of the surrounding Alps and countryside below. Travelling along the course of the Isar river we experience stunning Alpine scenery, meadows covered with flowers, colourful forests and crystal clear mountain lakes. Bad Tolz, a picturesque town located on the bank of river Isar, is our home for two nights. After a visit to the charming Lake Tegernsee, what better way to revive those weary muscles than a soak in the iodine-rich waters of the famous Aplamare spa
No details found.
A downloadable version of the itinery is available from the Resources Tab
Itineraries
Day 1
Arrival in Munich
Welcome briefing and bike distribution on arrival. Bavaria's capital city is waiting with many sights (English Garden, Town Hall, Hofbräuhaus…).
Day 2
Munich ~ Murnau / Lake Staffelsee (65 kms)
From Munich, the tour begins with a bike ride through the Forstenrieder Park to Lake Starnberg before you cycle on the lakeside road to Seeshaupt. Your journey continues on wonderful ways through rustic Bavarian towns, past the Osterseen lakes and Lake Riegsee to Murnau am Staffelsee.
Day 3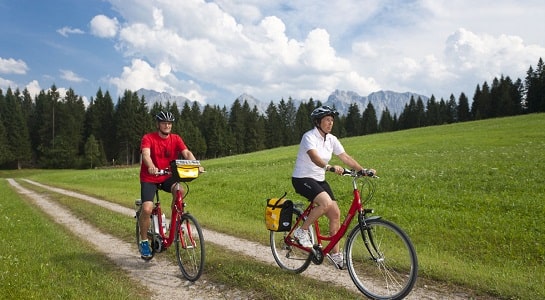 Murnau ~ Garmisch Partenkirchen (40 kms)
he cycle starts through the nature reserve called Murnauer Moos (largest swamp area of Central Europe), after which you head through unspoiled nature following the River Loisach to Garmisch Partenkirchen. The days cycle is short so that you have enough time for a trip with the "Zugspitzbahn", a mountain railway with wonderful views of the Alps.
Day 4
Garmisch Partenkirchen ~ Wallgau (45 kms)
You take the train to Scharnitz and cycle uphill through wonderfully romantic gorges and lush meadows to the spring of the River Isar. Afterwards, you will cycle back through a sunny valley where there is a marvellous panoramic view of the mountains of Karwendel and Wettersteingebirge, passing Mittenwald and finally arriving in Wallgau – a place where the Bavarian tradition is still a part of everyday life
Day 5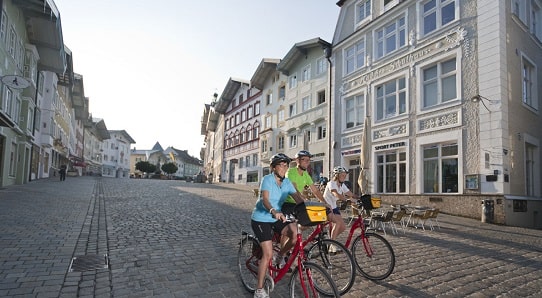 Wallgau ~ Bad Tölz (50 kms)
Todays cycle will follow the crystal-clear, turquoise waters of the impressive Lake Sylvenstein. Cycling through charming landscapes, you arrive in Bad Tölz. Located at the crossroads of two old trade routes which created a thriving town whose ornate mansions testify to a previous golden age.
Day 6
Loop around Lake Tegernsee (45 kmS)
ou will cycle through the scenic Tegernsee countryside to Gmund at Lake Tegernsee which opens out to a beautiful panoramic view of the lake. Following the valley Gaißbach, you return to Bad Tölz where you can visit the Market Street, the setting for numerous markets that are held in the town where you can peruse many items from pottery to fresh local products.
Day 7
Bad Tölz ~ Munich (65 kms)
The Isar bike path leads you from Bad Tölz over Geretsried and Wolfratshausen directly to Grünwald. After a few short climbs you will arrive back in Bavaria's state capital Munich, where you can explore its countless sights and attractions.
Tour ends after breakfast the following morning.
7 nights accommodation ( 3* and 4*hotels )

Breakfast included

Luggage transfer

Train Garmisch - Partenkirchen

- Schwarnith ( bike fare of approx €5, not incl. )

Travel maps & route details

( one per room )

Signposted route

GPS tracks available

Service hotline



+€215 half board option ( 7 dinners )



In 2023 Bike Rental is not included in the basic tour price.
All rentals come with a pannier, lock and repair equipment
For 2023 bike rental is not included in the basic tour price
It is of course possible to rent a bike!
On this tour the standard rental bike is what is called a "unisex" bike or a step though frame, see our tour dossier for an image. It is possible to rent a more typical gents frame for taller men but this is on request only. It is also possible to rent an e-bike
Bike rental includes:
● 21 speed unisex bike (gents bike on request only/limited availability)
● Saddle bag (water-resistant)
● Handlebar bag (water-resistant)
● Tools / Repair kit / Pump
● Combination lock
MUNICH
Day 1 & 7: NYX Hotel, Munich
MURNAU AM STARNBERGER SEE
Day 2: Hotel Angerbrau
GARMISCH PARTENKIRCHEN
Day 3: Mercure Hotel Garmisch Partenkirchen
WALLGAU
Day 4: Gasthof Post
BAD TOLZ
Day 5 & 6: Kolberbrau
2023 MUNICH LAKES SELF GUIDED
€1000 per person sharing  ( 8th - 14th April )
€1080 per person sharing ( 15th April - 12th May  )
€1130 per person sharing ( 13th May - 9th September )

+€330 for single room supplement
Bike Rental 7 Night Tour
€100   7- or 21- speed touring bike unisex incl. bike insurance
€160   27-seed touring bike, crossbar, incl. bike insurance
€240   E-bike, unisex, incl. bike insurance
Self Guided Tour Information
Tour is available daily from 8th April – 9th September (from/to Munich)
How to get to the start point in Munich:

Fly into Munich airport, lots of frequent international flights available.

By Bus: The Lufthansa Airport Bus leaves every 20 minutes and stops at Terminal 1 (Arrivals A), the bus terminal at the Munich Airport Center (Z) and at Terminal 2 on the arrivals level (Level 03). You can buy a bus ticket from the driver, to city center takes approx 35 minutes.
Munich By Train: From Munich central staton (Hauptbahnhof) take the S-Bahn S7 to Wolfratshausen, from there continue either by public bus No. 373 towards Seeshaupt to Monsing / Holzhausen or take a taxi (approx. €18 per ride) directly to the hotel.
For more details please have a look at the tour dossier.
As always please contact us in the office for more information (info@cyclingsafaris.com).
Our biking vacation was great! Met many good new friends and really enjoyed the scenery along the way. Our accommodation was excellent as was the food. Looking forward to another bike trip in the future.
Jamie & Ingrid Bloomfield (Munich Lakes 2013)
Another fabulous holiday. The bikes were great. The choice of hotels was nice and varied with Bad Toltz being the most authentic and delightful. Highlights were the cafe at the end of the long one- way valley from Wallgau and the cable car ride up the Tolspitz.
Fiona Smith (Munich Lakes 2013)
The hotels were very nice. the food at all hotels was excellent. The route and scenery were varied, interesting and beautiful!
Overall we had a great time and are looking forward to booking another cycling holiday in the future. Germany is a wonderful place to visit and their facilities for cycling is excellent.
Tina R. (Munich & Bavaria 2014)
Tour Date Options
Red = booked out / not available
,
Blue = Limited Availability
,
Green = available
Booking Form