Difficulty Rating : 6 Start: Les Eyzies Finish: Les Eyzies Terrain: Flat or slightly undulating, mainly on dedicated paths Daily Average: 40km Weekly Average: 304km Tour Type: Group Teaser: The Dordogne is one of the most spectacular and fascinating areas you are ever likely to visit.
Overview
Trip Outline
Trip Includes
Gallery
FAQ
What people say...
Pricing
Travel
Accomodation
Resources
Booking
The Dordogne is one of the most spectacular and fascinating areas you are ever likely to visit. Dominated by one of France's longest rivers it has sculpted stunning river valleys, towering cliffs and gorges, which in turn has shaped the wonderful culture and history of this unforgettable place.
It boasts some of the world's most dramatic caves, navigable underground rivers and stalactites more than 250 feet in length. It is also known as 'The Capital of Prehistory', with many of the best examples of early settlement and prehistoric art. Everywhere you look there are great castles and fortified towns and villages built into cliff faces.
The cuisine of the Perigord is among the most famous in France, particularly as the home of the truffle and of fois gras, and for a cuisine based entirely on ducks, pigs and geese. If you are interested in prehistoric forts, cave paintings, medieval castles, huge caves and rural scenery then this tour is for you!
The tour includes a collection to and from Angouleme / Perigueux train station to the first and last hotel ( set times on the group tour )
No details found.
A downloadable version of the itinery is available from the Resources Tab
Itineraries
Day 1
Arrive Les Eyzies
We will arrange collection from Angouleme train station and transfer you to Le Moulin de la Beune in Les Eyzies.
Our host, George Soulié, specialises in local cuisine and was awarded a 'Toque' by influential French restaurant guide Gault et Millau.
Day 2
Les Eyzies to Beynac (56 kms)
Our cycle starts by following the Vézère to its meeting with the Dordogne at Limeuil. This beautiful bastide town was once a strategic crossing point, but more importantly it's a great place for a swim! After lunch in Limeuil, we follow the Dordogne upstream, passing the Château de Milandes and Chateau Castelnaud on our way to Beynac, a small riverside village below the magnificent fortress of Beynac. We stay at the Hostellerie Maleville in Beynac, and dine by the banks of the Dordogne
Day 3
Beynac ~ Payrac (48 kms)
Today we visit a couple of spectacular sites and venture into the wilds of France. The intrepid may walk up to Chateau Beynac, but everybody should visit Castelnaud as we cycle past, with its impressive museum of medieval warfare. From Castelnaud we follow the Dordogne through Roque Gageac to Domme, a beautifully walled bastide atop a memorable hill – but the views are worth it! Your afternoon ride takes you on tiny back-roads through empty farmlands (with the opportunity of strawberry scrumping in season), through the limestone causes on your way to Cales.
Day 4
Cales ~ Loubressac (43 kms)
Today starts with a wonderful downhill to a fascinating fortified flour mill – the owner will almost certainly offer you some homemade eau de vie – say 'Yes' your peril!. A long but gentle climb brings you to Rocamadour, a spectacular town clinging to the side of the Alzou gorge. Your next stop is the famous cave of Padirac, with a boat trip 700 feet beneath the ground that takes you underneath a 250-foot Stalactite. Amazing! Tonight we stay at Loubressac, a truly beautiful village.
Day 5
Loubressac ~ Gluges (44 kms)
A lovely, easy ride starting with a slight uphill, then a dramatic descent through the beautiful gorge of Autoire heading for St Céré. From here you return to the Dordogne and follow it downstream to the tiny village of Gluges nestled beneath imposing cliffs.
Day 6
Gluges ~ Sarlat (61 kms)
This morning you can choose to canoe down the Dordogne and meet up with your bikes after a couple of hours on the river. In the afternoon you follow the south bank of the Dordogne, taking a cycle path along an old railway line into Sarlat-la-Caneda. Though it's busy, Sarlat is particularly beautiful, especially the medieval centre with its honey-coloured stone. You stay at the Hotel Compostelle and can eat in style at the Restaurant Criquettamu's in the heart of the old town.
Day 7
Sarlat ~ Les Eyzies (53 kms)
A morning cycling through the beautiful countryside will take you via a coffee stop in Marquay to the prehistoric fortress of Roque St. Christophe, perhaps the most spectacular visit of a pretty spectacular week. Your last ride is a gentle 10km back to Les Eyzies, the chance to enjoy a cold beer on the banks of the river at the Moulin de la Beune.
7 nights accommodation in village hotels with

breakfasts

Seven dinners (group tour only)

Bike Hire

Guide cycling with group (group tour only)

Luggage transfer

Water bottle

Route details and maps

Waterproof jacket &

Cycling jersey

Set transfer to from Angouleme/Perigueux

train station
E-bikes available for €125 supplement
We use Trek 7300 FX Hybrid 24 speed touring bike with aluminium frame and Shimano gear system.
One this tour the guide cycles with you, however each person has their own route details. There is no "sag" wagon as such but we can arrange to collect the weary!!
The maximum group size on these tours is fifteen people and one, sometimes two guides.
Comfortable cycling clothing – padded cycling shorts and cycling gloves are invaluable.
Training shoes are fine for cycling.
Hat, sunglasses, suntan lotion, swimwear.
Casual clothes for evening. You may be grateful for something warm with long sleeves.
Helmets, though not obligatory in France, are highly recommended. To be sure of comfort we suggest you bring your own helmet, however, in the event that you need a helmet, they are provided.
What a wonderful trip. Every morning the day was before us like a Christmas present waiting to be unwrapped and we were never disappointed. The day always started with a nice breakfast and then an overview of the day. We had about 30 minutes after breakfast to pack and get ready for the day. The roads we travelled were filled with the most beautiful scenery which included rivers, small towns, farms with fields of sunflowers, corn, tobacco, herds of dairy cattle as well as the plentiful walnut and fruit orchards.
After our afternoon ride, we would arrive at our hotel - each one more charming than the last was; our luggage was always waiting for us. Dinner was always fabulous.
I would give this trip 10 stars out of 10.
Nancy Webb (Dordogne group, 2017)
I had a truly wonderful trip. The region was beautiful and the route was perfect. I also very much enjoyed the meals at the end of the day.
Christina Nelson (Dordogne 2015)
The Dordogne tour was wonderful. Wonderful scenery, great company, lovely hotels and delicious food. We cycled through the most stunning countryside. Bernard was an excellent guide. Thanks so much
Tess McLaughlin (Dordogne Group tour August 2016)
2023 GROUP TOUR  
€2030 per person sharing
+€430 single room supplement ( if travelling on your own we will endeavour to find a roommate for you )
Self Guided Tour Information
Self guided not available at the moment
How to get to the start point:
Local airports: Bordeaux and Angouleme Cognac Airport are well placed. 
Bordeaux airport. Take the train from Bordeaux to Les Eyzies, and we'll arrange collection from the train station. 
All details on trains in France are available through the website RailEurope.com. (If you drive you can leave your car at the first hotel.)
On arrival at Angouleme train station you will be met by a tour representative and brought by minibus (90 miles/approx. 2 hrs) to the starting point at Les Eyzies de Tayac. These are the only transfers that we arrange, so it is very important that you are on the right train.
Note: On the group tour the times shown are the only transfers we arrange ,  on self Guided tours you can arrive at any time at our designated train stations.
For more details please have a look at the tour dossier.    As always please contact us in the office for more information (info@cyclingsafaris.com).
Les Eyzies de Tayac
Day 1 & 7: Le Moulin de la Beune
Beynac
Day 2: Hotel Maleville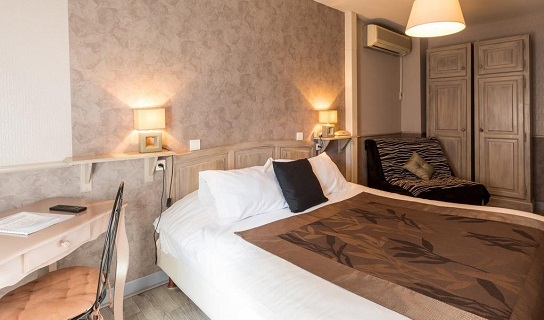 Cales
Day 3: Le Petit Relais
Loubressac
Day 4: Hotel Lou Cantou
Gluges
Day 5: Hotel Les Falaises

Sarlat
Day 6: Hotel Compostelle
Tour Date Options
Red = booked out / not available
,
Blue = Limited Availability
,
Green = available
Booking Form