Difficulty Rating : 7 Start: Nuremberg Finish: Nuremberg Terrain: Mainly cycle paths along rivers Daily Average: 30-65km Weekly Average: 325km Tour Type: Self Guided Teaser: You cycle through the region with the highest density of breweries in the world! Enjoy the rustic atmosphere in beautiful beer gardens
Overview
Trip Outline
Trip Includes
Gallery
FAQ
Pricing
Travel
Acommodation
Resources
Feedback
Booking
You cycle through the region with the highest density of breweries in the world! Enjoy the rustic atmosphere in beautiful beer gardens and the warm hospitality of the Franconians during your trip. You start in Nuremberg and get to know the medieval Rothenburg, the royal seat of Ansbach and the cathedral city of Bamberg on the way. Numerous mighty castles and palaces watch over your way
No details found.
A downloadable version of the itinery is available from the Resources Tab
Itineraries
Day 1
Arrival in Nuremberg
Nuremberg is the epitome of German Romanticism and a perfect medieval town. After checking in to your accommodation you can take a stroll through the old town.
Day 2
Nuremberg - Erlangen, approx 30 km
The Regnitz Cycle Path begins directly in the old town of Nuremberg - the largest city in Franconia. Today you cycle north through green meadows and shady alluvial forests. On the sandy meadows typical of the Regnitz Valley you roll into the Huguenot, university and industrial city of Erlang
Day 3
Erlangen - Bamberg, approx 55 km
With the Steigerwald on your left and Franconian Switzerland on your right, you cycle downstream through the Regnitz Valley and enjoy beautiful landscapes but also impressive weirs. Twice, at the Strullendorf lock and the Hirschaid hydroelectric power station, you cross the Main Danube Canal.
Day 4
Bamberg - Hochstadt - Neustadt an der Aisch, approx 55 km / + train ride (not incl.) or approx 65 km
First you cycle a few kilometres back along the already known path. If you want to shorten today's section, you can take the train to Hirschaid (not included in price). Now follow the valley of the little river Aisch to Neustadt, where a billy goat makes an appearance every hour on the town hall clock.
Day 5
eustadt - Bad Windsheim - Rothenburg, approx. 55 km
In Bad Windsheim, take a break to visit the Franconian open-air museum. Historic buildings have been rebuilt here and in the pub and in several beer gardens you can taste the locally brewed beer. If you still have a little room for a desert in the evening in Rothenburg, (aside from the obligatory beer), you should definitely try a Rothenburg snowball..
Day 6
Rothenburg - Wolframs-Eschenbach, approx. 65 km
You leave the romantic Taubertal valley and follow the "Burgenstraße" cycle path. In Colmberg, the mighty Zollernburg castle towers over the town. From here you follow the Franconian Rezat to Ansbach, a splendid margrave residential town. You keep following the Burgenstraße to Wolframs-Eschenbach. There's a lot to see in this medieval town!
Day 7
Wolframs-Eschenbach - Roth - Nuremberg, approx 65 km
Today you follow the Burgenstraße cycle path again, passing the moated castle in Lichtenau, and reaching Roth. Visit Ratibor castle before you follow the Main-Danube Canal to Nuremberg. The castle, which has accommodated numerous emperors and kings, overlooks the imperial city majestically.
Day 8
Departure
After breakfast, you start your individual return journy home or extend your stay.
? 7 overnight stays in a double room with breakfast in 3 star hotels
? Transport of luggage from hotel to hotel, no limit on pieces of luggage ( each piece a maximum of 20 kg )
? Comprehensive tour information and maps
? Guided tour with the night watchman in Rothenburg
? Voucher for 4 x 0.5 l beer per person (from 18 years on), to be used in Bamberg
? Entrance Frankisches Freilandmuseum (Franconian open-air museum) Bad Windsheim (Mondays closed)
? Comprehensive travel info and maps (1x per room)
? 7-day service hotline
Not included:
Bike rental
Train from Bamberg-Hirschlai (€10)
City or visitor?s tax, if payable, is not included in the travel price
Bike rental is not included in our 2022 tour price. This is an additional:
€90.00 Hybrid Bike
€200.00 Electric Bike
€45.00 Teenager Bike

Child reduction / of basic tour price (with two full paying adults):
0 - 5 years: 100%
6 - 11 years: 50%
12 - 17 years: 25%
Season A 24th – 29th April, 9th – 16th October
Season B 14th – 23rd April, 30th April – 14th May, 18th September – 8th October
Season C 15th – 21st May, 29th – 31st May, 19th – 30th June, 21st August – 17th September
Season D 22nd – 28th May, 1st – 18th June, 1st July – 20th August
Due to the more challenging sections, we recommend this tour only for young people in good physical condition.
€650 per person sharing ( Season A) €750 per person sharing ( Season B ) €800 per person sharing ( Season C ) €850 per person sharing ( Season D ) €250 Single room supplement Season A 24th – 29th April, 9th – 16th October Season B 14th – 23rd April, 30th April – 14th May, 18th September – 8th October Season C 15th – 21st May, 29th – 31st May, 19th – 30th June, 21st August – 17th September Season D 22nd – 28th May, 1st – 18th June, 1st July – 20th August
Self Guided Tour Information
You can start any day from 14th April to 16th October 2022
There is an airport in Nuremberg but there are also very good train transfers from Munich and Frankfurt
ROTHENBURG OB DER TAUBER - Hotel Rappen
Hotel Rappen welcoming guests since 1603. A stone's throw from the old town and the historic centre. The rooms are spacious with all the amenities you may need ( image to left )
Romantikhotel Markusturm in the heart of the medieval town and welcoming guests for more than 500 years, their rooms are spacious and styled in a mode way. There is a real air of history in the hotel with many of the old wooden beams and stone walls still intact ( image to  )
WOLFRAMS-ESCHENBACH
Hotel Alte Vogtei  is in the centre of the old part of the town. The rooms are stylish and have a relaxed feel to them. There are plenty of cafe and restaurants nearby for you to explore. 
NUREMBERG
Hotel Prinzregent  a stylish hotel overlooking the meadow and the river. With a spacious room with a warm atmosphere this a very easy place to spend an evening ( image to the left ) 

Hotel Elch is a Boutique hotel in the historic centre of the town with a bright and stylish room. Along with a friendly welcome and the beautiful area you are sure to enjoy your stay ( image to the right )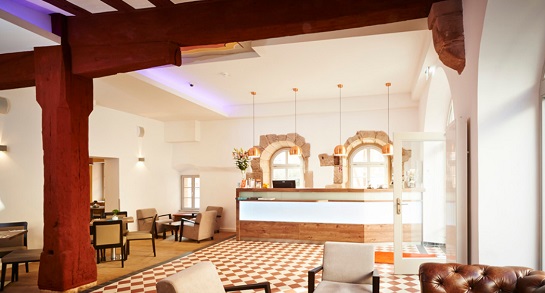 RABENSTEIN CASTLE (AHORNTAL VALLEY)
Hotel Burg Rabenstein straight out a fairy tale this hotel is one of a kind. The rooms are styled in a medieval way and make from a unique stay. The Castle is surrounded by forest and a lovely garden.
BAMBERG -  Hotel Europa 
Hotel Europa  is a new and mode building with stylish rooms and all the amenities you need. Located in the heart of the town this is a great place to set off from and explore the town  ( image to the left )
Hotel Tandem is a small family run hotel on the backs of the river regnitz. This stylish hotel is only a stones throw away from all the towns attractions. ( image to the right ) 
NEUSTADT
Allee Hotel  this historic hotel is styled in a mode way and close to all the attractions in the town. With a warm and friendly welcome this is the perfect place to set of from to explore the town.  
Tab content goes here
Tour Date Options
Red = booked out / not available
,
Blue = Limited Availability
,
Green = available
Booking Form