Difficulty Rating : 5 Start: Chiusi Finish: Siena Daily Average: 10-16km Weekly Average: 84km Tour Type: Self Guided,Walking Teaser: This tour explores this beautiful region famous for its fine food and wine, magnificent landscapes and wonderful hilltop towns.
Overview
Trip Outline
Trip Includes
Gallery
FAQ
What people say...
Pricing
Travel
Accomodation
Resources
Booking
This tour explores this beautiful region famous for its fine food and wine, magnificent landscapes and wonderful hilltop towns. We visit the thermal springs of Bagno Vignoni and the Val d'O with its breathtaking landscape, its Renaissance towns and its fabulous monasteries.
The tour starts with a walk towards the medieval town of Montepulciano where you spend the night. We trek through the stunning rolling hills, oak woods and pretty villages and end up in a thermal bathing place where the main square is a basin of steaming hot water! The tour meanders along vineyards and olive trees towards Montalcino, home of some of Italy's most famous wines. The stunning city of Sienna is our final destination, where you have time to explore the beautiful squares and churches that make up this historic city.
No details found.
A downloadable version of the itinery is available from the Resources Tab
Itineraries
Day 1
Arrival in Chiusi
You are met by our representative who will spend a short time going over the tour with you answering any question you may have. He will then drive you to your hotel in Montepulciano.
Day 2
Montepulciano/Pienza
From the San Biagio church (which is on the outskirts of town and certainly worth a visit) the road takes you to Montichiello - a nice little village immersed in the "Crete". You can stop there for a nice lunch or just for a cappuccino before continuing to Pienza which is one of the nicest Renaissance towns in Tuscany. Visit the town which is also an agricultural centre is well known for pecorino cheese and truffle production. Overnight in a nice hotel in the town.
(6 hrs walking time; 15 km 490 m ascent)
Day 3
Pienza/San Quirico d'Orcia/Bagno Vignoni
The walking today crosses a beautiful region of rolling hills, oaks woods, quiet villages and ends in, or close by, a thermal bathing place where the main square is a basin of steaming hot water. It is possible to swim in the thermal pool (additional charge) if you do not get there too late; according to availability, the night can be spent in Bagno Vignoni, or in an agriturismo 2 km from the town along the walking trail.
(5 hrs walking time; 15 km 415 ascent)
Day 4
Bagno Vignoni/Sant'Antimo/Montalcino
A longer walking day along dry river beds in the rather wild environment to reach St Antimo; a lovely abbey isolated in the middle of a pastoral landscape with grazing herds around which adds peacefulness to the scene. From there it is additional 10 km of a steep ascending trail to reach Montalcino, so the car with your luggage will pick you up in St Antimo to drive you to this nice medieval town. Accommodation in Hotel Montalcino.
(6 hrs walking time, 13 km 585 elevation gain)
Day 5
Montalcino/Buonconvento
As Montalcino is the country of Brunello - one of the most famous wines of this region - you will be walking through vineyards and olive trees. Then the route will lead you through the beautiful "Crete" landscape. You will spend the night in a nice agriturismo 3 km from Buonconvento.
(4hrs walking time; 15km / 255 m elevation gain)
Day 6
Buonconvento/Buonconvento
A short day but full of ups and downs. The unpaved road will take you to Monte Oliveto Maggiore, one of the most impressing abbeys in Italy – a red brick construction in a rugged landscape. The owner of the agriturismo can collect you if walking back feels too much (if you decide to walk back, it will take approx 3 hours). You can also skip today's walk and enjoy the Inn's swimming pool or its beauty farm Sauna
(4hrs walking time)
Day 7
Buonconvento/Monte Oliveto Maggiore/ Siena
You will start the day with a transfer to Monte Oliveto Maggiore – you can visit the abbey before the tourist rush hours and start walking back towards your accommodation. You can stop for a light snack at Chiusure, the first village on your way back. There is a small "Alimentari" where you can enjoy a freshly made panini. Pick up your luggage and get on a train to Siena for your last night (there is a possibility of a private transfer to Siena).
(3 hrs 30 mins walking time; 16 km / 285 m elevation gain)
7 nights B&B - All breakfasts

Needed transfers

Luggage transfer at each change of accommodation

Transfer to Montepulciano from Chiusi train station

Detailed road book and maps

One of our assistants will meet you on the first day (or the next morning if biking or hiking are not in the program for the first day) to explain the tour and answer your questions
Optional tour extension in Villa Lecchi includes:
2 nights accommodation with breakfasts and dinners, transfers as per the itinerary, maps and route notes.
Tab content goes here
€940 per person sharing
€150 single room supplement
€250 solo traveler supplement (if traveling on your own)
Self Guided Tour Information
Tour can start on any day.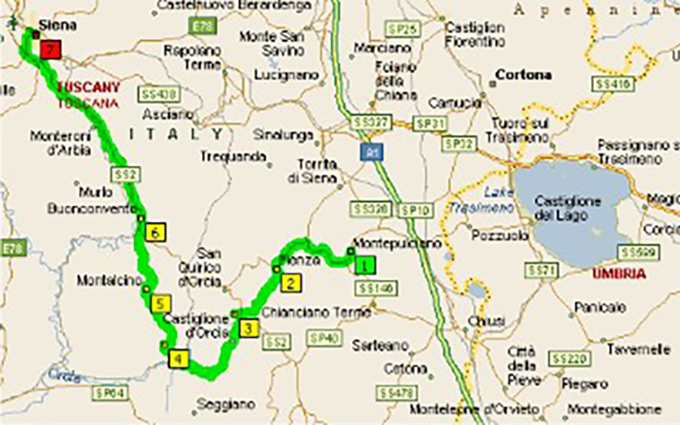 Nearest airports: Rome, Pisa or Florence, then you take the train to Chiusi from where you will be transferred to Montepulciano.
When checking the flights for this trip, consider that it is quite convenient traveling from Pisa airport (the train station is at the front of the airport) to Chiusi; it takes approximately 3 hours and from Siena to Pisa airport it is a 2 hour trip. Web site on trains in Italy: www.trenitalia.it
Montepulciano
BB Agnolo Montepulciano www.lagnolo.com
Pienza
Hotel Corsignano www.hotelcorsignano.it
Vignoni
Albergo Le Terme Bagno www.albergoleterme.it
Montalcino
Hotel Dei Capitani –www.deicapitani.it
Buonconvento
Fattoria Pieve a Salti www.pieveasalti.it
Buonconvento
Fattoria Pieve a Salti www.pieveasalti.it
Siena
Hotel Chiusarelli www.chiusarelli.com
Tour Date Options
Red = booked out / not available
,
Blue = Limited Availability
,
Green = available
Booking Form