Difficulty Rating : 5 Start: KRANJSKA GORA Finish: LAKE BOHINJ Daily Average: 11-23km Weekly Average: 91-98km Tour Type: Self Guided,Walking Teaser: A walking holiday for those who like alpine scenery and sweeping vistas. This is a collection of easy valley floor and forest-covered hillside walks
Overview
Trip Outline
Trip Includes
Gallery
FAQ
What people say...
Pricing
Travel
Accomodation
Resources
Booking
A walking holiday for those who like alpine scenery and sweeping vistas. This is a collection of easy valley floor and forest-covered hillside walks. Though in the alpine area, no climbing experience or equipment is necessary. More than half of the walks are situated in the Slovenia's only National Park.
The famous Lake Bled and Lake Bohinj, as well as Mt. Triglav National Park, are the highlights of this walk. A very picturesque mountain tour through glorious landscape. Suitable for hikers of very average fitness and recommended for photography enthusiasts!.
Walk highlights include
* Guided walking along valley trails through the Triglav National Park 
* Crystal clear mountain lakes, deep canyons carved by mountain streams
* Broad meadows resplendent with wildflowers on mountain pastures
* A touch of Austria and Italy
No details found.
A downloadable version of the itinery is available from the Resources Tab
Itineraries
Day 1
Arrival to Kranjska Gora
The famous ski resort of Kranjska Gora is the starting point for this tour. It is most famous for hosting the annual World Cup Slalom every January. You will spend your first night here in the shadows of the mighty western Julian Alps (family hotel 3***).
Day 2
Kranjska Gora – Jasna Valley – Kranjska Gora
Your walk starts along a trail heading towards the end of Jasna Valley. Emerging at the other end is the glorious mountain arena of the Prisank and Razor Mountains. A typical hikers lunch can be taken in a Krnica hut. Upon return, one can visit the "Russian Chapel", a touching monument dedicated to Russian POV's who died during WW1 while building the military road over Vršič Pass. (Accommodation: 3* hotel) 17km round trip/ascent 500m.
Day 3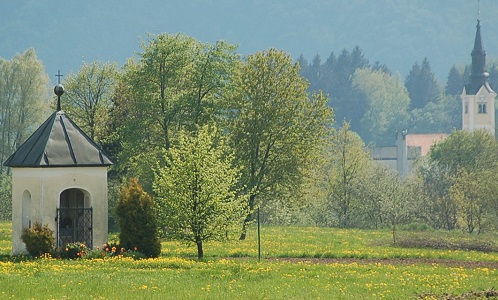 Podkoren – Three Countries Point – Kranska Gora
Today starts with a 10 min. car transfer where your walk starts and takes you to the summit of Mt. Peč (1508m) to the triple border point where Slovenia, Italy and Austria meet. At the top you can soak up the dramatic views across the Julian and Carnian Alps, with the Hohe Tauern, the highest alpine range in Austria, forming a picturesque backdrop. The trail then descends through the valley to the source of the mighty Sava River, the longest in Slovenia. 15km round trip/ascent 640m; forest and mountain meadows trail
Day 4
Radovan Valley – Vintgar Gorge - Lake Bled
You will be transferred through the Radovna Valley to the start of the stunning 1.6km Vintgar Gorge, carved 150m deep into the mountains by the Radovna River. The trail leads along a wooden walkway through the gorge and onwards to the world - famous Bled Lake, via the lovely Katarina Church viewpoint. Your hotel overlooks the lake. (Accommodation: 4* hotel) 11kms / ascent 200m. Valley & meadow walk
Day 5
Bled – Bohinjska Bela – Lake Bled
Today you can take a leisurely stroll into Bled, a popular town on the shore of a beautiful glacial lake, with its unique island church and castle perched high upon the lakeside cliff. A short panoramic walk can be taken to the villages of Kupljenik and Bela. For the best photos and views of the lake, castle and Karawanke range, ascend Osojnica. End the day with the local speciality – the cream cake 'Kremsnita' in one of the great little tea shops beside the lake. ( Accommodation: 4* hotel) 15 km round trip/ascent 270m. Hillsides and panoramic walk
Day 6
Pokljuka – Voje – Lake Bohinj
The day starts with a car transfer up to the Pokljuke Pateau where you begin your hike across mountain pastures and old farmhouses to a viewing point into the Bohinj Valley. As you descend you can stop at the little historic village of Studor and see how people lived 150 years ago. Your final destination is Lake Bohinj, the jewel of the Triglav National Park. (Accommodation: 4 * Hotel) 12 km / ascent 200m. Mountain meadows & tree line walk
Day 7
Lake Bohinj image
Spend the day strolling around this wonderful, tranquil lake sitting in the shadows of the immense Julian Alps. At the western end of the lake is a short trail up to Savica Waterfall, which feeds the lake. Then you can take the cable car up to the 1532 - metre high Vogel Mountain for a spectacular view of Mount Triglav, the highest peak in the Julian Alps. (Accommodation: 4* Hotel) 16/23kms. Lakeside / valley walk.
Accommodation in two bedded rooms with WC and shower on bed & breakfast basis

Transfers on day 3, 4 and 6

Luggage transfer from hotel to hotel (1 piece per person, max. 20 kg)

Information package including detailed route description with corresponding maps (one per room)


GPS data

Local tourist and other taxes

Backup service (hotline) during the trip
Not included:
Entrance fees


Tab content goes here
2022 Self Guided Prices:
€695 per person sharing (low season: 9th April - 6th May & 17th September - 15th October)
€725 per person sharing (high season: 7th May - 16th September)
€130 Single room supplement ( if travelling with others ) 
Self Guided Tour Information
Available to start daily from 9 April - 15 October
Transfers are possible and based on  1-3 people traveling (other rates available on request):
From Ljubljana airport to Kranjska Gora: €80
From Ljubljana city to Kranjska Gora: €120
Bohinj to Ljubljana airport: €110
Bohinj to Ljubljana City: €140
Bohinj to Kranjska Gora: €110
Kranjska Gora
We aim to stay in Miklič Hotel 3* Kranjska Gora
Podkren
We will update details on our hotel here as soon as possible, but be assured you will not be dissapointed with any food and accommodation in Slovenia!
Bled
In Bled we plan to stay in a 4* hotel, such as Hotel Triglav ( image on the left ) or Hotel Golf ( image on the right )
Lake Bohinj
Here our first preference hotel is the 4* Hotel Kristal
Tour Date Options
Red = booked out / not available
,
Blue = Limited Availability
,
Green = available
Booking Form