Ireland - Connemara, Best of the West
Price from €860 per person
Degree of difficulty -
Start: GALWAY CITY
Finish: GALWAY CITY
Daily Ave: 40-52km
Weekly Ave: 202-260km
Terrain: This tour does not involve any major climbs and it is a good option for those looking to take it a bit easier.
Due to the incredible popularity of Connemara as a cycling destination, we have two tours running in this beautiful part of the country. The other tour in this area is Connemara, Galway & Mayo
On the Connemara - Best of the West trip we take in some of the best that Connemara has to offer including Killary Harbour and the stunning Delphi Valley and the beautiful town of Westport. However we head north into Mayo and cycle along the lovely Greenways Cycle towards the island of Achill. We have a chance to explore Achill with its stunning beaches before finishing up our tour cycling on quiet backroads to the Museum of Country Life near Castlebar. A transfer at the of the week brings us back to the start point, the city of Galway.

This is an easier cycle, there is one day of climbing on our Connemara, Galway & Mayo tour which is not on this tour. Also mileage on this tour is a little lower which makes it a more suitable cycle for younger legs. There are also options to take a break from cycling on a number of days, for example we arrive early in Leenane and you have the choice of relaxing in the hotel spa or you can keep cycling on some fantastic routes.



Tour Itinerary
7 Night Tour
Day
1
Galway City / Clonbur
When you arrive in Galway make your way to your accommodation anytime after 2.00pm.You can then explore this bustling medieval city.
On our self guided tours you spend the night in Galway city.
On the set departure dates you will get a transfer at 6.30pm out to Clonbur where you will stay for the night.
7 Night Tour
Day
2
Galway / Cong to Leenane ( 35kms )
In the morning a local taxi operator will meet you at the guesthouse and transfer you to Cong (near Clonbur) where the cycle starts on your bikes! You head north along quiet back roads through rolling green fields full of grazing sheep. You cycle along beautiful backroads via Lough Nafooey, en route to our overnight accommodation, the small village of Leenane looking out over Killary Harbour, Ireland's only fjord. There is an option in the afternoon of cycling to the beautiful Kylemore Abbey or else relaxing in the spa in our hotel!
7 Night Tour
Day
3
Leenane to Westport ( 52 kms )
In the morning you head north through one of the highlights of the tour, the stunning Delphi Valley with its beautiful lakes overlooked by Ben Bury the highest mountain in Connemara. Your lunch stop is the charming village of Louisburgh before we continue on our journey between Croagh Patrick and the beautiful Clew Bay with its many small islands to the town of Westport where you are staying two nights.
7 Night Tour
Day
4
Rest day in Westport
In 2012 Westport was voted by readers of the "Irish Times" newspaper as the best place to live in Ireland and it is easy to understand why. The town is beautifully located at the top of Clew Bay, it is one of the few towns in Ireland that was formally planned and it has a great beauty and charm about it. You can spend the day relaxing in the town, visiting Westport House, or there are golf and horse-riding available nearby. For something a bit different you could visit Clare Island (you would need to take a taxi for 14 miles to Roonagh Quay. In the summer, there are numerous ferry sailings from Roonagh to Clare Island during the day. The boat crossing takes about 20 minutes.
7 Night Tour
Day
5
Westport to Achill Island - Greenway Cycle ( 54kms )
Another highlight of the trip is todays cycle. The day is spent on the "Greenway Cycle", a route that offers gentle gradients and some of the most idyllic scenery in the west of Ireland. The cycle forms part of the National Cycle Network and it is the longest dedicated cycling path in the Country! The route brings you all the way to Achill Sound, the gateway to Achill Island (via a bridge ) where we are spending the night.
7 Night Tour
Day
6
Achill Island Roundtrip 14km, 47km, 72kms ( different options! )
You spend your day exploring Achill Island where there are so many options for cycling. There several dramatic cycling routes around Achill, the most impressive being the Atlantic Drive, with its wonderful coastal views and beautiful landscape. You can also head to Keem bay for a swim on its white sandy beach. For those feeling energetic, you could climb to the top of the nearby cliffs some of the highest in Europe, where you are rewarded with the most breathtaking views of the week.
7 Night Tour
Day
7
Achill Island via "Museum of Country Life" in Castlebar - Galway 47kms
The first 17km of our day we head back on the Greenway cycle ( there is only one way realistically in and out, which is lucky it is so lovely! ) before you make a detour to Lough Beltra in the heart of Mayo. The final part of our tour will take you to the Museum of Country life of Castlebar where there is a nice coffee shop and where you can visit the museum. A taxi will meet you here mid-afternoon and bring you back to Galway city for a final night on the trip.
Tour finishes after breakfast next morning.
For more details please have a look at the tour dossier.
Prices / Dates
2019 TOUR PRICE
€860.00 per person sharing in off peak
€895.00 per person sharing in July & August
€255.00 single room supplement (if travelling with others)
€395.00 solo traveller supplement (if travelling alone)
Tour Includes
- 7 nights accommodation with breakfast ( mix of small hotels and guesthouses )
- 1 evening meal
- Bike rental with pannier bag, lock, repair kit, bottle holder
- Guide in a support van (on group tours)
- Helmet rental (on group tours)
- Luggage transfer
- All route details and maps
- 24 hour service hotline
- GPS tracks available (on request)

Not included:
Helmet rental on self guided tours (on request only): €10
Group tour dates (

Red = booked out / not available

,

Blue = Limited Availability

and

Green = available

)
13-July,
Self Guided Tour Information
Self guided tours are available from April to October and can start any day of the week.
Accommodation
(Subject to availability)
Day
1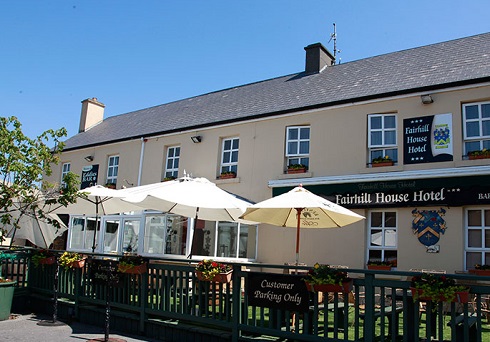 CLONBUR
Fairhill House Hotel Clonbur
Fairhill Hotel is nestled in between Lough Corrib and Lough mask two of Ireland best fishing Loughs
The hotel has a great bar with lots of traditional music nights and a lager section of whiskeys along with some of the freshest salmon in Ireland straight from the loughs- makes this a memorable place to spend the night.
Day
2
LEENANE
Against a backdrop of mountains and on the shore of Killary Harbour, this traditional seasonal hotel occupies a 18th-century coaching inn.Low-key, individually decorated rooms come with mountain or harbour views.
A stylish restaurant with hardwood floors serves gastropub fare. There's also a bar and a cosy lounge with a fireplace.
Day
3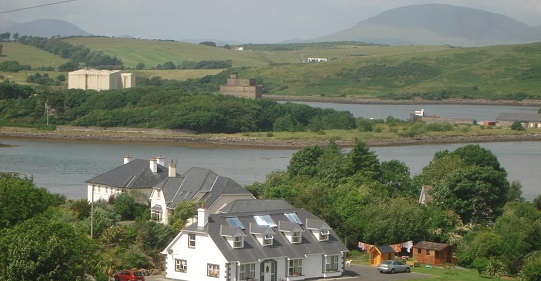 WESTPORT
Westport B&Bs
The B&Bs we use in Westport are away from the busy town and down on the quays by the ocean. They are often family run and offer an insight to the Irish home with some fantastic breakfast too.
Day
4
ACHILL ISLAND
Achill Island Hotel is a new building built on the ground of the on old hotel that was a old coach house in the 1800s. The hotel has a warm and friendly atmosphere. The rooms are spacious with all the modern necessity's.
Travel
How to get to Galway:
It is possible to fly to either Dublin airport or Shannon airport. (Please note: Flying into Dublin airport will have more route options)
From Shannon aiport:
There is a bus service to Galway city available, approx €16 per person (Check BusEireann for info). Duration 1 hour 50 minutes.
From Dublin airport:
There are a number of Bus services that will take you directly from the airport to Galway( BusEireann or City Link )

Alternatively you can take the Airlink shuttle bus into Dublin city and transfer to a train to Galway city (€7 single ticket) - duration approx 40 minutes)

The Train to Galway takes approx 2hrs 20mins. ( IrishRail )
As always please contact us in the office for more information (info@cyclingsafaris.com).
Tour Reviews
We had an absolutely fabulous trip! Everything went as scheduled and planned - no glitches!
We have no complaints about the accommodations or the food! Our hosts were all warm and welcoming (My personal favourite was Maureen in Galway). Our luggage transfers all went very smoothly; pick-up and delivery were all on time and according to schedule. As well, we really enjoyed our taxi drivers that did the transfer to and from our start/end point - entertaining and knowledgeable about Ireland. We love our bikes! And we didn't even have any mechanical problems. We really enjoyed the few days we have spent in Dun Laoghaire and our stay at the Haddington.
You live in a beautiful country and it lived up to and exceeded all of our expectations!
Ken & Deb Chute (Connemara, Best of the West self guided 2017)
Once again we enjoyed travelling with Cycling Safaris very much. Every day was a pleasure to be out and cycling in the Connemara area. We were surprised by the Killary Fjord, the spectacular views and of course all the sheep we encountered at the side of the road and on the road! There are no words really to describe Achill Island, amazingly beautiful, and we enjoyed the hospitality at the Achill Island Hotel and especially the hotel/restaurant/pub.
Our special thanks to Stella of the Consilio B&B for her most delicious breakfast, warmth and kindness!
Marcel and Marga Schuit (Connemara, Best of the West self guided 2017)
On each day of our trip, the six of us commented about how impressed we were with the cycle tour. We all loved the bikes. Every single accommodation was good - including the breakfasts. Our luggage was always waiting for us at each destination. The map book was easy to follow and we appreciated the recommendations for places to stop and/or to eat. We especially liked the Blue Bicycle Tea Room.
Joan & Cam Zaremba (Connemara, Best of the West self guided 2017)
We had a lovely tour. The bikes were good quality and in nice working order. The route was well described and we had no problems following it. The accommodations were as we expected. The food was simply fantastic. Thanks for a great tour!
Abra & Holly (Connemara Best of the West 2016)
Everything went very smoothly. Accommodations were excellent, our luggage was always there when we arrived. The bikes were great. The ride was absolutely beautiful. All in all, everything was well organized and we had a fantastic time.
Deborah & Cyril Marchildon (Connemara, Best of the West self led 2015)
Everything was fine on our recent trip. The bikes, organisation, the B&Bs, the route, maps, luggage transfers etc, all worked like clockwork and it was most enjoyable.
High points would be the warm welcome at the accommodation especially the B&Bs and also the beautiful scenery. The bikes and equipment were excellent.
Jon White (Connemara, Best of West self guided 2015)
Tour FAQ
upcoming information
We are currently updating all our tour frequently asked questions. In the meantime hopefully most questions are answered in our tour dossiers at the bottom of our itinerary page
Of course please do not hesitate to email us should you have any queries at all