Difficulty Rating : 6 Start: Lisbon Finish: Lisbon Terrain: Some Hilly days in National parks Daily Average: 46km Weekly Average: 234km Tour Type: Group Teaser: Portugal, like its neighbour Spain is a land of wonderful contrasts. Considered a Mediterranean country - mostly for its way of life and passion
Overview
Trip Outline
Trip Includes
Gallery
FAQ
What people say...
Pricing
Travel
Accomodation
Resources
Booking
Portugal, like its neighbour Spain is a land of wonderful contrasts. Considered a Mediterranean country - mostly for its way of life and passion for the marine environment, it's truly distinct and surprisingly global - on account of its historic ties with Asia, India, Africa and South America. Once at the forefront of navigation and world discovery, Portugal remains an intriguing place where history, landscape, gastronomy and a humble, soft-spoken culture welcomes visitors to its sun swept corners.
This week of diverse cycling takes us through the heart of Portugal's best kept secrets. From breathtaking coastlines, rural landscapes to enchanting hilltop palaces. We observe Manueline architecture, verdant National Parks and visit century old vineyards and farmsteads - hearing tales of chivalry & Templar Knights. Of course opportunities to sample Portugal's tasty local dishes, its superb wines and delicious pastries are part of the experience! For music and art aficionados, Portugal's unique Sado comes rich in musical storytelling and ceramic, classic paintings and architecture add to the cultural richness of the nation.
Join us on this unique exploration by bicycle of Portugal's hidden gems. Daily rides of 40-60 km have been carefully chosen to ensure our rides are on quieter back roads and at a level beginner to intermediate riders can both enjoy.
For more details please have a look at the tour dossier.
No details found.
A downloadable version of the itinery is available from the Resources Tab
Itineraries
Day 1
Sunday Arrival Day Lisbon
Group meets 7pm at Hotel in Lisbon´s central– Orientation with Trip Leader and Dinner. If you arrive in Lisbon earlier, you may wish to visit the Sao Jorge Castle, the Gulbenkian Museum and wander the streets of the Bairro Alto. Welcome Dinner included.
Day 2
Monday Lisbon Interpretive tour and Estoril / Cascais coastal town 25 km easy gradient
Starting with a morning guided tour of Lisbon on bike that inlcudes a cycle to Belem (where Vasgo de Gama set sail from), followed by a short van transfer (30 minutes) onto Cascais – a beautiful coastal town west of Lisbon. This afternoon you can also stroll the seafront promenade with great pubs & shopping right from the hotel.
Day 3
Tuesday Cascais, Cabo da Roca and the Parque Natural of Sintra 55 km hilly
Today we ride the stunning coastal route between Cascais and Ericeira, taking in a number of sun swept coastal villages and enjoying the vast flora and bird life of this historic part of Estremadura. A highlight is a visit to Cabo da Roca, continental Europe´s most westerly point.
Day 4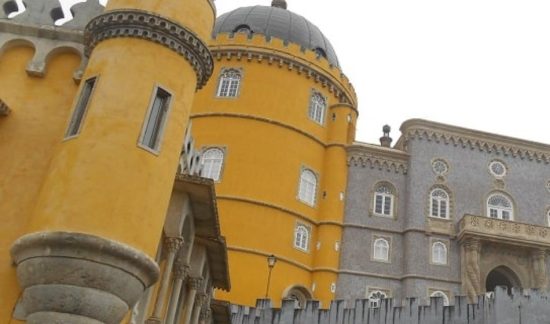 Wednesday Ericeira to Sintra 45 km moderate
Estremadura´s rural inland settlements and medieval townships. A scenic spin through the region´s pasturelands and agricultural landscapes arriving to Sintra, a virtual fairytale kingdom and once home to generations of Portuguese Royalty seeking solitude in this verdant mountain hideaway. The Mafra National Palace is a worthy visit on today´s ride. In Sintra. we have a 2 night stay offering plenty of time to explore the palaces, Moorish fortress and boutique shops and cafes of this lovely area. Accommodation in a heritage style mansion (Dinner included).
Day 5
Thursday FREE DAY Sintra
Today you have the option of exploring many of Sintra´s natural and cultural wonders such as the forested paths leading to a Moorish Fortress and of course, La Pena Palace – an extraordinary site. This fairytale village is adorned with medieval treasures, tidy boutique shops, tea houses and eateries built into stone walls and laden with sweeping, colorful flora. Alternatively, you can relax around the hotel pool or self explore on bike as there are many riding options including the Montserrat Monastery or the coastline itself.
Day 6
Friday Palmela, Parque Natural of Arrabida and the Vineyards of Setubal 50 km moderate
Today we transfer to the wonderful highlands of the Arrabida Park and ride through the woodlands of Setubal, passing traditional windmills and visiting (optional) a wonderful family run vineyard – tasting their wines and homemade cheese before continuing over the highlands - bringing us into Setubal, a thriving city set on the Rio Sado – home to the country´s most abundant wildlife (bird) sanctuary. Riding distance approximately 50 km – undulating with optional scenic but challenging headland ascent add on! (Dinner included)
Day 7
Saturday Troia Peninsula, the cork forests and Santiago do Cacem 59 km flat, easy terrain
Starting with a 20 minute ferry crossing over the Rio Sado, today´s ride visits long dune stretches, rice paddies, remote beaches and forested back roads. Troia Peninsula has some of Portugal´s most remote coastline (great for dolphin and whale watching). We continue south, following cork forests to the historic Moorish town of Santiago do Cacem, a colorful sleepy Alentejo village in woodlands where little has changed in centuries. Tonight your trip leader bids farewell to the group.
Day 8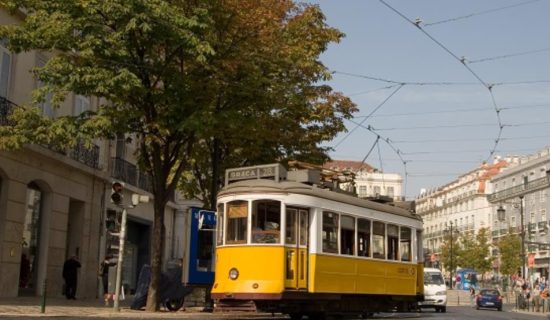 Sunday Santiago do Cacem - Lisbon
This morning after breakfast, a private group transfer returns us to Lisbon (1 hour 30 min). Normally the transfer brings us directly to the Lisbon Airport but a central drop off can be arranged, too. The tour begins and ends in Lisbon, with some transfers in the form of a minibus, public bus and train required bypassing areas of high traffic volume. These are included in your tour package. Total distance is approximately 220 km over 5 days riding. Overall grade Easy to Moderate.
For more details please have a look at the tour dossier.
- 7 nights accommodation with breakfast
- 3 dinners
- Guide in support van
- Daily baggage transfer
- Daily riding notes & map
- Helmet hire
- Gel seat pads, toe clip option on request
- Transfers as per itinerary
Please note that in 2022 bike hire is not included in the tour price.
(€100 supplement for 21-speed bike, €225 supplement for an e-bike)
It was wonderful. Matt and Jeff the best. We felt well taken care of and " pampered" .  I would highly recommend this trip to folks who want to explore Portugal by bike. It had a few more hills that what I thought but no worries we made it through!
Kathy Hatcher (Lisbon Group Sept 2018)
The Portugal/Lisbon tour was everything I hoped for. The accommodations were all very comfortable, esp those hotels with a swimming pool on the days of biking. The food was good, and the guides Matt and Jeff were exceptional. I look forward to next year's vacation.
Andrew Untch (Portugal to Lisbon group 2015)
2022 GROUP TOUR PRICE:
€1695 per person sharing
€1945 for single occupancy
(If traveling on your own, we will endeavour to find a room mate for you)
Self Guided Tour Information
Self guided tour is not available on this route.
How to get to the start point in Lisbon: 
Flights to Lisbon airport are frequent and we recommend flying here. 
For airport transfer expect to pay approx €15 taxi fare or slightly more if travelling at night.
There is also very efficient and rapid airport shuttle bus to the city center – costing about 2-3€ person for the one way trip.
For more details please have a look at the tour dossier.
As always please contact us in the office for more information (info@cyclingsafaris.com).
1st Night – HOTEL FENIX URBAN (4 STAR)
A very comfortable and centrally located hotel in Lisbon. Here we find all mode conveniences and a number of superb attractions right out the door including the park of Marques de Pombel and 10 minutes walking to the Gulbenkian Museum and Gallery. There are frequent metro and bus connections only 2 minutes from the hotel (Free Wifi) www.hfhotels.com/es/hf-fenix-urban
2nd Night – HOTEL BAHIA CASCAIS (3 STAR Beach front)
A superb location both in the centre of Cascais and on the beach itself. The Bahia is in the heart of town with cafes, boutique shops and fisherman´s pubs right out the door. Enjoy the indoor heated pool and the outstanding views from the terraces of the hotel (Free Wifi). Sea view rooms are available here for a small supplement. http://www.hotelbaia.com/en
3rd Night – HOTEL VILA GAL ERICEIRA (4 STAR Beach front)
Ericeira´s premier hotel and with a seaside/town centre location that´s hard to beat! Enjoy the pool and terraced areas while the Atlantic chus swell into the walls below. Visit the bar and lounge areas with incredible views or stroll around the old quarter right out the hotel door. (Free Wifi) http://www.vilagale.co.uk/pages/hoteis/index.php?lang=2&hotel=10
4-5th Nights – HERITAGE HOTEL SINTRA JARDIM (Heritage class / mansion & gardens)
Sintra has only a few old mansions style hotels with rambling gardens and pools. The Sintra Jardim is the top rural stay and it´s located in a botanical paradise only minutes walking from the town center. Here we enjoy the large, traditional ´Quinta´ design rooms or you can sit out in the shaded garden next to the pool, It really is a comfortable stay that offer insight into Sintra´s once elegant times. (Free Wifi) http://residencialsintra.blogspot.com.es
6th Night - HOTEL ALBERGUERIA SOLARIS, SETUBAL (3 Star city center)
Setubal´s classic ´azulejo´ decorated city inn offers all mode conveniences and comfort. It has great access to all the sites of this historic town right out the door. Situated in a colourful barrio near the old quarter, where a multitude of Brazilian and Angolan immigrants set up homes decades ago, the Solaris is a welcome break after a big day in the Arrabida hillside and vineyards (Free Wifi) http://www.solarishotel.com.pt/website/index2.php?s=1&lang=2
7th Night - HOTEL DOM NUNO, SANTIAGO DO CACEM (3 Star city center)
Santiago do Cacém is a historic region with plenty do and see. Our hotel is in the centre of the town and a stone's throw from the old town with all the little cafes and restaurant lining the street. it a fine place to spend an afteoon. The hotel has refreshing and spacious rooms. It even has a pool to cool down after a day on the bike.
Tour Date Options
Red = booked out / not available
,
Blue = Limited Availability
,
Green = available
Booking Form